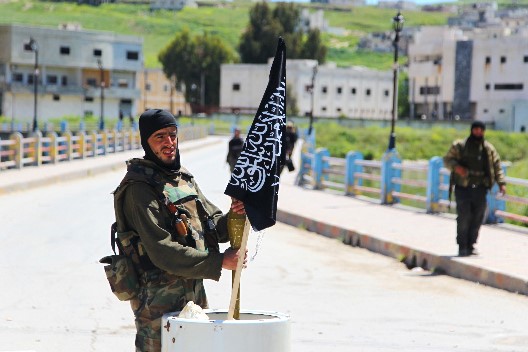 In recent weeks, a Turkish backed umbrella group dubbed Jaysh al-Fateh has taken control of Idlib, prompting speculation that the group's recent advance could mark a turning point in the war. These recent successes are widely attributed to a rapprochement between Saudi Arabia and Turkey – two critical regional players in Syria that had hitherto supported different factions in northern Syria.
The United States has quietly acquiesced to the resurgent Saudi-Turkish role in Syria, but the prevalence of al-Qaeda affiliate Jabhat al Nusra and ally Ahrar al-Sham in recent offensives will certainly complicate on-going discussions about whether to provide air cover for rebel battalions in the north. This key divergence could further complicate US-Turkish relations, despite the recent agreement to train-and-equip up to 15,000 Syrian rebels in Turkey, Jordan, and Saudi Arabia.
Ankara has had links to hardline groups for much of the Syrian civil war, viewing Nusra as a more "Syrian nationalist" rather than "transnational jihadist" group. As such, Ankara has adopted a dual pronged strategy of relying on the group to aid in the war against Bashar al-Assad while also trying to pressure the group to sever it links to al-Qaeda central. More recently, Ankara has sought to use its relationship with these two groups to put pressure on the Islamic State (ISIS or ISIL). Using tactics reminiscent of the US "surge" in Iraq, Ankara hopes that increased funding and training for groups like Jaysh al-Fateh can undercut ISIS's appeal, create a viable counterweight to the group's ideology, and ultimately contribute to its defeat.
This policy stems from Ankara's understanding of the ISIS threat: Turkey ultimately blames the rise of ISIS on Bashar al Assad's brutality and has argued that it maintains a tacit alliance with the Syrian regime to defeat Syria's nationalist rebels. Thus, the defeat of ISIS requires the removal of the source of the problem: Assad. Once Assad is defeated, Syrian support for al-Qaeda will diminish, raising the possibility of reforming the fighters and leaders currently fighting with Nusra and allied Salafi rebel groups.
Turkey's approach to ISIS in Syria differs from its understanding of the group in Iraq. Ankara blames the group's popularity in Iraq on two interrelated factors: (1) Former Iraqi Prime Minister Nouri al-Maliki's sectarian policies and (2) the language used in Iraq's constitution that reinforces sectarian divides.
Ankara has therefore disaggregated its approach to the group, choosing to focus on Syria. This policy is based, in part, on Ankara's lack of influence in Baghdad. Since 2010, Turkey's influence in Iraq has declined considerably, owing to the political travails of its two most important allies: ceremonial Vice President Osama al-Nuajfi and his brother, Nineveh Governor Atheel al Nujaifi.
Turkey has sought to play a role in Nineveh, but its recent deployment of twenty trainers to a small Nujaifi allied camp in Bashiqa is emblematic of its lack of influence. The training is rudimentary, with the volunteers practicing with unloaded AK-47s for twenty days before getting one day to practice with live ammunition. Turkey has sought to send weapons to the camp for months, but its efforts have been stymied, most probably because Baghdad had not approved of the transfer of weapons to the camp. These forces would supposedly take part in the Mosul offensive. In reality, the United States would ultimately lead and plan the attack on ISIS in Mosul; the Nujaifi-allied volunteers are unlikely to play any role.
Compare this minimal effort in Iraq with Turkey's dominant position in northern Syria, where Ankara has close ties with many of the rebel groups, provides arms, and, allegedly, training. The United States, in this situation, has little sway over Ankara's actions, as evidenced by the inability to disrupt Turkish links to Nusra. Thus, despite continued divergences in strategy, both the United States and Turkey rely on one another to realize both countries' overlapping aims: (1) the defeat of ISIS in Iraq and Syria; (2) a leadership change in Damascus.
Yet, while sharing overlapping end-goals, Turkey and the United States have widely divergent views on the tactics needed to actualize these shared policy ambitions. For now, Turkey and the United States pursue symbiotic policies. Ankara needs the United States in Iraq, whereas Washington has ceded a certain amount of control to Turkey in northern Syria. Key stumbling blocs remain, however. Ankara's acquiescence to Jabhat al-Nusra remains a source of considerable concern in Washington. Moreover, it is unclear how the two sides will reconcile the divergent aims of Jaysh al-Fateh and the recently announced train-and-equip program, which had been slated to begin last week but has since been delayed, reportedly over disagreements about the scope and aim of the mission. In fact, this divergence could result in further fracturing the Syrian rebels.
Absent the formulation of a unified approach to the Syrian conflict, the current dynamics suggest that the United States and Turkey will continue to use different tactics to reach their final goal of forcing Assad from power. Nevertheless, the two sides have now entered into an unstated—and perhaps unintended—partnership.
The problem stems from key divergences about which rebels to support and, more broadly, which groups can be counted upon to play a governing role in a future free of Assad. These dynamics are unlikely to be resolved in the near future, suggesting continued Syria related tensions over grand strategy—and the means with which to force Bashar al Assad from power.
Aaron Stein is a Nonresident Fellow with the Rafik Hariri Center for the Middle East, a Doctoral Fellow at the Geneva Center for Security Policy, and an Associate Fellow at the Royal United Services Institute in London.