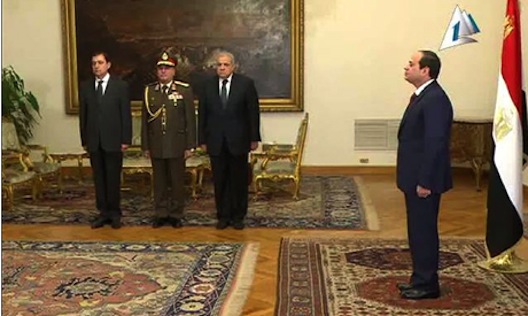 Several university professors, two judges, three generals, a former columnist, and several government officials are among the seventeen new Egyptian governors who were sworn in on February 7 in the first governor reshuffle since President Abdel Fattah al-Sisi came to office. New governors have been appointed for the seventeen provinces of Alexandria, Giza, Luxor, Ismailia, Kafr al-Sheikh, Mounifeya, Beheira, Daqahliya, Gharbeya, Sharqeya, Damietta, Assiut, Fayoum, Beni Suef, Sohag, Matruh and Port Said. The remaining ten governors will stay in their positions, including the governors of Cairo, North Sinai, and South Sinai.
Four of the new governors are under the age of 45. The youngest appointee amongst the seventeen is governor of Beheira, Mohamed Soltan, who is 38. There were no women or Copts among the new appointments.
Sisi had announced a governor reshuffle was expected by the end of January, while Minister of Local Development, Adel Labib, told reporters on January 13 that the cabinet will present a list of proposed governors to the presidency. On February 5, Sisi approved the new governors' reshuffle proposed by Prime Minister Ibrahim Mahlab. The delay was due to the fact that candidates will serve in office only for two months, which resulted in many nominees turning down the positions.
Find out more about the new governors below:
Governor of Giza: Khaled Zakaria al-Adly
Khaled Zakaria al-Adly will replace Ali Abdel-Rahman. Dr. al-Adly is a deputy dean of Faculty of Urban Planning and Social Services at Cairo University, and received his BA in architectural engineering from Cairo University in 1980. Adly has spent extensive time in the United States. He received his PhD in Urban Architecture from Texas A&M University in 1998. He is a member of the Supreme Council for Urban Harmony, Chair of the Committee on Open Spaces and Parks; Principal Partner, and Managing Director at EAG Consulting. He has served as a visiting professor at Georgia State University, a Research Associate and Consultant on Tourism Development Projects at Texas A&M University, and an Instructor at the University of California, Berkeley. Following his nomination, he announced he has eighteen innovative solutions for problems facing the city, particularly in the field of education. He also said he will form a committee from the city residents to discuss any unresolved issues in the city.
Governor of Alexandria: Hani Youssef Mohamed al-Messiri
Hani Youssef Mohamed al-Messiri, 45, will replace Major General Tarek Al Mahdi. He is a professor of economics at the Faculty of Commerce, Alexandria University, and an economics lecturer at the Faculties of Commerce, Economics, and Political Science, at Cairo University. He received his Bachelor's Degree in Business Administration from Alexandria University, and his MBA from the University of California, Los Angeles. He also received an MBA at the Kellogg School of Management at Northwestern University. He has worked as the CEO of IFFCO Egypt, an oils and fats company, as well as the CEO of Equity Ventures. Al-Messiri has also worked for Bank of America and Golden State Foods, Egypt. Messiri's photos went viral on social media after news of his appointment surfaced.
Governor of Daqahliya: Hossam al-Din Imam Abdel Samad
Hossam al-Din Imam Abdel Samad was born in Shubra in 1958. He received his Bachelor's Degree in accounting from Zagazig University, graduating magna cum laude in 1981. He moved to Cairo, where he took a job with the Arab Contractors. He is now a board member for the company. He will replace Engineer Omar al-Shawadfi.
Governor of Sohag: Ayman Mohamed Abdel Moneim Sayyed Ahmed
Ayman Mohamed Abdel Moneim Sayed Ahmed is the head of the health directorate for Alexandria. He has previously served as a deputy at the health ministry in Mounifeya and Qena. He was also the head of a hospital in Mansoura.
Governor of Gharbeya: Said Mostafa Kamel
Said Mostafa Kamel is the chairman of Misr Petroleum Company. He was born in Bab al- Shaariya, Cairo in 1955. He received his Bachelor's Degree in Communication from Cairo University in 1975. He worked for Petrojet and Gasco, after which he became the chairman of Petrotrade for Petroleum Services. He will replace General Mohamed Naeem.
Governor of Fayoum: Wael Mohamed Nabeeh Makram
Judge Wael Mohamed Nabeeh Makram is 38. He is a native of Beheira governate. He is the head of a judicial constituency in Kafr al-Sheikh.
Governor of Matrouh: Alaa Fathi Abou Zeid
General Alaa Fathi Abou Zeid is a former military intelligence director. He replaces Major General Badr Tantawi al-Ghandour.
Governor of Assiut: Yassir al-Dessouky Atteya Selim
Yasser Selim is the commercial and marketing manager of an export and import company. He will replace Ibrahim Hammad
Beni Suef: Mohamed Hanafi Sileem
Judge Mohamed Hanafi Selim was the head of the economic court and the public property prosecution. At the age of 38, he is one of Egypt's youngest governors.
Governor of Beheira: Mohamed Ali Ahmed Ali Sultan
Mohamed Sultan works in the Ministry of Health. Sultan has spent most of his career working for the ministry, and has worked as the head of Egyptian Ambulance Organization. He will replace Engineer Mostafa Hadhood.
Governor of Mounifeya: Hesham Abdel Bassit Abdel Rahman Younis
Hesham Abdel Basit Abdel Rahman Younis was born is Alexandria in 1971. He received degrees in law and literature. He is the chief of Sadat city. He also worked for the General Directorate for Control and Inspection from 1990 till 2006. He will replace Ahmed Sherine Abdel Rahman Fawzy.
Governor of Luxor: Mohamed Sayed Badr
Mohamed Sayed, born in 1973, graduated from the Faculty of Economics and Political Science. He is Director of the Egyptian Cabinet's Information and Decision Support Center (IDSC)—a think tank which "supports [Egyptian] decision makers with regard to economic, social and political issues. He is also the assistant to the Cabinet Secretary General. Badr said he would not speak to the press before being sworn in on Saturday. He will replace General Tarek Saad al-Din.
Governor of Ismailia: Yassin Hosaam al-Din Mohamed Taher
Born in 1954, General Yassin Hossam al-Din Mohamed Taher received his Bachelor's and Masters' Degrees in Military Studies. He has been the deputy governor of Cairo's Southern District since August 2013, and previously served as the head of the municipality for the Suez district of Faysal, and was the assistant secretary general for the governorate of Mounifeya. He was also the director of the Nasser Military Academy. He will replace General Ahmed al-Qassas.
Governor of Port Said: Magdy Ahmed Nasr al-Din Hassan
General Magdy Nasr al-Din Ahmed Hassan is head of the Authority For Reconstruction and Agricultural Development. He will replace General Sameh Qandil.
Damietta: Ismail Abdel Hamid Taha
Ismail Abdel Hamid Taha is Vice President of the Arab Academy for Science Technology & Maritime Transport (AASTMT). He will replace general Mohamed Abdellatif Mansour.
Governor of Kafr al-Sheikh: Osama Hamdi Abdel Wahid
Osama Hamdi Abdel Wahid, 52, was a professor of construction engineering at Ain Shams University. He was also head of the Housing Ministry's Construction and Building Inspection Agency. In one of his first public statements after his nomination was announced, he said he would appoint young deputies. He will replace Judge Mohamed Ezzat Agwa.
Governor of Sharqiya: Reda Abdel Salam Ibrahim Ali
Reda Abdel Salam Ibrahim Ali, 45, received his Bachelor's Degree in Law in 1992 and his Masters in 1995. He obtained his PhD in 2011. He is the deputy dean for students' affairs at the faculty of law. He was a judicial member in the committee that monitored the faculty elections in Mansoura University. He worked as a columnist for Youm7 in 2011 and as an advisor for the Ministry of Economics and Planning in Saudi Arabia. He will replace Dr. Said Abdel- Aziz Osman.