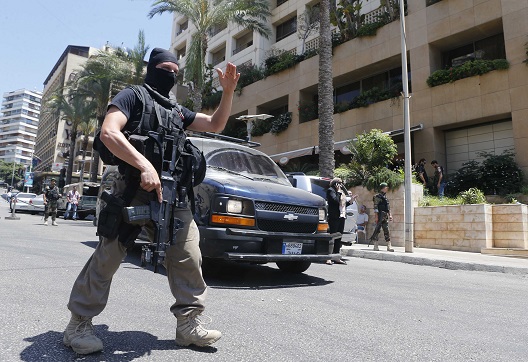 Lebanese security forces stormed the third-floor room of a suicide bomber at the Duroy Hotel in the upscale Beirut neighborhood of Raouche on June 25. They said it was a preventative measure, that the bomber—who blew himself up when police arrived—would have done it elsewhere, later.
It was the second suicide attack in the Lebanese capital this week, coming on the heels of a car bomb—first reported by the media to have been detonated by a member of the Islamic State of Iraq and Syria (ISIS)—that targeted an area of south Beirut that houses a hospital treating Hezbollah fighters returning from Syria. Today, Lebanese officials said the bomber and his accomplice, who survived the blast, carried Saudi Arabian passports. (Last week, the Saudi government vehemently denied what it said was Iraqi leader Nuri al-Maliki's "false accusations" that it supports ISIS.)
Bombings are common in the Shiite strongholds of south Beirut; less so in glitzy, non-sectarian neighborhoods like Raouche. Now, Hezbollah appears to have had enough—and Iraq presents an opportunity to nip the extremists who have been attacking Beirut in the bud.
As all eyes focused on sexier, breaking developments from the ground in Iraq—the ISIS march on Mosul, Tikrit, and key Syrian and Jordanian border crossings—few paid close attention to the profound effect these events have had on Lebanon.
On Monday, Mohammad Raad, head of Hezbollah's parliamentary bloc, said his "people in Iraq [would] overthrow" ISIS. That same day, the car bomb exploded. Hezbollah chief Hassan Nasrallah said he was prepared to "sacrifice for Iraq five times as much as we sacrificed in Syria for the significantly more important holy places." That is a big statement. Hezbollah has lost hundreds of fighters in Syria since last summer, when it arrived to clinch victory for Assad over extremist factions in the key border town of Qusayr.
Observers and policy makers should not underestimate the role this well-trained Shiite militant group could have in fighting ISIS in Iraq. In Syria, Hezbollah often operates as Assad's closer, turning the tides in battles where the Syrian army looks in danger of losing. It has experience fighting—and winning—against ISIS, Nusra, and other extremists.
Nasrallah maintains that Hezbollah's actions in southern Syria are the only reason ISIS has not yet come to Lebanon, fulfilling a promise a year and a half ago that its purpose in Syria was to fight extremists, namely ISIS and Nusra, and prevent them from coming into Lebanon through the porous northern border. He uses this rhetoric—which, admittedly, carries serious weight—to justify involvement in a Syrian war that has so far seen the deaths of hundreds of Hezbollah fighters and the arrival of more than one million Syrian refugees, who have taken up residence everywhere from the Bekaa valley to the streets near the Duroy, the sight of today's bombing.
"If we [Hezbollah] hadn't intervened in Syria the right way and at the right time, ISIS would be in Beirut now," he said on Tuesday, in remarks published by Lebanon's As-Safir newspaper.
Which brings us to the possibility of Hezbollah's involvement against those Sunni extremists in Iraq. What would it look like? One Beirut-based analyst said the group would function in Iraq much like it has in Syria—supporting a larger army (in this case, the Iraqis, Iranians or whoever else decides to get involved) by making small, practical moves to liberate key towns, border posts, or refineries. As in Syria, they would act as closers—reinforcement brought in to turn the tides of battle.
Its involvement would also further tangle the diplomatic web surrounding the ISIS crisis, as Hezbollah and Iran would find themselves on the same side as the United States.
But what would it do for Hezbollah on the home front? Support for intervention against extremists remains strong among most of its Shiite base, but with each bombing, the Lebanese get edgier and general support for ongoing military action wanes.
Involvement in Iraq now would almost certainly increase the criticism. Hezbollah's popularity lies in its resistance to Israeli occupation and cross-border attacks on Lebanon. ISIS and other rebel factions, however, are now doing just that—as a direct result of the same involvement Nasrallah said would keep them at bay.
Some suggest Hezbollah's involvement Syria—and the potential action against ISIS in Iraq—as a tangential diversion from the group's core mission: to protect Lebanon. Tangent or not, the recent bombings show that ISIS continues to pose a real threat Beirut. Despite the risk of backlash at home, Nasrallah would likely find it hard to resist the opportunity to close in on ISIS and mitigate the Sunni insurgent spillover. With a well-trained force, aerial support from the Syrian regime, and backing on the ground by Iran and Iraq, the odds would certainly be in his favor.
Karen Leigh is the managing editor of Syria Deeply.