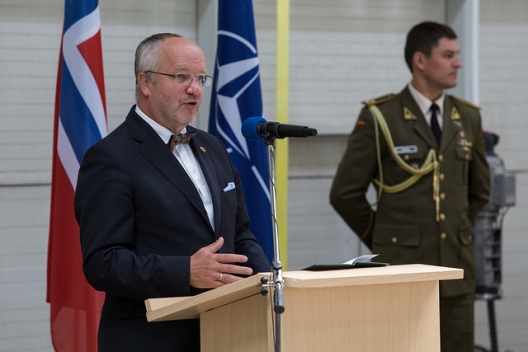 Russia's razor-close fighter jet flybys of a U.S. destroyer in the Baltic Sea this week shows that Moscow is weak, NATO is vital, and Europe's eastern flank needs the new air defense systems Baltic leaders have been requesting for a year. That's according to Juozas Olekas, Lithuania's defense minister, in town for a Washington visit.
The U.S. Navy released dramatic footage Wednesday of Russia jets and a helicopter flying dangerously close to the destroyer USS Donald Cook. The video caused alarm in Washington, where White House spokesman Josh Earnest condemned the acts and Secretary of State John Kerry vowed to raise it with his Russian counterpart. For his part, the top U.S. admiral in the region called the incident "unprofessional and unsafe…."
Olekas, who called Russia the top threat to his country, came to Washington to ask President Barack Obama and Congress to continue bolstering NATO with troops and exercises. He also asked for help in building medium-range missile defenses. He said Lithuania and its fellow Baltic states Latvia and Estonia — NATO members all — need such systems to keep Russia off their borders.
"We have air policing in the countries, and also we have the short-range air defense system implemented in our military forces," Olekas said. But, "when we saw the development of the Russian…systems in the current region, and problematic air defense for the Baltic, all Baltic states, we started to reach an agreement between the Baltics" to create a medium-range system to protect the larger region. "To do that, we need cooperation with the United States and Poland to implement a more secure environment."
Sen. Joe Donnelly, D-Ind., when asked about the issue, said the U.S. should be open to giving allies layered defenses that can shoot down missiles at different ranges and altitudes.
"It's important not only to us, but obviously to our friends, that we be able to partner with our friends and neighbors in providing the same kind of missile defense shield that Israel has," said Donnelly, the ranking member of the strategic forces subcommittee of the Senate Armed Services Committee….
Olekas, who spoke calmly in a Senate antechamber before an Atlantic Council event on Eastern European security, said "aggressive" stunts like the flyby would backfire on Moscow.
"On one hand, they demonstrate that they have some capabilities to do that. On another hand it's a weakness," he said. "They showed a weakness because they [draw] too much attention," which causes NATO alliance members to unite and demonstrate their own prowess.