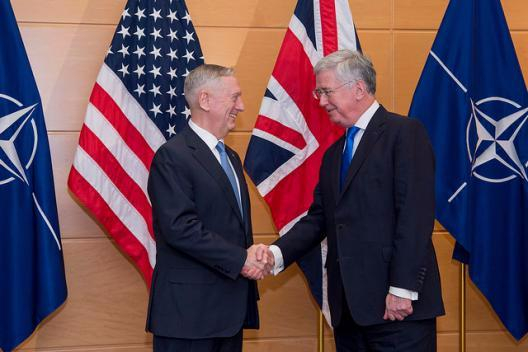 Last week, UK Defense Secretary Michael Fallon stood alongside US Defense Secretary James Mattis as they reaffirmed our countries' commitment to NATO , which serves at the heart of transatlantic security.
As Secretary Mattis said, "The alliance remains a fundamental bedrock for the United States and for the transatlantic community, bonded as we are together."
And bonded we have been.
NATO was created out of necessity, and has aided its allies in arenas from New York to Afghanistan. Now it must evolve in response to today's new reality. We need a fitter, faster, and more agile NATO, one that is prepared for the challenges of the future, like terrorism and cyber warfare.
As it has for generations, the UK stands alongside the US as committed participants in NATO. We are this year leading the Alliance's Very High Readiness Joint Task Force, otherwise known as the 'spearhead force,' which is strengthening NATO's collective defense and deterrence towards Russia. We are deploying around 800 British personnel in Estonia as part of NATO's Enhanced Forward Presence, sending fighter aircraft to police NATO skies over Bulgaria and Romania and are working with our allies to take forward the ambitious agenda agreed at both NATO's Wales and Warsaw Summits.
The UK is also taking action, alongside the US and other partners, well beyond NATO, working to eliminate the threat of Daesh and helping Iraqi security forces build their ability to secure their country once Daesh is defeated.
UK defense spending is the largest in Europe – the second largest in NATO. We are one of only five NATO countries currently spending at least 2% of our GDP on defense; one of only three that also meet NATO's other key target of spending at least 20% of their defense budget on equipment; and, we have pledged not only to do that but also to increase UK defense spending in real terms for the rest of the decade.
Member countries, especially those with robust economies, have reaped the benefits of the NATO alliance for a long time – but not everybody pays their fair share. And while our NATO partners have been invaluable when it comes to reassurance for eastern European allies or tackling Daesh, we support the US Administration in their desire to more fairly share the burden of our collective defense.
The UK's commitment to invest in our security and safeguard our prosperity is significant. By 2025, we will be able to deploy a potent, expeditionary force of around 50,000 troops, an Air Group including the world's most advanced combat aircraft, the F-35 Lightning II and a Maritime Task Group based on new aircraft carriers that will be the largest ships the UK's Royal Navy has ever owned and supported by highly capable submarines and surface ships.
To bolster our counter-terrorism capabilities, we will invest around $2.4 billion in our cyber defenses, and hire an additional 1,900 intelligence staff. Last week, HRH Queen Elizabeth II opened the new Cyber Crime Security Centre in London, which will operate as the cyber security nerve centre for GCHQ, helping to tackle some of the most pressing threats to our security and infrastructure.
In all, over the next decade the UK is investing around $220 billion in modern and capable Armed Forces. That includes new strike aircraft; more surveillance aircraft; hunter killer submarines; two aircraft carriers; new attack helicopters and advanced armoured vehicles.
But we can't do it alone. Just days ago, the UK launched its renewed International Defense Engagement Strategy, which contained a new plan for how the UK will strengthen cooperation with allies and partners, allowing the UK to collectively pack a more powerful punch as a foremost member of organizations like NATO and the UN Security Council.
All of this adds up to a UK that is, like the US, forward-thinking and future-leaning on our defense needs. We would like to see more of our allies follow our lead.
Steve McCarthy is the minister for defense material at the British embassy in Washington.