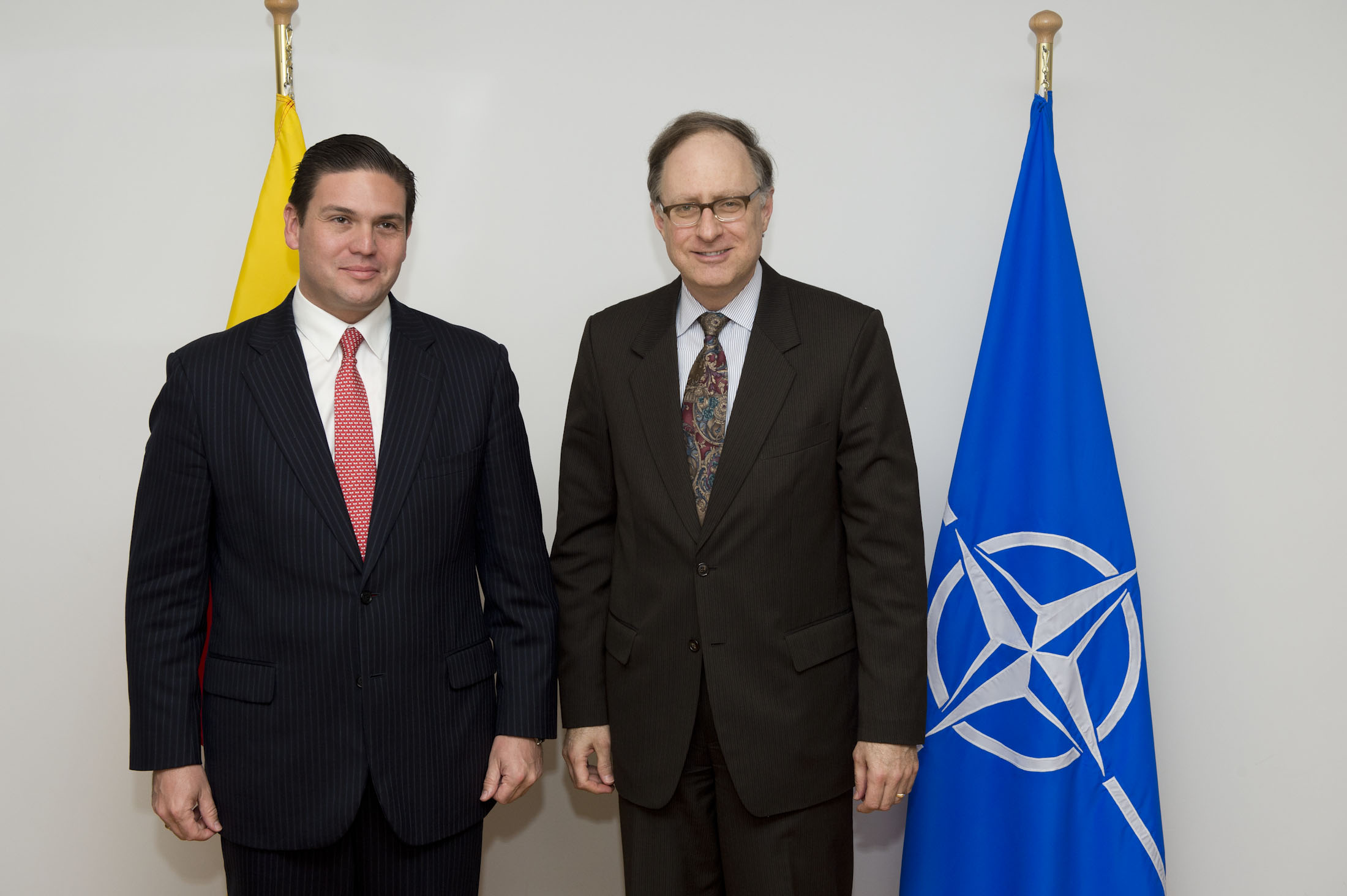 By Jorge Benitez: Colombia's Defense Minister Juan Carlos Pinzon visited Europe in June and signed a cooperation agreement with NATO. This important agreement authorized the exchange of intelligence information between Bogota and Brussels.
It is also an important step in improving cooperation between the democracies in the North Atlantic alliance and the democracies in Latin America.
Colombia's President Juan Manuel Santos made international headlines when he described this agreement as the start of "a process of rapprochement and cooperation, with an eye toward also joining" NATO. President Santos' interest in a much stronger relationship between Colombia and NATO was strongly condemned by the President's of Bolivia, Venezuela, and Nicaragua, who described it as "madness" and "a threat for the region." If working with NATO is "madness" or "a threat," why are the United Nations, Switzerland, and Sweden active partners with NATO? Evo Morales, Nicolas Maduro, and Daniel Ortega still cling to Cold War stereotypes and inflammatory rhetoric in order to keep the Western Hemisphere isolated from international partnerships.
Even Russia and China see the value in cooperating with NATO. For example, Russia is an official NATO partner and has an ambassador in Brussels to improve dialogue with the alliance through the NATO-Russia Council. In the last few years, China has been cooperating with NATO and the international counter-piracy mission off the coast of Somalia. The counter-piracy mission is a success (no ship has been successfully seized by Somali hijackers in over year) and an excellent example of how international security cooperation serves global peace and stability. This is why countries in Europe, Asia, Africa, the Pacific, and the Middle East choose to partner with NATO in UN sanctioned missions such as ISAF in Afghanistan and preventing ethnic conflict in Kosovo. Russia and China may be the most prominent examples, but it should be noted that most NATO partners desire only cooperation with the alliance, not membership. Likewise, partnership with NATO, not membership, is feasible and in Colombia's best interests.
As Pinzon explained, "There are countries that become partners in matters of cooperation, that is what Colombia has been pursuing." Developing an official partnership between Colombia and NATO makes a lot of sense. It is healthy for Colombia to strengthen ties with other democracies beyond the hemisphere. Several NATO members, such as Poland, the Czech Republic and Spain, have valuable experience in security sector reform and improving civil-military relations. Working with NATO would also be a significant way for Colombia to contribute to global governance. In addition to the counter piracy mission, NATO and its partners have participated in other valuable international operations such as Pakistan earthquake relief, assisting the African Union in Darfur, and even helping the US after hurricane Katrina.
It is time for Colombia and NATO to strengthen their partnership. Argentina and Chile have already contributed to NATO peace-keeping missions in the Balkans such as Bosnia and Kosovo. In addition, just a few days ago, 8 aircraft and 120 personnel from Colombia's Air Force participated in Exercise Maple Leaf in Alberta, Canada. Maple Leaf is one of the largest air training exercises in the world and provided Colombia with an important opportunity to train not just with its hemispheric neighbors Canada and the US, but also with the air forces of NATO members such as Germany, Britain, Belgium, and the Netherlands. Chile and Peru also sent personnel to the Maple Leaf exercise and officially participated as observers.
Santos and Pinzon have made the right choice. Under their leadership, Colombia is taking "steps along the required path to become a partner in cooperation" with NATO. Working with the democracies in the transatlantic alliance is good for Latin America and a sign of the health and maturity of democracy in Colombia. NATO and Colombia should proceed to take the next steps to deepen and strengthen their partnership.
Dr. Jorge Benitez is the director of NATOSource and a senior fellow at the Atlantic Council. This piece first published (in Spanish) in El Tiempo. (photo: NATO)