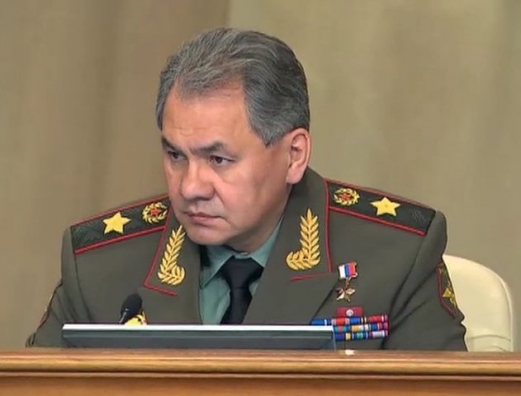 From RIA Novosti: Terrorism and NATO expansion near Russian borders pose key threats to Russia's national security, Defense Minister Sergei Shoigu said Saturday.
Speaking in an interview with Rossiya 1 television, Shoigu said international terrorism is Russia's "main foe" as many militants fighting in "hot spots" around the world are members of terrorist organizations. . . .
Another major threat, in Shoigu's opinion, is continuing attempts to build NATO infrastructure and expand the alliance's presence close to Russian borders.
Russia has vociferously opposed bids by Georgia and Ukraine to become NATO members as well as plans to place elements of US missile defenses in Eastern European countries, such as Romania and Poland.
"This continuing [NATO] expansion, in our opinion, is completely unfounded," Shoigu said. "We are talking and talking, and smiling to each other, but it's still going on."
From Moscow Times: Apart from Russia's concern over terrorist attacks, Shoigu's comments also highlighted apprehensions about NATO's expansion and its increasing influence beyond the country's borders, just several days after NATO hosted its biggest military exercises in seven years in the Baltic countries.
"The continued expansion of NATO, in our view, is absolutely unwarranted," Shoigu said.
Russia's uneasiness over NATO's expansion resulted in Zapad-2013, a large-scale joint military exercise with Belarus held on Russia's border with the Baltic states in September. More than 13,000 servicemen, 250 combat vehicles and 60 aircraft were deployed in a display of military might that Estonian President Toomas Hendrik Ilves said was meant to simulate "conquering the Baltic states. . . ."
Under Shoigu, Russia has also renewed its military presence in the Mediterranean and pushed towards expanding its presence in the Arctic, assuaging the country's injured pride about its power and grandeur.
Russia is also proceeding with its 23 trillion rubles ($704 billion) commitment to modernize its weaponry over the next decade, despite a worldwide trend of reducing defense spending.