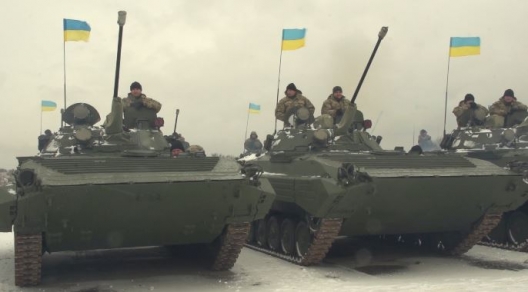 Sending weapons to Ukraine will not rescue its army and will instead lead to an escalation in the fighting. Such a step is especially dangerous because Russia has thousands of nuclear weapons and is seeking to defend a vital strategic interest.
There is no question that Ukraine's military is badly outgunned by the separatists, who have Russian troops and weapons on their side. Because the balance of power decisively favors Moscow, Washington would have to send large amounts of equipment for Ukraine's army to have a fighting chance.
But the conflict will not end there. Russia would counter-escalate, taking away any temporary benefit Kiev might get from American arms. The authors of the think tank study concede this, noting that "even with enormous support from the West, the Ukrainian Army will not be able to defeat a determined attack by the Russian military." In short, the United States cannot win an arms race with Russia over Ukraine and thereby ensure Russia's defeat on the battlefield….
She [German Chancellor Angela Merkel] and other European leaders still labor under the delusion that Ukraine can be pulled out of Russia's orbit and incorporated into the West, and that Russian leaders must accept that outcome. They will not.
To save Ukraine and eventually restore a working relationship with Moscow, the West should seek to make Ukraine a neutral buffer state between Russia and NATO. It should look like Austria during the Cold War. Toward that end, the West should explicitly take European Union and NATO expansion off the table, and emphasize that its goal is a nonaligned Ukraine that does not threaten Russia. The United States and its allies should also work with Mr. Putin to rescue Ukraine's economy, a goal that is clearly in everyone's interest….
Crimea, a casualty of the West's attempt to march NATO and the European Union up to Russia's doorstep, is surely lost for good. It is time to end that imprudent policy before more damage is done — to Ukraine and to relations between Russia and the West.
John J. Mearsheimer, a professor of political science at the University of Chicago, is the author of "The Tragedy of Great Power Politics."