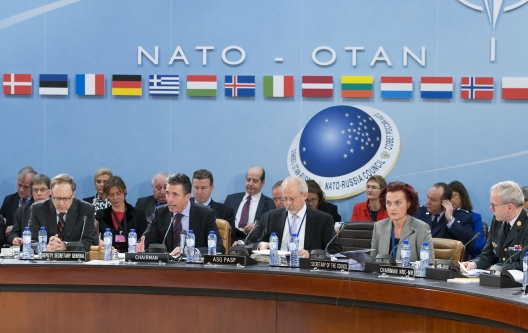 A NATO diplomat, describing the [NATO-Russia Council] session as "tense," said alliance members one by one confronted Alexander V. Grushko, Russia's representative to NATO, with charges that Moscow was violating international law in Crimea and concocting threats against ethnic Russians there to justify its actions.
"It was quite an uncomfortable meeting," said the diplomat, speaking on the condition of anonymity about the closed-door session. When it was over, NATO announced that it was suspending collaboration with Russian armed forces on several fronts, including planning for Russia to provide a maritime escort for the U.S. ship that is to destroy Syrian chemical weapons at sea in the spring.
Before meeting with the Russians, alliance ambassadors traveled from NATO headquarters across town in Brussels for a rare meeting with representatives of the European Union's policy and security committee.
E.U. representatives gave preliminary approval to a $15 billion aid package of loans and grants to Ukraine over the next several years, on top of a U.S. announcement Tuesday of $1 billion in energy loan guarantees. . . .
In Washington, a senior official said there were ongoing discussions within the administration about whether the United States should unilaterally impose sanctions on Ukrainian and Russian individuals tied to corruption and the recent violence in Ukraine. Although the administration is prepared to move forward within days, "we want to coordinate with the Europeans to be most effective," said the senior official, who was not authorized to speak on the record about the discussions. . . .
The Pentagon also announced, in response to what officials said were requests from Eastern European NATO members over the past week, that it would more than double the number of aircraft it has based in Lithuania as part of a regular alliance air-defense patrol.
The patrols over the Baltic nations were initiated a decade ago and are rotated quarterly among NATO members that have the appropriate aircraft. The United States, by coincidence, is in charge of the patrols this quarter and is sending six F-15 fighter jets and a KC-135 tanker to add to the four F-15s already deployed at Lithuania's Siauliai Air Base.