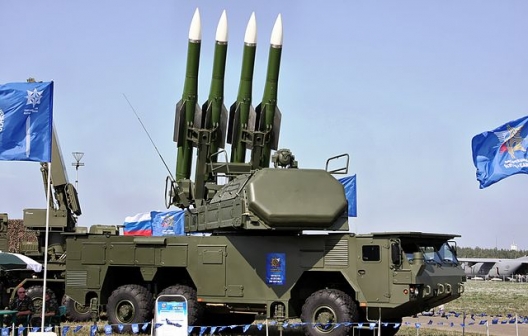 U.S. and Ukrainian officials warned Sunday that Russia may be poised to expand its territorial conquest into eastern Ukraine and beyond, with a senior NATO official saying that Moscow might even order its troops to cross Ukraine to reach Moldova. . . .
In Brussels, U.S. Air Force Gen. Philip M. Breedlove, the commander of U.S. and NATO forces in Europe, said Russia had assembled a large force on Ukraine's eastern border that could be planning to head for Moldova's separatist Transnistria region, more than 300 miles away. . . .
"There is absolutely sufficient force postured on the eastern border of Ukraine to run to Transnistria if the decision was made to do that, and that is very worrisome," Breedlove said. . . .
In Washington, a senior Defense Department official said it was "difficult to know what [Russia's] intent is; they're not exactly being transparent." He spoke on the condition of anonymity because of diplomatic sensitivities.
During a conversation Thursday, Russian Defense Minister Sergei Shoigu assured U.S. Defense Secretary Chuck Hagel that Russian troops on the Ukrainian border were merely conducting a regular "spring" exercise and that Russia had no intention of sending the forces across the international line, the U.S. official said.
But at the same time, the official said, "They have enough troops close enough and, most likely, ready enough that we would have very little notice" if they decided to move farther outside Russia.
From Reuters: Breedlove said NATO was very concerned about the threat to Transdniestria, which he said, in Russia's view, was the "next place where Russian-speaking people may need to be incorporated."
From Reuters: The speaker of Transdniestria's parliament has urged Russia to incorporate the region, which lies to the west of Ukraine. . . .
Germany's Foreign Minister Frank-Walter Steinmeier underscored the huge potential repercussions of Russia's bid to redraw national borders in Europe.
"I'm very worried the unlawful attempt to alter recognized borders in our European neighborhood, 25 years after the end of the Cold War, will open Pandora's Box," he said.
Belarussian President Alexander Lukashenko, a close ally of Russia, accepted on Sunday that Crimea was now "de facto" a part of Russia, but said the annexation set a "bad precedent."