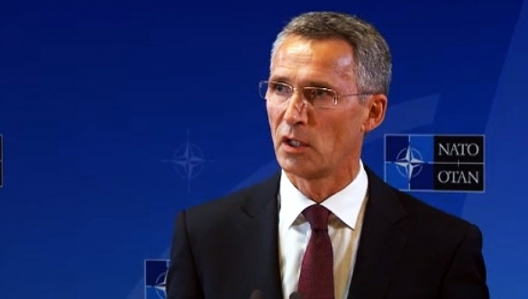 It is indeed an honour to take up the post of Secretary General of NATO. The most successful Alliance in history.
We face serious challenges. Some familiar. Some new. But our democracies must continue to rise to each and every challenge. As we did at the summit in Wales.
The Summit set a clear course. The decisions taken in Wales will ensure that NATO stands ready to face the future. My responsibility is to implement those decisions.This is a demanding job at a demanding time. And I count on all Allies to engage and deliver.
This morning, I chaired a meeting of the North Atlantic Council for the first time. We reviewed the changed security landscape around us.
To the east, the ceasefire in Ukraine offers an opportunity. But Russia maintains its ability to destabilise Ukraine. And Russia remains in breach of international law.
To the south, instability is spreading in our neighbourhood. The international coalition including NATO Allies and regional partners is taking decisive actions against the terrorist group ISIL.
We support efforts to strengthen Iraq's ability to defend itself. And our Patriot deployment contributes to the air defence of our Ally Turkey. These challenges make clear why we need NATO.
So as I take office, these are my three priorities. Keep NATO strong. Help keep our neighbourhood stable by working with partners. And keep the bond between Europe and North America rock solid.
NATO's most important task is to protect and defend our nations against attack. Article 5 of the North Atlantic Treaty remains the cornerstone of our Alliance. We will uphold our commitment. And we will defend our Allies. So we need a strong NATO. Strong as a political Alliance. And strong as a military Alliance.
A NATO with a collective defence where each Ally plays its full part and fulfils its responsibilities.
To be strong, NATO must remain ready. Ready to take decisions. And to adapt as challenges emerge.
The Summit approved the Readiness Action Plan. This enables us to respond even faster to fast-moving crises.
We will maintain a continuous presence and activity in the Eastern part of the Alliance, on a rotational basis.
NATO air patrols over the Baltic will continue. Naval deployments in the Baltic and Black Sea will continue. And rotation of forces throughout Eastern Europe for exercises will continue. For as long as necessary.
Our military commanders are setting up the Spearhead Force. So that our troops stand ready to deploy within days. To demonstrate that NATO is determined to deter any aggression.
In February, I expect NATO defence ministers to agree on the design, the composition and the size of the Spearhead Force. As Secretary General, I will engage closely with all Allied countries. I intend to visit East and South of our Alliance to see the situation on the ground. And in the coming days I plan to make my first visits to Poland and Turkey.
The crisis in Ukraine, caused by Russia's military intervention, is a major challenge to Euro-Atlantic security. The summit sets out our clear position. NATO does not seek confrontation with Russia. But we cannot and will not compromise on the principles on which our Alliance, and the security in Europe and North America rest.
We will continue our full support for an independent, sovereign and stable Ukraine. Each European nation must be free to decide its own course. And we need to see a clear change in Russia's actions. A change which demonstrates compliance with international law. And with Russia's international obligations and responsibilities.
So let me be clear. I see no contradiction between a strong NATO and our continued effort to build a constructive relationship with Russia. Just the opposite. Only a strong NATO can build such a relationship for the benefit of Euro-Atlantic security.
A strong NATO is also an engaged NATO. Working with partners to build stability across the globe.
Our ISAF mission in Afghanistan has brought together a quarter of the world's nations. 50 countries in the largest coalition in recent history. And as we prepare to end our combat mission, we are opening a new chapter. And therefore I welcome the signature of the Status of Forces Agreement with Afghanistan. This is a decisive step forward by the national unity government.
This agreement provides us with the necessary legal framework to launch our new mission.
To train, advise and assist Afghan security forces from January. And it provides the Afghans with the confidence that we will continue to support them in a different way. To build on hard-won gains we have made.
Cooperation with nations and organisations around the world increases security for all of us.
I expect to see concrete progress in our relations with partners by the time the foreign ministers' meet in December.
We will start implementing the NATO trust funds to support Ukraine in four areas: cyber, logistics, command and control, and rehabilitation of wounded soldiers.
And we will have in place a substantial package for Georgia, including a training facility.
NATO remains the most important transatlantic forum for security consultation and cooperation.
History has taught us, again and again, that the bond between Europe and North America is indispensable. I look to Allies on both sides of the Atlantic to play their full part in keeping our bond rock-solid.
To do so, we must invest in our Alliance politically and financially. We must invest more. And we must invest better.
At the Wales summit, we agreed to reverse the trend of declining defence budgets. And to raise them over the coming decade. We will review our progress every year. We will keep it on the agenda of future summits and meetings of defence ministers.
NATO must have the right balance of spending, the right capabilities, and the political will to do what we need to do. I regard this as vital.
Our Alliance is an alliance and a family of values. Stretching from Eastern Europe to the west coast of the United States. Defending almost one billion people.
I express my gratitude and respect to all the men and women in uniform serving under the NATO banner. Together, we will stand up for our values. We will keep our nations safe. And we will keep NATO an essential source of stability in this unpredictable world.

Remarks to the press by NATO Secretary General Jens Stoltenberg, October 1, 2014.