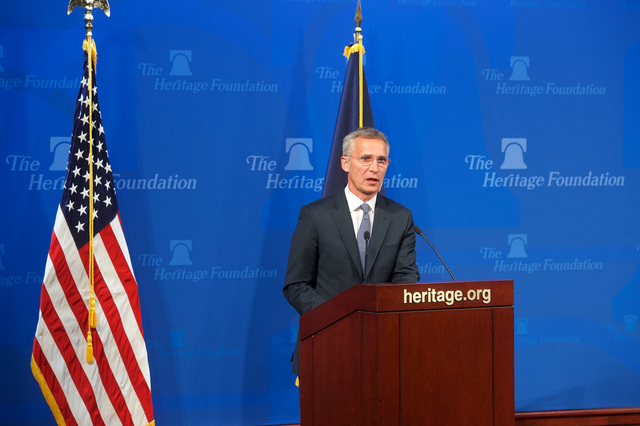 NATO is very important to Europe. That's widely recognized. But it is also very important to the United States. Let me mention three main reasons why.
First, peace and stability in Europe are of vital interest to the United States. Second, NATO Allies share and support the fundamental values which are at the heart of American society. And third, NATO Allies boost America's military power.
So first: NATO was forged in the aftermath of two World Wars. Which led to the loss of 90 million lives. And widespread economic devastation. When we consider NATO's value today, we need to take into account the devastating loss of life and the ruinous economic costs of a major war in Europe. For nearly 70 years, NATO has helped to preserve peace and stability in Europe. This has provided the foundation for an unprecedented period of prosperity. For all NATO Allies. Including the United States. Europe and North America together represent half of the world's economic output. And while we now have our disagreements over tariffs, it does not change the fact that Europe and North America are each other's biggest trading partners. So peace and stability in Europe are the foundation for continued prosperity. On both sides of the Atlantic.
Second, we share fundamental values that we protect and defend together. Democracy, individual liberty and the rule of law. They are the foundations of our free societies. But they are also the foundations of our engagement with the rest of the world. These values are magnets for other countries. And lead them to join our Alliance. After the Berlin Wall came down, former Warsaw Pact countries and the Baltic States all joined NATO. Others have followed. And more countries aspire to join. NATO has helped to spread democratic values, free enterprise, and stability to millions of people in the eastern part of Europe.This represents a historic geopolitical shift. That has benefitted the United States. And the world at large.
Third, NATO Allies boost America's military power. They have nearly two million service personnel on active duty. And cutting-edge capabilities. France and the United Kingdom contribute 30 percent of NATO's nuclear ballistic-missile-submarine fleet. America's NATO Allies also maintain dual-capable aircraft for nuclear delivery. To enhance our deterrence and keep the peace. Furthermore, America's NATO Allies employ tens of thousands intelligence personnel. Many of them working in close coordination with their US counterparts. Giving the United States better eyes and ears than you would otherwise have. From tracking submariners in the Arctic to identifying terrorists that seek to harm us.
NATO allies also hosts twenty-eight American main operating bases across Europe. These bases in Europe are not only for Europe. They enable the US to project military power across the wider Middle East and Africa. Providing a clear strategic advantage in the fight against terrorism and other threats. For example, the US Africa Command is based not in Africa, but in Stuttgart, Germany. The 6th Fleet – which operates from the Barents Sea to Antarctica – is headquartered in Naples, Italy. And when US troops are wounded in places like Iraq and Afghanistan, they are flown for quick treatment to Ramstein, Germany.
When thinking of the value of NATO to the United States, I am also reminded of what Secretary Mattis once told me. That never in his entire career had he fought a war without NATO allies at his side. The US never has to fight alone. This week we marked the anniversary of the 9/11 attacks on the United States. After those attacks, NATO invoked our collective defense clause – Article 5 – for the first – and only – time. Since then, hundreds of thousands of European and Canadian soldiers have fought alongside the United States in Afghanistan. More than a thousand have paid the ultimate price.
And today, NATO allies continue to stand with the United States. Not only in Afghanistan. But also in the Global Coalition against ISIS. And in deterring an increasingly assertive Russia. For nearly seven decades, the United States has been able to call upon its close Allies and friends in NATO. No other power can match that. No other power in the world has so many friends and Allies.
So NATO supports the prosperity, the values and the security of the United States. But it is clear that Allies need to invest more and better in our shared security. All NATO Allies have agreed: To stop cuts to defense budgets. To increase spending. And to move towards spending 2% of GDP on defense by 2024. We are making real progress. Last year, NATO Allies across Europe and Canada boosted their defense budgets by a combined 5.2%. The biggest increase, in real terms, in a quarter of a century. This year will be the fourth consecutive year of rising defense spending.
[T]wo World Wars, a Cold War, and the ongoing fight against terrorism have taught us that we are far stronger together than apart. We have always been united in our core collective defense mission. That's why NATO is the most successful – and the most valuable – alliance in history. Because it embodies the vital transatlantic bond. A bond that guarantees our prosperity, our security, and our freedom. In Europe – and in North America.
Excerpts from remarks by Secretary General Jens Stoltenberg at the Heritage Foundation, September 24, 2018.