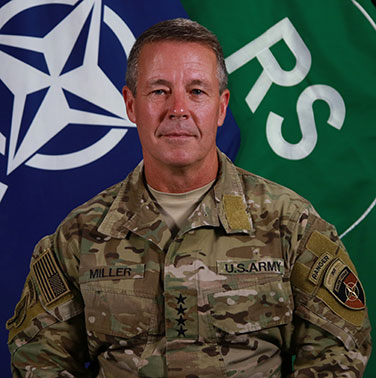 General Austin Scott Miller assumed command of the NATO-led Resolute Support Mission from General John "Mick" Nicholson at a ceremony at mission headquarters in Kabul, Afghanistan. General Miller will oversee the continued efforts by NATO Allies and operational partners to further develop effective and sustainable Afghan security forces and institutions through the train, advise and assist mission.
General Miller previously commanded the US Joint Special Operations Command. At the change of command ceremony in Kabul, he said: "We must enable our Afghan partners in building their security and military capacity so that they are able to deny safe havens to terrorists in a long-term, and sustainable way." He stressed the strength of the Resolute Support Mission, which includes 41 NATO Allies and partners: "Forty-one. That number sticks with me. It's powerful and I want to recognize NATO and the operational partners for building and sustaining such an inspiring team."
General Nicholson, who commanded the Resolute Support Mission for two and a half years, said all the nations involved in Resolute Support support the peace process: "These nations are here on a conditions basis, not a calendar. Peace in Afghanistan is in everyone's best interest. It not only ends the suffering of the Afghan people. Peace in Afghanistan makes the entire world safer."
NATO Secretary General Jens Stoltenberg said, "I'm looking forward to working closely with General Miller as the new Commander of our Resolute Support Mission, and I thank General Nicholson for his outstanding service." He stressed that "NATO remains committed to supporting Afghan security forces as they create the conditions for lasting security and peace."
At the NATO Summit in Brussels, on 11-12 July 2018, Heads of State and Government of all Allies and operational partners contributing to the Resolute Support Mission decided to sustain the mission until conditions on the ground indicate a change is appropriate, and to extend financial support for the Afghan security forces through 2024. They reaffirmed their support to an Afghan-led and Afghan-owned peace and reconciliation process.