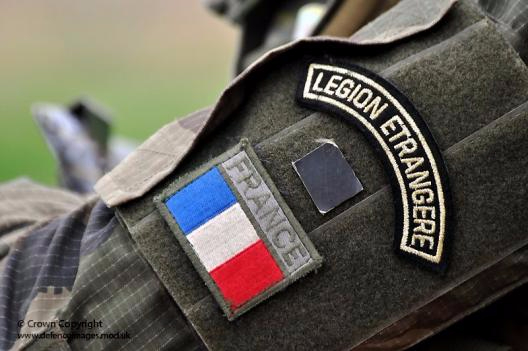 What does the Trump Administration portend for U.S.-French relations on defense matters? This is hardly an academic question, since Paris and Washington have core interests at stake. So it's heartening that Secretary of Defense James Mattis spoke this week with his French counterpart, Jean-Yves Le Drian, and "discussed the importance of the NATO alliance and counter ISIL-operations."
Over 5,000 French soldiers, airmen, and sailors are engaged in difficult operations stretching from the Middle East to the Mediterranean Sea and across the Sahel to West Africa. Most of these involve, directly or indirectly, coordination with and/or support from the U.S. military, including its formidable intelligence and logistical assets. An additional 13,000 personnel are deployed to counter terrorist threats inside metropolitan France and 10,000 others are stationed in French overseas territories or engaged in "presence" missions (for example, in strategically important bases in the United Arab Emirates and Djibouti.) Result: the French military today is arguably the most active–and stressed– of America's 27 NATO allies.
The good news is that the U.S. and French militaries have reached an unprecedented level of mutual confidence, cooperation, and interoperability. This reflects a gradual convergence of French and American views on emerging threats—such as transnational terrorism, nuclear proliferation, and cyber and space systems vulnerabilities—that began to gain traction around 2007, eventually replacing the deep rift caused by the invasion of Iraq in 2003.
Unquestionably, France's decision to return to NATO's military structures in April 2009 (after a 43 year absence) removed a major impediment to improving bilateral ties with Washington. The installation of highly-talented French officers in top NATO posts–including as Supreme Allied Commander, Transformation (SAC-T)—opened new opportunities for collaboration with U.S. defense and military leaders inside and outside Alliance channels. The benefits of this rapprochement became evident during NATO's troop surge in Afghanistan in 2009-2010; France, at one point, became Europe's third largest troop contributor there, working closely with U.S. Special Forces and sharing combat air support roles in the eastern region. Meanwhile, the American, French, and British air forces developed new patterns of trilateral cooperation, which paid off handsomely during the 2011 air campaign in Libya.
Operational cooperation bred increased mutual confidence in political-military relations, as well. For example, senior U.S. and French defense officials played important roles in helping their respective capitals navigate the potentially tricky transition, in May 2012, from President Nicolas Sarkozy's center-right government to that of his successor, François Hollande. Hollande's Socialist Party had criticized Sarkozy's policy on NATO and his alleged alignment with U.S. defense policies, but in the end, the new president changed little of substance in his predecessor's approach.
Hence, in January 2013, when France sought urgent assistance for its military intervention to stop an al-Qaeda affiliate's offensive in Mali, Washington responded quickly with intelligence, air refueling, and other logistical help. And in 2015, when Hollande cancelled a lucrative contract with Russia (approved by Sarkozy in 2011) to deliver two Mistral-class helicopter carriers, Washington quietly applauded his willingness to sanction Moscow for its annexation of Crimea.
True, the increasingly close defense relations between the two allies did not prevent a serious policy split in September 2013, when President Barack Obama decided not to launch air strikes (which Hollande was prepared to join) to punish the Syrian regime's use of chemical weapons. Still, the years of deepening defense cooperation helped limit and repair the diplomatic fallout.
In fact, by late 2014, France had become a major contributor to the U.S.-led anti-ISIS coalition in Iraq, and Hollande expanded French air operations to ISIL targets in Syria following the November 2015 terrorist attacks in Paris. Indeed, for several months in 2015 and 2016, a French naval strike group headed by the aircraft carrier Charles de Gaulle served as the first non-U.S. commander of Task Force 50, which directs the coalition's naval air operations. Meantime, on the ground in Iraq, French soldiers are helping to train government forces, in addition to providing artillery support to those units attacking ISIL strongholds.
In light of the above, it's easy to see why Le Drian and the outgoing Secretary of Defense, Ash Carter, decided to sign a "Joint Statement of Intent" not long after Donald Trump's surprise victory. The statement identifies specific areas where Carter and Le Drian hoped their legacy of "close and mutually beneficial cooperation" will be maintained or further developed. These include: shared strategic assessments to better understand and prepare for future challenges within and beyond Europe; increased mutual support in operations, especially in the Middle East and Africa; continued progress in the exchange of "operational military intelligence"; expanded cooperation in the cyber and space domains; and intensified cooperation and consultation regarding defenses against, and non-proliferation of, weapons of mass destruction, as well as efforts to "as a framework to continue (the) strong relationship."
On the U.S. side, Secretary Mattis, a former head of U.S. Central Command and former NATO SAC-T, is very familiar with French strategic thinking, nuclear and conventional capabilities, and operational strengths and constraints. In their recent conversation, Mattis and Le Drian agreed to use the Joint Statement "as a framework to continue (the) strong relationship."
Nevertheless, if President Trump persists in using loose rhetoric—calling for an "America first" approach, describing NATO as "obsolete," asserting that torture "works," and disparaging the EU (which still enjoys broad French support)—the overall climate for U.S.-French relations will suffer. And if he seeks to implement his campaign pledge to "dismantle" the multilateral deal on the Iranian nuclear program, which France (along with the United Kingdom and Germany) helped to negotiate, a serious dispute with Paris is virtually guaranteed—with unpredictable repercussions for defense cooperation.
On the French side, political backing for cooperation with the United States could face new challenges, as well, depending on the presidential election in May. The center-right candidate, François Fillon, recently blasted the U.S. role in NATO, asserting that "(the) American policy that directs NATO is not the solution for Islamic terrorism; rather, it's the problem." He also proposed a "Europe-Russia conference on the new security conditions in Europe" (excluding the United States from the discussion), and appeared to side with Moscow's objections to NATO's missile defense project.
For her part, Marine Le Pen, the far-right leader expected to face Fillon in the run-off, has declared herself "very happy" with Trump's election. As part of her populist campaign to regain French "sovereignty," she promises, if elected, to withdraw France from NATO's military structure, which she derides as the "sword arm" of the United States.
Faced with these uncertainties, Secretary Mattis and his team should play the "long game," pursuing expanded cooperation in areas where French and U.S. strategic priorities are most likely to overlap for years to come.
First and foremost, this would require early and far-reaching consultations on a common strategy to defeat ISIL and its affiliates in the Middle East and Africa, where French expertise and capabilities will be most relevant. This should be backed up by intensified joint planning to translate that strategy into significant and visible operational successes. Thankfully, the bilateral mechanisms to do this are largely in place, as outlined in the Joint Statement. But more could be done to integrate bilateral efforts with those of the wider counter-ISIL coalition and NATO, which bring distinctive advantages to the fight. In addition, as befitting its leadership role within the EU, France is well-placed, with appropriate U.S. support, to begin mobilizing its fellow member states for a daunting but ultimately inescapable task: helping to stabilize and rebuild areas and societies ravaged by ISIL, lest its remnants simply disperse and regroup elsewhere.
A second area for priority attention is the cyber domain. France is one of the very few allies with real capabilities in this area, and its defense ministry plays a central role in a range of cyber activities, including warning, assessment, and rapid reaction capabilities. The ministry also coordinates closely with other governmental bodies, such as the National Agency for Information Systems Security (operating under the prime minister's office), and the interior and foreign ministries. France recently has intensified its efforts to counter cyber threats and, as Le Drian has put it diplomatically, "have the capability to take action [emphasis added] across cyberspace." Like the United States, France has a vital interest in protecting military and space systems, including sensitive command-and-control networks and critical infrastructure. Thus, the logic of pursuing closer cooperation with the French—in particular, through U.S. Cyber Command—is self-evident.
Third, the Pentagon should explore a more trilateral—i.e., U.S., U.K., French—approach. A solid foundation for their operational cooperation already exists, especially among the three navies and air forces in the broader Middle East. Washington could boost U.K.-French military efforts by removing unnecessary impediments to U.S. information sharing, which reportedly hinder U.K.-French planning arrangements for their Combined Joint Expeditionary Force (CJEF). The CJEF is a high-readiness force capable of deploying up to two army battlegroups with naval and air components—all of which are equipped and trained for high-intensity warfare). Paris and London should be encouraged to make the CJEF quickly available, if needed, to reinforce the battalion-size NATO contingents being sent to the Baltic states and Poland. This would strengthen deterrence and send a clear message that Europe's two most capable militaries will join Americans and other allies on the front lines, if necessary. And since the three "nuclear allies" will be modernizing their respective deterrent forces—all at considerable cost—over the coming decades, it's worth asking if there are opportunities for trilateral cooperation that would complement existing patterns of U.S.-U.K, U.K-French, and U.S.-French collaboration, while respecting legitimate national interests to protect sensitive technologies and engineering skills.
Finally, the Military Services should continue to support and, where feasible, expand the various exchange programs for U.S. and French officers—in defense colleges, operational units, and headquarters staffs. These bring substantial benefits to both sides, sharpening their respective strategic assessments and cross-fertilizing their planning and operational expertise. And the new Pentagon team should not let unfinished business die on the vine. For example, pursuant to a July 2015 agreement signed by the U.S. and French army chiefs, a French brigadier general was to be appointed as deputy commander of an American division, with a U.S. one-star serving as deputy commander of an equivalent French formation. This innovative arrangement, planned to begin this year, reportedly has been stalled due to relatively minor bureaucratic issues. If building confidence and interoperability with one of our most capable and engaged allies is important to the Pentagon, this should be an easy problem to fix.
Leo Michel is a a non-resident Senior Fellow at the Brent Scowcroft Center on International Security.