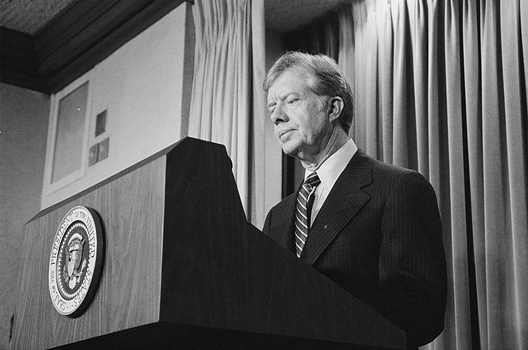 US President Donald J. Trump is expected to announce his decision on May 8 on whether to continue to waive sanctions on Iran or pull the United States out of a multilateral nuclear agreement with the Islamic Republic.
Here's a quick look at the history of sanctions on Iran.

1979
November: The United States imposes sanctions after Iranian students storm the US Embassy in Tehran and take diplomats hostage. Iranian imports to the United States are banned and $12 billion in Iranian assets are frozen.
1984
January 19: The US Department of State designates Iran a state sponsor of terrorism for repeatedly providing "support for acts of international terrorism." The designation brings with it sweeping US sanctions.
1992
The US Congress passes the Iran-Iraq Arms Nonproliferation Act of 1992. It declares "that it is US policy to oppose any transfer of goods or technology to Iraq or Iran whenever there is reason to believe that such transfer could contribute to that country's acquisition of chemical, biological, nuclear, or advanced conventional weapons."
1996
August 5: The US Congress passes the Iran-Libya Sanctions Act, later known as the Iran Sanctions Act. It seeks to penalize entities for investing in Iran's petroleum industry, which could give it access to funds to develop or acquire weapons of mass destruction or finance terrorism. The law requires the United States to slap sanctions on foreign companies that invest more than $20 million a year in Iran's oil or gas sector. The sanctions aren't implemented, however, after European countries protest, until 2010.
1996-1997
US President Bill Clinton issues executive orders to generally prohibit the export of all goods and services from the United States to Iran or from Iran to the United States.
2007
March 24: The UN Security Council, responding to Iran's failure to comply with its demand to suspend uranium enrichment, unanimously adopts Resolution 1747. This tightens sanctions on Iran in connection with its nuclear program.
2008
March 3: The UN Security Council passes Resolution 1803. This expands nuclear-related sanctions on Iran.
2010
June 9: The UN Security Council adopts Resolution 1929. This resolution tightens proliferation-related sanctions on Iran, bans Iran from carrying out tests of nuclear-capable ballistic missiles, and imposes an embargo on the transfer of major weapons systems to Iran.
June 24: The US Congress adopts the Comprehensive Iran Sanctions, Accountability, and Divestment Act. These sanctions target firms investing in Iran's energy sector or selling refined petroleum to Iran, and foreign banks doing business with designated Iranian banks.
July 26: The European Union agrees to a targeted set of sanctions on Iran. These sanctions target "people, companies and sectors directly involved in Iran's nuclear program and other areas."
2011
December 31: The US Congress passes legislation that allows the United States to impose new sanctions on the Central Bank of Iran and to sanction third country banks if countries importing Iranian oil do not significantly reduce those imports within six months.
2012
January: The European Union agrees to ban imports of Iranian oil. The US Congress expands the threat of "secondary sanctions" against companies doing business with Iran through the Iran Threat Reduction and Syria Human Rights Act (TRA). The TRA also extends the general prohibition on US persons doing business in Iran to any foreign entity owned or controlled by a US person.
2013
January: The US Congress further expands the threat of secondary sanctions against companies doing business in Iran with the Iran Freedom and Counter-Proliferation Act (IFCA).
November 20-24: Iran and the P5+1 meet in Geneva. Iranian Foreign Minister Javad Zarif and EU High Representative Catherine Ashton, who leads the P5+1 negotiating team, sign the Joint Plan of Action (JPOA) on November 24. The JPOA spells out steps Iran must take—halt enrichment of uranium to 20 percent and provide the UN nuclear watchdog the International Atomic Energy Agency (IAEA) access to monitor Iranian nuclear sites—in order to receive limited sanctions relief, a repatriation of some assets frozen abroad. The United States offers limited sanctions relief, including lifting the threat of sanctions on foreign companies dealing with Iran's auto sector or purchasing Iranian petrochemicals.
2014
January 20: The IAEA finds that Iran is complying with the terms of the JPOA. The United States and the EU say they have taken steps to waive specific sanctions.
2015
July 14: Iran and the P5+1—the United States, the United Kingdom, France, Russia, China, and Germany—sign the Joint Comprehensive Plan of Action (JCPOA). Under the deal, Iran agrees to take steps to curb its nuclear program in return for a significant easing of US, UN, and EU sanctions.
July 20: The UN Security Council unanimously passes Resolution 2231 endorsing the nuclear deal and the lifting of Security Council nuclear-related sanctions on Iran once conditions outlined in the deal are met.
October 18: Iran and the P5+1 formally adopt the nuclear deal. Iran starts taking steps to curb its nuclear program. The Obama administration issues waivers on nuclear-related sanctions to come into effect on implementation day. The EU passes legislation to lift nuclear-related sanctions on implementation day.
2016
January 16: The IAEA verifies that Iran has met its commitments under the nuclear deal. Implementation day is announced and UN Security Council Resolution 2231 comes into effect. The United States lifts nuclear-related secondary sanctions on Iran. While those secondary sanctions are lifted, "primary" US sanctions on Iran remain in place. These sanctions prohibit most commercial activity between the United States and Iran, including export to Iran of most goods or services from the United States. They are governed primarily by the Iranian Transactions and Sanctions Regulations (ITSR). Exceptions are made for Boeing and Airbus passenger planes and foreign subsidiaries of US multinational companies.
December 1: The US Congress passes a ten-year extension of the Iran Sanctions Act (ISA). This becomes law on December 15.
December 15: US Secretary of State John Kerry reissues sanctions waivers on Iran.
2017
May 17: The Trump administration renews sanctions waivers.
July 17: The Trump administration reluctantly certifies Iran's compliance with the JCPOA.
July 25: The US House of Representatives passes H.R. 3364, the Countering Adversarial Nations Through Sanctions Act, which would impose new sanctions on Iran, North Korea and Russia.
October 13: Trump does not certify the deal. He puts the onus on Congress saying if his concerns about the deal are not resolved he will terminate the agreement. However, he again waives sanctions.
2018
January 12: Trump reissues waivers on nuclear-related sanctions on Iran. He says he will not re-issue the waivers again unless Congress passes legislation to "fix" what he describes as flaws in the agreement.
Ashish Kumar Sen is deputy director of communications, editorial, at the Atlantic Council. Follow him on Twitter @AshishSen.