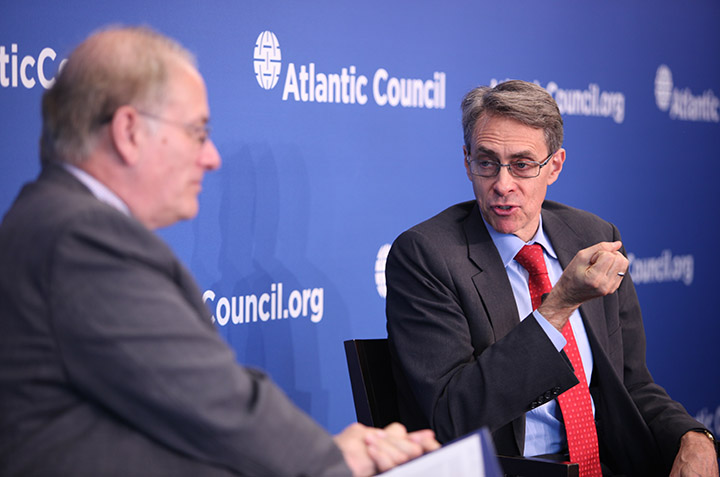 For Obama administration, anti-terrorism agenda comes at the cost of human rights when picking partners, says Human Rights Watch's Kenneth Roth
The Obama administration has, in the conduct of its war against terrorism, embraced a "shortsighted" approach that sets aside a democratic agenda and overlooks human rights abuses committed by some of its closest allies and partners in the Middle East, Kenneth Roth, executive director of Human Rights Watch, said on May 18.
"Defeating ISIS is important, defeating al Qaeda is important. Nobody really quarrels with that," said Roth, "but it is shortsighted to…embrace allies that themselves are as abusive." Roth spoke at the Atlantic Council at an event moderated by Frederic C. Hof, Director of the Council's Rafik Hariri Center for the Middle East.
Roth contended that the Obama administration has been reluctant to address gross violations of human rights by countries such as Saudi Arabia, Israel, and Egypt. "This unwillingness to take abusive methods seriously reduces the US presence in the region to one of military power," he said. "A realistic approach to the region is going to require attention to human rights."

In a June 2009 speech in Cairo, US President Barack Obama called the situation for Palestinians "intolerable," and spoke up for democracy and women's rights in the Arab world. Less than two years later, the region was in the throes of the Arab Spring. However, of all the countries where entrenched regimes were toppled—Egypt, Libya, Tunisia, and Yemen—only Tunisia has had a positive outcome.
A formula for Syria
In Syria, the Arab Spring failed to oust Bashar al-Assad. Instead, the situation rapidly devolved into a civil war. The war, now in its sixth year, has killed more than 400,000 people and created over four million refugees, hundreds of thousands of whom have fled to Europe. It has also fueled the rise of the Islamic State of Iraq and al-Sham (ISIS).
Noting the daily atrocities committed by Assad's army, including dropping barrel bombs on unarmed civilians, and targeting hospitals, markets, and refugee camps, Roth faulted US Secretary of State John Kerry for not making ample effort to end these atrocities.
The Syrian opposition will never accept a managed transition that keeps Assad in power so long as his troops are dropping barrel bombs, said Roth. Emphasizing the need to end these atrocities, he added: "This is where there is a real gap in Kerry's approach because Kerry is not devoting significant pressure to ending the atrocities."
Roth noted that Russia is the only country that has real leverage with the Assad regime. Russian forces overtly joined the war on Assad's side in September of 2015, and began withdrawing soon after a surprise decision by Russian President Vladimir Putin in March.
Describing Russia as critical to Assad's survival, Roth said Kerry has been unwilling to press Russia to use its leverage or to treat Moscow as an accomplice to war crimes. The only way to create an environment that is conducive to a peace accord is to press Russia to stop Assad, and Russia will respond to pressure because it cares about its reputation, said Roth.
The repercussions from the war in Syria have been felt beyond the region. While refugees early in the crisis fled to Syria's neighbors, hundreds of thousands have headed west toward Europe—the largest migration of people across the continent since World War II. The United States has agreed to take in 10,000 Syrians. However, only a small fraction has been resettled so far. Roth described the US response as "stingy."
The European Union and Turkey reached a deal on March 18 under which all migrants who attempt to enter Europe via the Aegean Sea are sent back to Turkey. In a "one-to-one" swap, Europe agreed to take in one Syrian from a Turkish refugee camp for every Syrian returned from Greece. That number has been capped at 72,000.
Roth said the EU-Turkey deal had "silenced the EU" on speaking out on the backsliding of human rights in Turkey. "This is an area where the US can pick up the ball," he noted. Turkish President Recep Tayyip Erdoğan has consolidated his control as authorities have cracked down on the media; the Turkish army is at war with Kurdish militants; and a comparatively moderate Prime Minister, Ahmet Davutoğlu, has resigned following differences with Erdoğan.
Blurred lines in Iraq
In Iraq, Prime Minister Haider al-Abadi has his hands full with a political crisis as well as a war against ISIS. Roth said that while the Obama administration "gets" the importance of making minority Sunnis in Iraq—who have been terrorized and brutalized by Shia militias—feel safe, it has been less discerning over the past year about which groups to support against ISIS.
"What I worry about is one, that we are not doing any favors to Abadi…but also that we are by, in a sense, downplaying the dangers of sectarianism we are laying a very unstable foundation for Iraq's future," he said.
Widespread atrocities
Roth noted the large number of civilian casualties caused by a Saudi-led military campaign against Iran-backed Houthis in Yemen; urged the Obama administration to make compliance with human rights law a prerequisite for providing weapons to Libya's Government of National Accord; underscored the illegality of Jewish settlements in the West Bank; and said Kerry must push Egypt's president, Abdel Fattah el-Sisi, to restore democratic rule.
In Yemen, Roth said, the Saudis—armed with US weapons and aided by US intelligence—have led the war against the Houthis "without any sense of proportionality" and disregard the distinction between civilians and combatants. Roth said that the Obama administration—focused on placating the Saudis over the nuclear deal with Iran—has not made it a priority to press the Saudis to reduce civilian casualties in Yemen. Saudi officials said earlier in May that they would scale back military operations in Yemen.
In Egypt, Sisi, as chief of the armed forces, ousted the country's democratically elected Islamist president, Mohamed Morsi, from office in July of 2013. Roth described Sisi as a "gift to ISIS" noting that "what Sisi represents is the closing of the door to the possibility of electoral political Islam."
"If you are ISIS, that is golden," he said. "ISIS wants this dichotomy: 'Either you have the autocrats or you have got us, the jihadists.'"
Roth said "Kerry has done us no favors" noting that despite the secretary's repeated references to a transition to democracy, nobody pretends that any such thing is underway in Egypt. Kerry, who met Sisi in Cairo earlier in May, reiterated a US commitment to "help Egypt fight terrorism, increase economic growth, strengthen democratic institutions and bolster regional security," according to the State Department.
Egypt receives $1.3 billion in annual US military aid. The State Department has been unable to determine whether any military equipment bought with US dollars has been used by Egyptian security forces to violate human rights, according to a report by the Government Accountability Office. "The US has no idea how its weapons are being deployed in Sinai," said Roth. He, however, contended that there is every reason to believe that Egyptian security forces routinely resort to torture.
On Israel, Roth said that after fifty years of Israeli occupation of the West Bank, it is time for the United States to recognize that the Palestinians are living under an authority that should be respecting their human rights. In particular, in Area C—which covers sixty percent of the West Bank—Palestinians face daily discrimination.
"The US has, needless to say, not been helpful in countering this very deliberate Israeli approach to Area C," said Roth, noting that the United States has vetoed UN Security Council resolutions and pressured the Palestinians not to join the International Criminal Court.
The Obama administration should not veto UN Security Council resolutions critical of settlements, and rather than referring to the settlements as "obstacles to peace" should clearly state that they are actually illegal, said Roth.
Ashish Kumar Sen is Deputy Director, Editorial, at the Atlantic Council. Follow him on Twitter @AshishSen.