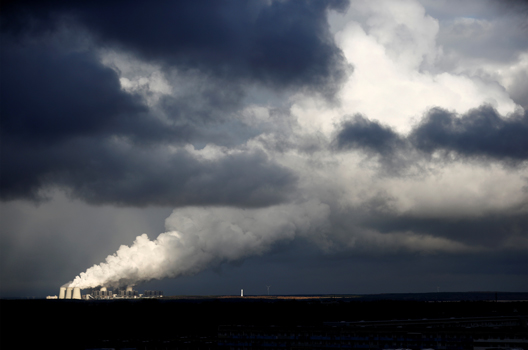 Germany may have gained a grand coalition this week, but it lost one of the champions of its clean energy transition—the Energiewende—with the resignation of former State Secretary for Energy Rainer Baake.
The Grand Coalition between Germany's Christian Democratic Union (CDU) and Social Democratic Party (SPD) was approved by the SPD voters by a margin of 64 to 34 percent on March 4. While this enabled the formation of a new government, after six months of waiting for a governing coalition to be formed, it also spelled the end of Baake's four-year tenure because he is a member of the Green Party, not included in the coalition. The now-former state secretary—often referred to as Mr. Energiewende—submitted his letter of resignation, calling the new governing coalition's energy and climate aims, or lack thereof, a "bitter disappointment."
In his letter to the incoming Altmaier, Baake expressed disappointment with the absence of climate goals in the coalition agreement, based on the decision by CDU and SPD negotiators to essentially drop Germany's 2020 emissions reduction goals, which the country is widely expected to miss.



Baake's departure is not the only change underway. Brigitte Zypries, Germany's minister of energy and economy since early 2017, will be replaced by Peter Altmaier this month as the new cabinet members take their posts. Altmaier, a member of the CDU and, until recently, German Chancellor Angela Merkel's chief of staff, takes the helm of the ministry during a critical year in climate policy. In December 2018, the twenty-fourth Conference of the Parties (COP24) will take place in neighboring Poland, which is, along with Germany, one of Europe's largest coal consumers. At COP24 in December, participating countries will establish the rulebook for implementation of emissions reductions efforts laid out in the Paris Climate Agreement. They will also continue the Talanoa Dialogue, established under Fiji's leadership at COP23, enabling the so-called "stocktake" to periodically assess progress in advance of the 2020 deadline for countries to submit updated nationally determined contributions (NDCs).
The coalition agreement undergirding the new government also notably sidestepped setting a date for a coal phase-out, a politically contentious issue in Germany. Including a coal phase out in the governing coalition was one of the goals of the Green Party sought during the ill-fated negotiations to form a coalition with the CDU, Free Democratic Party (FDU), and the Green Party—the so-called Jamaica coalition—late in 2017.
The current coalition deal has instead kicked the can down the road. Germany's new government promises to establish a commission on growth, structural change, and unemployment to discuss a potential future date for a phase out. Though renewables have made remarkable inroads, setting a record by providing nearly 100 percent of Germany's electricity needs on a cold winter morning to start 2018, coal still accounts for 40 percent of Germany's power production. The country remains Europe's largest coal consumer, and one of the world's largest producers of lignite coal.
However, while Baake lamented what he framed as insufficient ambition in the new government, a German industry-commissioned study released late February 2018 came to optimistic conclusions about the costs, benefits, and feasibility of German climate protection efforts.
The Federation of German Industries (BDI) released the study: Climate Paths for Germany 2050. BDI represents nearly all sectors of German industry under one umbrella association. The study came as a surprise to many who had previously labelled the BDI a skeptic of climate protection and emissions reduction efforts.
The study found that, in a business-as-usual scenario, Germany could reduce greenhouse gas emissions 60 percent by 2050. Though this number remains far short of Germany's goal of 80-95 percent reduction by 2050, the study found an additional 1.5 trillion euros in investment would enable Germany to achieve 80 percent reduction by that date—with overall positive effects on the economy.
Thus, the BDI suggests while the Energiewende may have lost a champion, it appears to have gained powerful allies within the industry association.
The report also concludes that climate efforts would "trigger extensive modernization activities in all sectors of the German economy and could furthermore open up opportunities to German exporters in growing 'clean technology' markets." This conclusion highlights an important concern Baake raised in his resignation letter—that the coalition agreement's stance on energy and climate policy would result in a missed chance to modernize Germany's industry.
It is this export opportunity that Germany, along with China and others, may pursue—particularly amid the vacuum created by United States' withdrawal from climate leadership. According to Bloomberg New Energy Finance, $10.4 trillion will be invested worldwide in new energy generation over the next two decades. Three-quarters of that investment will fund increased renewable capacity.
Beyond the power sector, the transport sector will also play a pivotal role in Germany's efforts to meet its climate goals and modernize its economy.
As one of the world's leading auto exporters, Germany cannot afford to ignore the connection between the auto sector and climate goals—nor the signals sent by governments in China, France, and the United Kingdom of their intentions to move toward electric vehicles and away from the combustion engine. Reports project that electric vehicles could account for over half of new vehicle sales globally by 2040, representing a potentially dramatic shift for Germany's largest industry.
Under pressure of European Union air quality regulations, the German government has begun to experiment with free public transportation in five major cities in a bid to reduce air pollution. Additionally, a court ruling last week opened the door for localities to ban diesel engines, a mainstay of German industry.
From a leadership transition to changes in the power and the transport sector, Germany will continue to be one of the most high-profile countries when it comes to the compatibility between climate action and economic growth. If Germany can weather this transition, it may emerge as not only a climate leader, but as a purveyor of policies and technologies others can emulate.
Ellen Scholl is deputy director at the Atlantic Council Global Energy Center. Follow her on Twitter @EllenScholl.