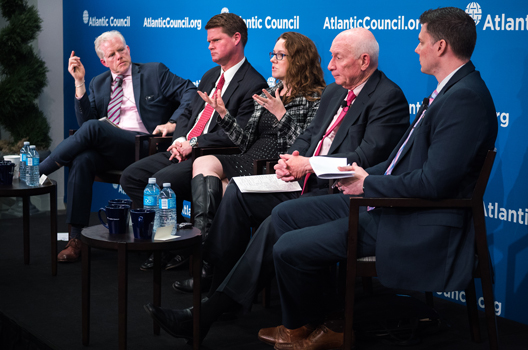 When approaching security in the Asia-Pacific region, new trends such as deepening intra-Asian defense cooperation and significant increases in Asian defense spending, now on par with that of North America, must be considered, said an Atlantic Council analyst.
"There is a trend of very significant increases in Asian defense spending, as well as concomitant intra-Asian defense cooperation" which provide opportunities for "multilateral hedging against some of the uncertainties associated with China's rise," and "in some cases North Korea," said Barry Pavel, senior vice president, Arnold Kanter chair, and director of the Atlantic Council's Brent Scowcroft Center on International Security.
Pavel said recent agreements between Singapore and Vietnam, Japan and Australia, India and South Korea are all examples of how Asian countries can "train together, exercise together, develop new capabilities together," with the broad mission of promoting security and prosperity in the region.

Pavel delivered opening remarks at an Atlantic Council event on March 7, after which Lindsey Ford, director of Asian security and Richard Holbrooke fellow at the Asia Society Policy Institute, joined John Watts, nonresident senior fellow at the Scowcroft Center; Randy Schriver, founding partner, Armitage International LLC; and retired Rear Adm. Michael McDevitt, senior fellow at CNA Strategic Studies, for a discussion. Gordon Lubold, the Pentagon correspondent at the Wall Street Journal, moderated the discussion.
The question of how Asian countries can cooperate to develop a stable, prosperous neighborhood will remain an important one as the region reaffirms the developments already underway, Ford said.
While retired Marine Gen. James Mattis' first international visits as secretary of defense reassured US partners in Japan and South Korea of the United States' commitments to its Asian allies, the ongoing security narrative is dynamic and rapidly changing, as demonstrated by recent events.
Chinese activity in the South China Sea and North Korean missile tests add an alarming dynamic to the region. The status quo is unsustainable, and there is a real need for a comprehensive, non-partisan strategy, that is not simply US-led, but multilateral, Pavel pointed out.
According to Ford, South East Asian "defense ties have actually evolved more on a multilateral basis, and multilateral cooperation has preceded and in some ways exceeded what's happening on the bilateral front."
While the United States can be thought of as an underpinning in the region's security, regional actors are becoming increasingly relevant, Ford argued. When speaking on security matters in the South China Sea, for example, she suggested regional claimants ought to be considered the most important actors, rather than the United States.
Schriver explained the security situation in Asia from the perspective of Taiwan and China. While Taiwan's regional partnerships are limited because of these countries' relationships with Beijing, which has long claimed control over Taiwan, the island does have substantial ties to the United States. According to Schriver, "we have a law—the Taiwan Relations Act, which says our commander in the Pacific must maintain the capacity to resist force if asked to do so." He said Taiwan "has an existential threat in a lot of ways. So, it would make sense for us to at least, at a minimum, understand one another." Doing so, Taiwan hopes, may lead to increased joint training and exercises between the United States and Taiwan, ship visits, and continued cooperation in arms trade—possibly involving F-35Bs, a stealth aircraft used by the US Marine Corps.
Schriver pointed out that China has become more cooperative with other countries since 2002, now conducting "relatively low-level" activities with more than thirty countries, many of them within Asia. The Russia-China relationship is one area to watch, said Schriver. That relationship between two major powers in the east is marked by an arms trade and robust joint exercises "addressing specific contingencies," he said.
Ford pointed out the nuances that exist in defense negotiations in Southeast Asia due to the history of the region as a "zone of competition between great powers" and "existing disagreements" or "long-standing historic disputes between Southeast Asian countries."
She said economic growth and China's more "assertive" approach in the South China Sea, have pushed the countries of the Association of Southeast Asian Nations (ASEAN) to work more collaboratively in matters of "humanitarian assistance and disaster relief, military medicine, peace-keeping, [and] counterterrorism cooperation." However, for the United States and China, navigating relationships between regional and external actors has at times been divisive, creating a challenge for ASEAN countries to move forward on a consensus basis.
McDevitt discussed what he believed to be the major security issues between South Korea and Japan. Former South Korean President Park Geun-hye's impeachment on March 10 has opened the door to potential presidential candidate Moon Jae-in's new priorities. Moon has proposed returning to the "Sunshine Policy," a past South Korean foreign policy that promoted engagement with North Korea. Moon has also indicated a willingness to have "second thoughts about the agreement to allow the United States to deploy the [terminal high-altitude area defense] THAAD anti-ballistic missile system."
Those missiles, if deployed, could threaten South Korea's relationship with China, with economic and social consequences, such as a direct effect on tourism between the two nations, said McDevitt.
The panelists also expressed concern about maritime disputes between China and South Korea in the Yellow Sea. Japan's withdrawal of its ambassador from South Korea in January following a row over a statue representing wartime sex slaves indicates that the Japan-South Korea relationship may prevent the "trilateral" relationship sought by the United States.
Since "Australia's prosperity is dependent on trade and investment," Watts said that a peaceful neighborhood is essential to Australia's own interests. Consequently, he said, Australia participates in joint exercises, international military operations establishing credibility and facilitating partnerships, as well as defense material exports to Malaysia and the Philippines.
Jack Gloss is a communications intern at the Atlantic Council.