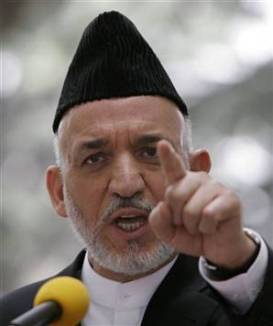 NATO is winning most battles in Afghanistan, but the international community is losing the war.That has consequences far beyond Afghanistan if the U.S., Europe and its friends don't change course fast. The dangers include deepening of regional instability that engulfs nuclear- tipped Pakistan, spreading global terrorism and the declining relevance of the North Atlantic Treaty Organization, the most- effective security alliance we have.
So as the U.S. enters a crucial phase in the process of picking presidential candidates, voters should think about which nominee would have the skills to deal with a distant place like Afghanistan. When the U.S. beauty contest is over, the winner will fail in office if he or she can't manage the sorts of challenges posed by Afghanistan.
The country defies military solution, yet needs more skilled soldiers and civilian rebuilders. It necessitates both urgent action and long-term commitment — in this case, at least 10 years. The job can't be done without regional solutions, but that requires dealing with a hostile Iran and providing tougher love to allied leaders such as Pakistan's Pervez Musharraf and Afghanistan's Hamid Karzai, whose reluctance to tackle the most pressing of their problems stands in the way of success.
It will also take enormous diplomatic skill to forge consensus under a United Nations high commissioner to make sense of the disjointed relief and reconstruction work. There are 60 countries working inside the country, including some 37 that are providing troops.
Narco-Economy Grows
U.S. Secretary of State Condoleezza Rice is in London this week meeting with U.K. Prime Minister Gordon Brown and Foreign Secretary David Miliband trying to find a new candidate for super-envoy to coordinate the efforts after Karzai vetoed Paddy Ashdown, a man whose skills were proven in the Balkans.
Meanwhile, Karzai's failing reach throughout the country, rampant official corruption and insufficient international resolve has left Afghanistan with a dysfunctional judicial system and police force. That makes it all but impossible to stop the spreading narco-economy that fuels the reinvigorated insurgency.
There is some good news: Afghanis have put into place one of the most progressive constitutions in the Islamic world. More than 10 million people have voted in the nation's free presidential elections, and 2 million girls who until recently were banned from schools are now getting an education. It is also encouraging that the foreign troops operating in Afghanistan were invited and remain popular with most Afghanis, a striking exception in the country's history.
Terror Transfers
Yet the situation is worsening. Afghanistan now accounts for 93 percent of the world's opium production, and the illicit- drug industry makes up some 40 percent of Afghanistan's $8 billion economy.
Suicide bombings and the use of improvised explosive devices have soared, underscoring a probable transfer of technology and tactics from Iraq to Afghanistan. The Taliban has regrouped and re-energized after a period of weakness up to 2005, forming what Admiral Michael Mullen, the chairman of the Joint Chiefs, has called a "classic growing insurgency."
Meanwhile, allied countries dither over the number of troops they will send and what they would be allowed to do. Defense ministers will meet in Lithuania this week to consider an appeal to add 7,500 soldiers to the 40,000 already there. Canada is threatening to pull out 2,500 troops if they don't get reinforcements, and the U.S. wants Germany to send additional forces to the restive south from their safer northern bases.
A new report by the Atlantic Council (the organization I run) was one of three introduced in Congress last week by Democratic Senator John Kerry and Republican Senator Norm Coleman, underscoring an emerging bipartisan consensus.
Civilians Needed
First, the report sizes up what's needed for corrective action, stressing that the situation won't wait for a new administration.
Second, the international community, which is doing so much for Karzai, must insist on a super-envoy to coordinate efforts in Afghanistan. NATO will suffer if Afghanistan fails, but only civilian efforts can bring success.
What must follow is a comprehensive plan of military and civilian steps under this individual — including a regional conference that includes India, Iran, Pakistan and even the Shanghai Cooperation Organization, of which Russia and China are members, bringing that organization into its first talks with NATO. Without that, we can't deal with Pakistan's terrorist breeding grounds or cut off border routes for the drug trade.
The priority within that plan must be a stepped-up counter- narcotics effort. There is no perfect fix, but any plan will require the Afghan government and the international community to embrace an approach that combines development and enforcement.
`Classic Mistake'
In some regions, it may make sense to buy the crop. In others, where cooperation is lacking, eradication could be the right approach. In all cases, one has to target distributors and laboratories and clean up the courts and police.
Kerry put it best last week: "Today we risk repeating the classic mistake that dooms many counterinsurgencies: a failure to appreciate the difference between tactical success and a winning strategy. The fatal consequence, all too familiar to those of us who lived through Vietnam, is that you can win every battle, but fail to win the war."
Frederick Kempe is president and CEO of the Atlantic Council. Originally published 5 February 2008 by Bloomberg News. Reprinted with permission.