Germans call it Sommerloch, or "summer hole." In Sweden, it's called nyhetstorka, or "news drought." It's a period, usually in the dead of summer, when it seems there is less to report on and media outlets are desperate for a story. All too often during these periods, journalists and commentators chase phantom leads, overeager to see stories that are not in fact there.
A recent CNN-SSRS poll, conducted over July and released August 4, is a case in point. Coverage of the poll fixated on the claim that more than half of Americans are against additional US support for Ukraine, which made quite a splash among experts across the political spectrum in Washington, DC. The headlines caused some casual observers to lament falling US support for Ukraine, while isolationist commentators scrambled to work the poll into their talking points against helping Ukraine.
But both reactions risk missing the forest for the trees: The CNN-SRSS survey and other recent Ukraine polling actually show the resilience of US support for Ukraine. In reality, Americans appear to be more open to pro-Ukraine aid arguments than arguments against continued US support for Ukraine. As the Biden administration seeks an additional $40 billion in supplemental military, economic, and disaster relief aid for Ukraine, policymakers would do well to keep in mind that US support for Kyiv is stronger than recent headlines might suggest.
CNN ran two headlines in its own analysis of the poll: that "most Americans" oppose additional congressional funding to support Ukraine and that half of Americans say the United States has "done enough" to help Ukraine. But their data paint a more complex picture. On additional funding, the people being surveyed were asked, "Do you think Congress should or should not authorize additional funding to support Ukraine in the war with Russia?" In response, 45 percent said yes and 55 percent said no. That relatively small margin begs the inverse analysis: After eighteen months of the Russian war on Ukraine and tens of billions of dollars in US support to Kyiv, nearly half of Americans want Congress to spend more money to help Ukraine defend its sovereignty and freedom.
When pollsters asked if the United States should do more to stop the Russian military in Ukraine, or if Washington had already done enough, they got a statistical tie: 48 percent of respondents said the United States should do more, while 51 percent said that the United States had done enough, well within the 3.7 percent margin of error. That statistical tie is down somewhat from the result of an earlier CNN-SRSS poll, in which 62 percent of respondents said the United States should do more to support Ukraine. But that figure is from a snap survey taken February 25-26, 2022, just days after Russia's full-scale invasion began, when US aid to Ukraine was less than half a billion dollars. Americans were right on the money then and their support has remained impressively steadfast into 2023.
Americans remain remarkably positive about US aid to Ukraine . . . This realization should embolden US politicians to advocate for Ukraine's victory over Russia.
Even so, some analysts have highlighted the July 2023 poll's crosstabs and suggested that Republicans are driving down US support for Ukraine. But that doesn't tell the full story either.
Republican respondents in the latest CNN-SRSS poll did support more congressionally mandated aid for Ukraine at a lower clip than Democrats (28 percent versus 62 percent of Democrats), but their answers to the poll's other questions reveal far more about Republican attitudes toward US policy in Ukraine. According to the poll, 40 percent of Republicans say the United States should do more to support Ukraine (compared to 61 percent of Democrats), while just 19 percent approve of US President Joe Biden's "handling of the situation in Ukraine" (77 percent of Democrats approve). The fact that support for more aid to Ukraine polls higher among Republicans than Biden's handling of the war may indicate that some Republicans want to see the White House act more boldly than it has so far.
While US public support for military aid to Ukraine has fallen since February 2022, the sky is certainly not falling. The picture of US support is far more complex than the cheerleaders for ending US support to Ukraine might want to believe.
Republicans—and Americans writ large—may in fact be more willing to send aid to Ukraine than anywhere else in the world. In a Reagan Foundation poll taken May 30-June 6 of this year, 75 percent of respondents (71 percent of Republicans and 86 percent of Democrats) said that it was "important to the United States that Ukraine win the war." Significantly, 39 percent of Republicans said it was "very important" that Ukraine wins, compared to just 11 percent who said Ukrainian victory was "not at all important." In general terms, this polling suggests that a significant share of Americans see Ukraine's victory over the Russian invasion as in the interest of the United States.
Americans also appear willing to do what it takes to help Ukraine win. The Reagan Foundation poll shows 59 percent of respondents support military aid to Ukraine (75 percent of Democrats; 50 percent of Republicans) and half said US aid so far had been worth the cost (65 percent of Democrats; 41 percent of Republicans). But after pollsters told respondents that the United States had spent the equivalent of 3 percent of the annual US military budget on direct military aid and that Ukraine had "severely degraded Russia's military power," support jumped to 65 percent in favor, including 77 percent of Democrats and 59 percent of Republicans.
This level of support for aid makes Ukraine an exceptional case. When asked whether they favored or opposed different kinds of federal government expenditure, just 37 percent of respondents said they favored foreign aid in general (53 percent of Democrats and 21 percent of Republicans). Americans of all political stripes appear more in favor of continued US military support to Ukraine than many commentators seem to realize, especially when compared to baseline support for foreign aid.
Americans also appear very receptive to strong arguments in favor of support for Ukraine—if they are given enough context about the support. A June 15-28 poll from the University of Maryland presented respondents with the argument that US support for Ukraine was an effort to "uphold international law"; 92.3 percent of Democrats and 75.6 percent of Republicans found the point "convincing." Slightly smaller majorities were convinced by the argument that the United States should help Ukraine to deter Russia from attacking NATO countries (87.6 percent of Democrats; 70.1 percent of Republicans). Interestingly, respondents were far less convinced by arguments against US support for Ukraine. Just 32.7 percent of Democrats and 55 percent of Republicans were swayed by the suggestion that US military aid could escalate into nuclear war with Russia.
Public polling suggests that Americans remain remarkably positive about US aid to Ukraine, despite eighteen months of Russia's brutal war and already robust US support for Kyiv. This realization should embolden US politicians to advocate for Ukraine's victory over Russia.
Even though US public support for Ukraine is strong, that enthusiasm cannot not be taken for granted. To keep this support going, US government officials and candidates for office should catch up to Americans by funding US support to Ukraine and articulating more clearly why Ukraine's victory is in the United States' interest. US voters want to see Ukraine win. It's time their representatives followed suit.
---
Andrew D'Anieri is assistant director at the Atlantic Council's Eurasia Center. Find him on X, the platform formerly known as Twitter, at @andrew_danieri.
Further reading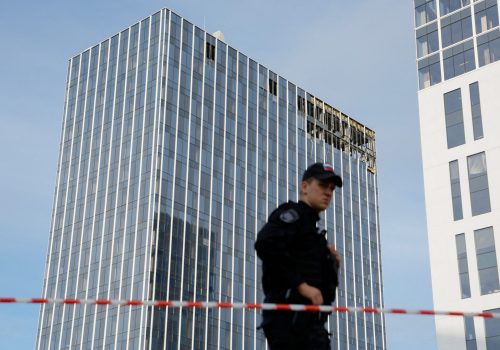 Tue, Aug 15, 2023
UkraineAlert By Marcel Plichta
Recent drone attacks in Moscow and on Russian shipping in the Black Sea are an indication that Ukraine is becoming increasingly bold as it seeks to strike back in what is the world's first ever drone war, writes Marcel Plichta.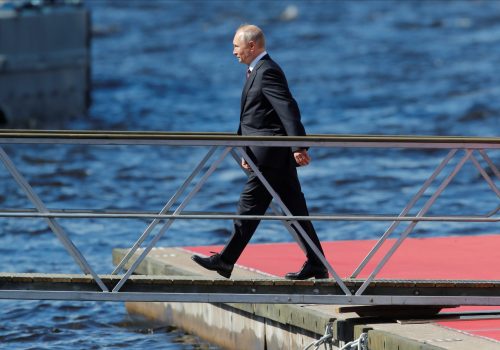 Thu, Aug 17, 2023
UkraineAlert By Melinda Haring
Western countries must take urgent action to prevent Vladimir Putin from turning the Black Sea into a Russian lake, warns Melinda Haring.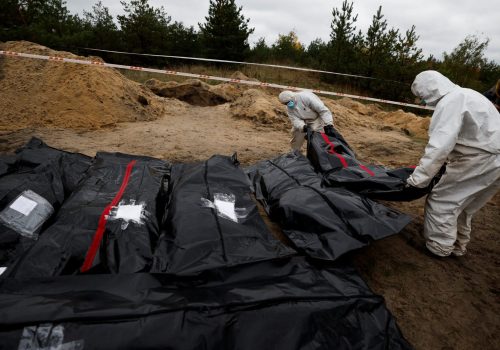 Thu, Aug 10, 2023
UkraineAlert By Kristina Hook
A new international report has identified evidence that Russia's campaign of genocide in Ukraine is escalating as the full-scale invasion of the country approaches the one-and-a-half-year mark, writes Kristina Hook.