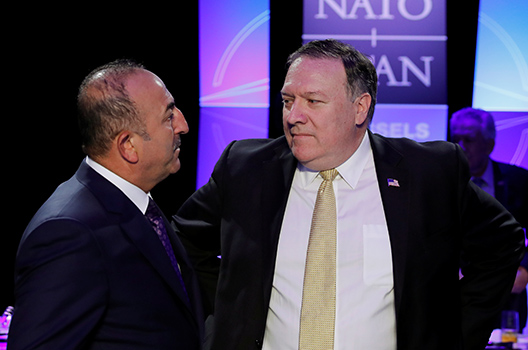 This piece is part of a two part series on current US-Turkey relations. See the first piece here.
Relations between Turkey and the United States may have hit a new low after the US Department of the Treasury sanctioned two Turkish government officials in response to the imprisonment of an American pastor in Turkey on July 31st.
The sanctions were placed on Turkey's Minister of Justice, Abdulhamit Gül, and the Minister of Interior, Süleyman Soylu, on the basis of the 2016 Global Magnitsky Act and 2012 Magnitsky Act. These acts give the United States government the authority to sanction foreign nationals who abuse human rights or are involved in corrupt practices.

The move is in response to the imprisonment of American Andrew Craig Brunson, pastor of the Izmir Resurrection Church and a resident of Turkey for more than twenty-three years. Brunson was arrested following the failed 2016 coup in Turkey on charges of espionage and support for terror.
Turkish officials claim that Brunson supported the outlawed terrorist organization Kurdistan Workers' Party (PKK) and the allies of the exiled leader of the outlawed Gülen organization, Fethullah Gülen, who is blamed for the 2016 coup attempt in Turkey that killed 251 people.
Brunson's imprisonment was heavily criticized by American officials and was one reason given by Congressional leaders when they voted to temporarily halt the delivery of new F-35 fighter aircraft to Turkey on July 24. President Trump tweeted his desire for Turkish President Erdoğan to release Brunson on July 18, saying it was a "total disgrace that Turkey will not release" the pastor.
Brunson was released from prison on July 25 and transferred to house arrest for "medical reasons," the Turkish government said. The move came after a deal between the two countries fell apart at the last minute. Turkey subsequently released Brunson only to house arrest, angering Washington which had demanded his full release to the United States and hoped to announce it at the Department of State's July 26 Ministerial to Advance Religious Freedom.
Following Brunson's transfer to house arrest, four North Carolina congressmen introduced legislation on July 26 to formally halt the delivery of the new F-35s until Brunson was released. That same day, President Trump threatened sanctions on Turkey if they did not fully release Brunson, a stance Vice President Mike Pence echoed in a July 26 speech at the Religious Freedom ministerial.
Matthew Bryza, a nonresident senior fellow at the Atlantic Council's Eurasia Center said that according to his conversations with senior Turkish officials, "they viewed Pastor Brunson's transfer from prison to house arrest as a goodwill gesture that signaled their anticipation of a successful conclusion of bilateral negotiations on a number of issues, and which would culminate in the pastor's full release. They seemed genuinely shocked when President Trump and Vice President Pence tweeted threats to Turkey in response."
The new sanctions were targeted at Turkey's Justice and Interior ministers "because they were claimed to be personally responsible for the detention of the pastor and other hostages," according to Michael Greenwald, Senior Advisor to the President and CEO at the Atlantic Council and former Department of Treasury Attaché in the Middle East.
Aaron Stein, a resident senior fellow at the Atlantic Council's Rafik Hariri Center for the Middle East, said that these sanctions should not come as a surprise. "Ankara was warned — for months — that this was the consequence for inaction," he said. Turkey has sought to portray the breakdown of the soft agreement with the United States as a miscommunication. Turkey has also pointed its disappointment over US inaction to fulfill the extradition request of Fetullah Gülen, noting that this delay has made things even more complicated.
This may be just the beginning, Greenwald argued, as "the administration may be looking at other Turkish targets [for sanctions], with potential room for scaling up escalation if Turkey doesn't change behavior. Those targets potentially could include additional Turkish government officials and banks tied to Iran."
"The risk to Turkey is significant," Stein said. "Another round of sanctions that includes more senior people could severely pressure the Turkish economy."
Greenwald noted that the direct sanctioning of Turkish government officials "is quite a move against a NATO ally," and that the use of Global Magnitsky laws to enact the sanctions is a "noteworthy action." The United States has not employed the Global Magnitsky act against any other ally. However, in October 2014, the Obama administration banned six Hungarian officials from traveling into the United States based on allegations of corruption, drawing on authorities from President Proclamation 7750 adopted during the Bush administration to bar individuals who have engaged in corrupt practices harmful to US interests. That move, "unprecedented among allies, sent relations with Hungary into a tailspin from which they have not yet recovered, something that does not augur well for the latest sanctions on Turkey," says Damon Wilson, executive vice president of the Atlantic Council.
The sanctions come at a time of increased tensions between Ankara and Washington. President Erdoğan has publicly vented his frustration with the United States over their refusal to extradite Gülen, who lives in rural Pennsylvania, as well as Washington's support for Kurdish forces in Syria, which Turkey believes are an extension of the PKK terrorist group.
Turkey's purchase of S-400 defense missiles from Russia has angered many American officials, who argue that the move could allow for the Russian government to learn about the emissions from the F-35, potentially giving the Russian military the ability to better track NATO's future front-line fighter. The Turkish government has defended its purchase of the Russian missile system, citing concerns about Congressional approval for arms sales to Ankara. The S-400 purchase entails little technology transfer for Turkish firms and no announced role for Turkish industry, while both the Patriot and European offers reportedly included significant offsets and technology transfer arrangements.
According to Damon Wilson, some Turks suggest that the purchase of the S-400 was in part the price Vladimir Putin extracted from Ankara in order to avoid a dangerous escalation following the Turkish downing of a Russian Su-24 jet fighter along the Turkish-Syria border on November 24, 2015. Serious talks continue between the Department of Defense and US industry on the one side and Turkish officials on the other, demonstrating the possibility remains for a deal that would keep Turkey's primary air defense procurements consistent with NATO standards. Yet the latest escalation of rhetoric and sanctions makes a breakthrough even more difficult to achieve, argues Wilson.
Despite the increased tensions, Stein said that many in the Pentagon and throughout the US government are "trying to elevate the conversation and focus on the big geostrategic issues – Russia, NATO, and shared perspectives in Iraq, rather than the disagreements." But, he warned, "there is skepticism in the US government about Turkey, and pervasive feeling that Turkey now treats the United States as an adversary." Greenwald added that "this is a delicate balancing act with a critically important country for the fight against ISIS and foreign fighters."
In Turkey, Bryza said that the American actions "have galvanized Turkish public opinion across the country's political spectrum against Pastor Brunson's release, thereby raising the political costs for President Erdoğan to back down and tarnish his domestic image of extreme strength." But, he added, "fortunately, the tit-for-tat sanctions imposed on government ministers by Washington and Ankara was a relatively restrained move, even if unprecedented among NATO allies. Negotiations to secure Brunson's release and resolve several other issues are continuing, with both sides apparently recognizing an opportunity still exists to deescalate before relations reach a breaking point."
The larger issue, argues Wilson, is how to end the negative cycle of recriminations. "Our strategic goal should be to ensure that our allies remain our allies. To ensure that and therefore to keep NATO strong and intact, the two governments need to begin making progress on specific issues such as Manjib and Brunson to rebuild confidence. In turn, political leaders on both sides will need to tone down the rhetoric and begin making clear to their own publics that our nations are allies, not adversaries."
David A. Wemer is assistant director, editorial at the Atlantic Council. You can follow him on Twitter @DavidAWemer.