There were two noteworthy firsts for the Atlantic Council at its 2019 Distinguished Leadership Awards dinner in Washington on April 30. For the first time in its history, the Atlantic Council presented an award to an international organization and a FedEx SameDay Bot, rolled out in February, turned heads as it carried an award onto stage.
The Atlantic Council presented its Distinguished Leadership Awards to three exemplary individuals—its Distinguished International Leadership Award to International Monetary Fund (IMF) Managing Director Christine Lagarde, its Distinguished Service Award to philanthropist Adrienne Arsht, and its Distinguished Business Leadership Award to FedEx Corp. Chairman and CEO Frederick W. Smith—and its Distinguished International Leadership Award to NATO in recognition of the Alliance's contribution to promoting global peace and security.
By presenting the awards, Atlantic Council Chairman John F.W. Rogers said, "we hope to advance a far more ambitious form of leadership that is equal to the challenges that we collectively face."
"Together, the United States, Europe, and our allies and friends worldwide face one of the most volatile geopolitical environments in recent memory. Seldom has that world been so urgently in need of the kind of authentic and effective leadership we celebrate here tonight," said Rogers.
Atlantic Council President and Chief Executive Officer Frederick Kempe welcomed guests noting that some in the Washington media have called the Distinguished Leadership Awards the annual "Oscars of international affairs."
"Through these awards, the Atlantic Council not only salutes deserving honorees, but in doing so we also hope to inspire others to step forward and contribute to a better world during this testing period of global change and uncertainty," said Kempe.
Lagarde, Rogers said, was being honored for her "steadfast, resourceful, and principled leadership in a time of volatility, her commitment to providing opportunity through economic reform, and her unwavering support of gender equality" and Smith "exemplifies the leadership, and the vision and the character needed to navigate these turbulent times."
Adrienne Arsht: 'A True Force of Nature'
Rogers described Arsht, who serves as executive vice chair of the Atlantic Council, as "a true force of nature, a visionary business leader, a generous philanthropist, and most importantly, a comrade in arms." Rogers explained that Arsht's "passion for this Council and its mission is infectious and her dedication to her cause is unwavering. Her leadership enabled the Council to expand its geographic reach to Latin America and her out-of-the-box thinking equipped the Council to launch a world-class resilience center."
Kempe said Arsht "has contributed significantly and uniquely to the Atlantic Council's continual innovations to address a host of new and global challenges."
On April 29, the Atlantic Council announced that Arsht has committed $25 million to permanently endow the Adrienne Arsht Center for Resilience at the Atlantic Council. Coupled with the recent $30-million grant from the Rockefeller Foundation, the Center will be renamed the Adrienne Arsht-Rockefeller Foundation Resilience Center effective May 1.
Noting that Arsht had come to him three years ago with the idea of setting up a new Atlantic Council center focused on resilience, Kempe said: "Adrienne challenged us to question the bounds of the human spirit and its inherent resilience, while pushing us to think deeply about how we can build resilience into every level of our societies to sustainably counter the many complex and rapidly changing threats we face each day."
Kempe said the new center will embark on a "bold journey to enhance the resilience of one billion people around the world by 2030."
Former NBA All-Star Alonzo Mourning introduced Arsht. "Adrienne Arsht is a lawyer by trade, but philanthropy is her heart, her calling card," said Mourning.
In her remarks, Arsht cited a quote from the late boxer Muhammad Ali. "Service to others is the rent you pay for your room here on Earth," Ali said. And in his book, Resilience, Mourning wrote: "I strive to pay my rent."
Arsht is driven by a similar belief. "Our time here on Earth is a gift.  We pay rent for that time… Part of that rent is to care for and support humanity," she said. She recalled that her father, Samuel Arsht, "always taught me that you only regret your economies. All my philanthropic decisions flow from this." She also honored her mother, Roxana Cannon Arsht, noting her commitment to causes.
Same-Day Award Delivery
In his acceptance speech, Smith said the FedEx SameDay Bot that brought up his award was an "example of innovation and creativity that has marked our company over its forty-six years of operation and there is more in the works I assure you. Stay tuned!"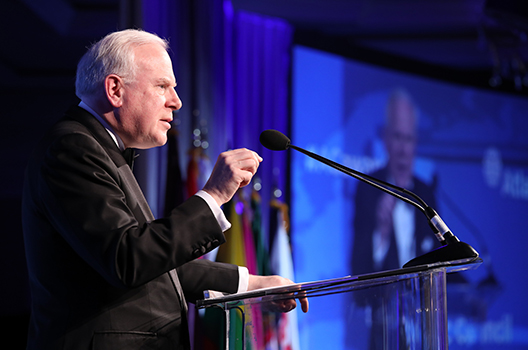 FedEx Corp. Chairman and CEO Frederick W. Smith, recipient of the Atlantic Council's Distinguished Business Leadership Award, accepted the award "on behalf of over 450,000 FedEx global team members who earned it." (Photo Credit: ImageLinkPhoto.com)
US Sen. Lamar Alexander (R-TN) introduced Smith. "Everybody in Washington, who is in the Congress, will tell you he is the most effective advocate for his point of view than any of us know because he does it himself," Alexander said of Smith. "He is a humanitarian. Everyone in Memphis knows that no one surpasses his generosity for that city and for the lives of the people who live there," the senator added. FedEx is headquartered in Memphis.
Smith accepted the award "on behalf of over 450,000 FedEx global team members who earned it."


The FedEx SameDay Bot presents the Distinguished Leadership Award to Frederick W. Smith. (Photo Credit: ImageLinkPhoto).

Smith said FedEx was "profoundly disappointed" when US President Donald J. Trump pulled the United States out of the Trans-Pacific Partnership (TPP) on January 23, 2017. The renamed TPP, the Comprehensive and Progressive Agreement for Trans-Pacific Partnership (CPTPP), a free trade agreement between Australia, Brunei, Canada, Chile, Japan, Malaysia, Mexico, New Zealand, Peru, Singapore, and Vietnam, came into force in December 2018.
"Our lack of participation puts American exporters at significant disadvantage," said Smith. "In the same vein, the efforts to conclude the Transatlantic Trade and Investment Partnership (T-TIP) also ceased shortly after the new administration took office.  I strongly believe both of these decisions were unfortunate."
Smith expressed the hope that current trade negotiations between the United States and China and the United States and Europe will "reduce trade barriers and achieve the ambitions of President Roosevelt and his Secretary of State, Cordell Hull, who began the march towards open markets with the Reciprocal Trade Agreements Act of 1934."
Further, Smith said: "We believe the relationship between the democracies of North America and the democracies of Europe is key, in turn, to a stable and prosperous relationship with China and the rest of the world."
"The deep and sacred ties between Europe and the United States transcend the here and now, dollars and cents, and the news of the day. These bonds were consecrated by the heroes that lie on the slopes below the Pershings' [Gen. John J. Pershing and his grandson, Lt. Dick Pershing] graves and overseas within the beautiful American cemeteries across Europe. We forget their sacrifice and the importance of the Atlantic relationship honored tonight at great peril to the security, prosperity, and peace of the world to come," he added.
On the rise of China, Smith noted China's historically unprecedented economic growth and its shift from a purely commercial to a geopolitical orientation after the 2008 financial crisis. "While I believe the world is far better off with China having improved the living standards of hundreds of millions of its citizens, no one should forget this was largely done by opening the markets of Europe and the United States to Chinese exports," he pointed out.
Five Challenges
For nearly six decades, the Atlantic Council has "pursued the mission bestowed upon us by our founders: to advocate for and galvanize constructive US leadership, alongside our global friends and allies, to shape the future," said Kempe.
Acknowledging the support of many in the audience, Kempe added: "Thanks to so many of you in this audience, the Atlantic Council has never been so robust and resourceful as it is today. Yet the tests we face have perhaps never been as complex."
Kempe said Atlantic Council board and staff strategy retreats had produced a consensus that the Council must wrestle with five interwoven, defining challenges. "First, we must peacefully navigate a new era of major power competition; second, we must address new challenges to our democracies and the surge of autocracies; third, we must reinvigorate and perhaps even reinvent the global system of rules and institutions that Atlantic Council founders helped create; fourth, and crucially, we must help define and execute America's role in shaping this new world. Finally, we must harness the opportunities and manage the risks of an unprecedented era of technological change," he said.
Kempe said rather than viewing these challenges as reasons for despair, the Atlantic Council sees them as a "call to action."
Three Attributes of a Leader
Accepting her award, Lagarde pointed to examples of courage, generosity, and resilience, "three attributes, [which] embody to me what a leader should demonstrate." But rather than speaking about "presidents and prime ministers and chancellors and highnesses" she focused on individuals who had touched her life, including her mother who single-handedly raised Lagarde and her siblings after their father passed away, and the woman who first hired Lagarde as a lawyer early in her career.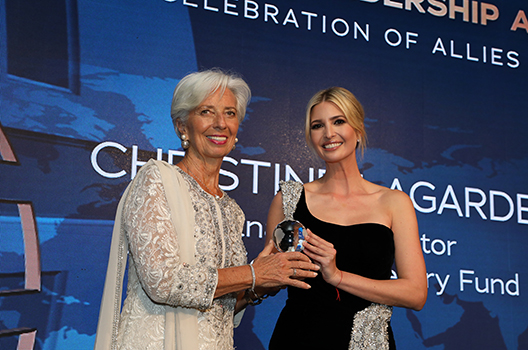 International Monetary Fund Managing Director Christine Lagarde (left) received her Distinguished International Leadership Award from Ivanka Trump. (Photo Credit: ImageLinkPhoto.com)
Lagarde pointed to people she met in her travels with the IMF, such as a woman who "didn't know how to read, how to count, or how to write" and was left alone after her family was killed by terrorists. Despite her struggles, Lagarde explained, that woman showed the resilience to learn how to use a credit card and mobile device to access microcredit and then teach her fellow villagers about the new technology.
She also recounted a meeting with another woman in Lombok, Indonesia, whose village was destroyed in an earthquake. Rather than begging Lagarde for assistance, this  woman showed generosity by simply wishing Lagarde well on her trip.
Finally, she recalled a recent meeting with young firefighters in Paris who had bravely climbed the towers of the Notre-Dame Cathedral as a fire tore through the historic building on April 15. These firefighters, she said, showed the courage necessary to save one of France's most important symbols.
Lagarde said that she and her colleagues at the IMF tried to "actually show courage, to show generosity, and to show resilience" in their work as "we together try to make the world a better place."
"We remind all those we work with," she added, "that we are all in this together and those sacrifices that we made seventy-five years ago or a century ago between this country and Europe were not in vain and that those bonds are forever."
Ivanka Trump introduced Lagarde, whom she described as "a leader, and friend, who has shaped my own thinking, and who shares a passion for women's economic development."
Trump said Lagarde is "a model of excellence, a visionary for global finance, and a pioneer for women around the world." As managing director of the IMF, Trump contended, Lagarde has "modernized the IMF and pushed the boundaries of economic analysis to empower women and  to help leaders to overcome corruption with transparency and service to their citizens."
"Madame Lagarde is among a rare class of leaders who embody the best paradox of humanity: she is relatable, yet cerebral. She is warm, yet uncompromising. She is among the fiercest negotiators, yet an excellent consensus builder. She has a heart big enough to serve the world—and the intellect to make it better," Trump said, while thanking Lagarde "for paving the way to a brighter, more just future for women and for the world."
Around 800 guests from more than fifty countries, including former heads of state, foreign dignitaries, ambassadors, members of Congress, military commanders, international business leaders, and the media attended the dinner.
The awards dinner was interspersed with musical performances. Christian Douglas performed "I Am What I Am" while Nova Payton rounded off the evening with a performance of "The Impossible Dream" accompanied by the Congressional Chorus and the American Pops Orchestra.
Ashish Kumar Sen is deputy director of communications, editorial, at the Atlantic Council. Follow him on Twitter @AshishSen.
David A. Wemer is assistant director, editorial, at the Atlantic Council. Follow him on Twitter @DavidAWemer.