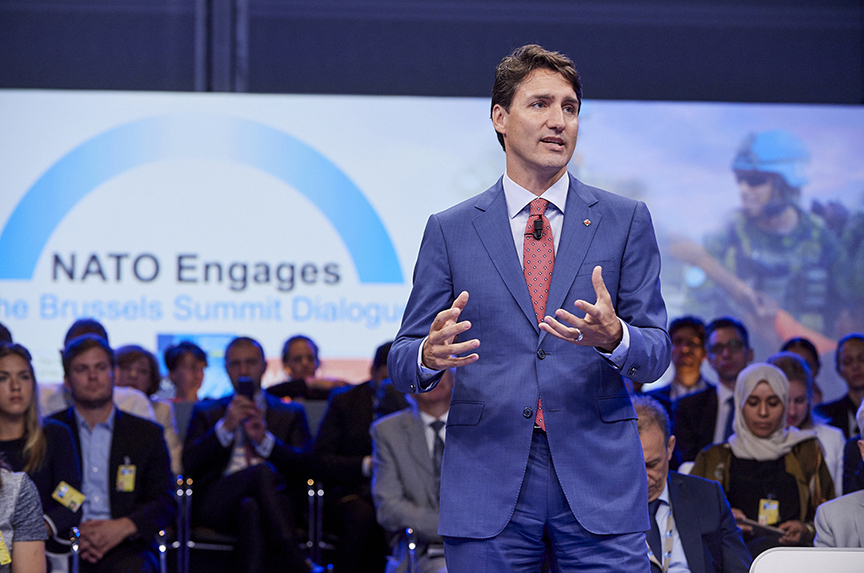 Canadian Prime Minister Justin Trudeau on July 11 delivered a resounding defense of NATO—the transatlantic military alliance that today grapples with external as well as internal challenges—and sought to address questions of burden sharing noting that it is the quality of the output rather than the quantity of the input that actually matters.
"A lot of people talk about the 2 percent," said Trudeau, referencing the defense spending guideline agreed to by NATO members, "but announcing inputs isn't nearly as important as demonstrating outputs," he added.

US President Donald J. Trump has exhorted and excoriated allies for not spending enough on defense—a theme that he carried into the opening day of the NATO Summit in Brussels on July 11.
"You can try and be a bean counter," Trudeau said, "but the fundamental question is: is what you are doing actually making a difference?"
Trudeau spoke on the opening day of NATO Engages: The Brussels Summit Dialogue, a two-day event jointly hosted by the Atlantic Council, the German Marshall Fund of the United States (GMF), the Munich Security Conference (MSC), and Women in International Security (WIIS) in Brussels on the sidelines of the NATO Summit. Trudeau participated in a panel discussion alongside Chrystia Freeland and Harjit Singh Sajjan—Canada's foreign and defense ministers, respectively. Karen Donfried, GMF's president, moderated the discussion on the topic of "Our Shared Global Values."
Canada has participated in virtually every NATO mission since the Alliance was founded in 1949. On a visit to Latvia on July 10, Trudeau announced Canada would commit additional troops as well as extend by four years its deployment of troops to the region as part of NATO's mission to deter Russian aggression. In a further demonstration of his country's tangible contributions to NATO, Trudeau announced that Canada will assume command of a new training and capacity building mission in Iraq. Canada has committed to 250 troops and helicopters to this mission.
At the Wales Summit in 2014, NATO allies had agreed to work toward a guideline of spending 2 percent of their GDP on defense "within a decade." Currently, only four members of the twenty-nine-nation Alliance—the United States, the United Kingdom, Greece, and Estonia—meet the 2 percent goal. Latvia is expected to meet the goal this year.
New figures released by NATO on July 10 show that Canada spends 1.23 percent of its GDP on defense. Germany, the second-largest economy in the Alliance, spends 1.24 percent of its GDP on defense, while France spends 1.81 percent. In comparison, the United States is projected to spend 3.5 percent of its GDP on defense in 2018.
Canada was one of the countries that Trump took to task in a letter in which he complained about low levels of defense spending and warned that the United States is losing patience. Leading the mission in Iraq will provide Trudeau with ammunition to fend off such criticism.
Trudeau said Canada is increasing by 70 percent its investment in its military over the next decade. "But we don't just talk about the costs, we talk about the capability and we talk about the contributions," he said. "It also comes to commitments: an ability and a consistency in being there and stepping up regularly in tangible ways."
Sajjan spoke of the importance Canada places on playing a meaningful role in NATO by making sure it has the right capabilities. "It can't just be a check in a box," the defense minister said. "We are making a very significant contribution into our defense—a 70 percent increase in the next ten years, which is going to modernize all our services, including our special forces."
"More importantly… it is making sure that the women and men in our forces can actually make that meaningful contribution," he added.
Defending NATO
In a strong endorsement of NATO, Trudeau stated: "[NATO] is about enhancing and protecting the democratic principles that we all hold as our core values. That is something that continues to be as relevant as it has been."
"Canada knows that a peaceful world, a more resilient world, a more democratic world is good for Canada and is good for all of us. And that's why we believe so deeply in NATO. That's why we stand so strongly with the transatlantic alliance," he said.
"We believe deeply in the values that we are putting forward, and we know that NATO is as necessary now as it was at the height of the Cold War. It is as necessary now to promote the peace, security, and strength of our true democracies and those democratic principles, which are under threat everywhere around the world it seems," Trudeau said. "This is a moment for us to stand together and understand that the perspective that we fight for and stand for is essential today and tomorrow."
Trudeau acknowledged the rise of populism fueled by public fears. "Our responsibility is not to enhance or exaggerate or profit from those anxieties out there. Our responsibility is to allay those fears," the Canadian prime minister said.
"We need to recognize that the rise of populism, aggressive nationalism, or polarization in our public discourse… needs to be responded to with strong, confident, positive, rational messages about how we can solve these challenges together. And there is no better example of that than the extraordinary success that NATO has had over the past almost seventy years and will, indeed, continue to have in a way that is more relevant today than it ever has been before," he added.
At the same time, Trudeau said, while it is important to address domestic concerns, it is equally important to "look at what we do to alleviate stress, tensions, misery around the world because if we don't the trendlines we'll be on as a world will leave as all poorer, poorer off in every different way."
The rules-based order
Freeland, meanwhile, underscored Canada's commitment a rules-based order. "There is nothing conditional about it," she said of this commitment. "We need that international rules-based order to survive and thrive in a really big world."
"It is important for those of us who believe in liberal democracy to be proud of that," she added, while emphasizing the importance of making clear to regular people why these values are so important.
Radmila Sekerinska, defense minister of the Former Yugoslav Republic of Macedonia, which is expecting an invitation to join NATO after it recently struck a deal with Greece to end a twenty-seven year name dispute, said her country is an example that NATO honors its words. She asked the Canadian officials how NATO enlargement can continue.
"The whole idea of the transatlantic alliance is this was about creating an international, rules-based order with liberal, democratic values, that was not a closed club—that was open to membership for people and countries aspiring to share those values," said Freeland.
"That openness needs to be one of our core values as a group and we need to be true to that value," she added.
Kicking off NATO Engages, Rose Gottemoeller, deputy secretary general of NATO, noted a "drumbeat of a particular set of topics"—a reference to Trump's criticism of US allies—in the media.
While acknowledging the importance of burden sharing, Gottemoeller urged the audience not to get stuck on a single topic, rather to broaden the debate to include topics that are vital to the future of the Alliance.
Ashish Kumar Sen is deputy director of communications, editorial, at the Atlantic Council. Follow him on Twitter @AshishSen.