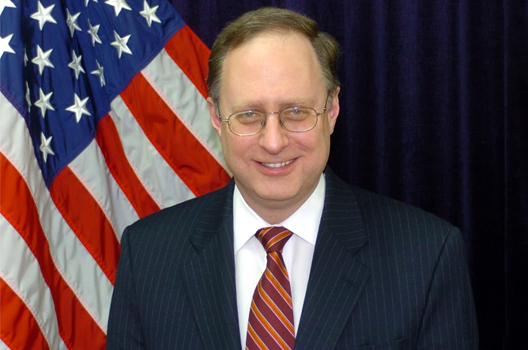 Former NATO Deputy Secretary General Alexander "Sandy" Vershbow on the challenge
posed by Russia
When someone with the long-range perspective of Alexander "Sandy" Vershbow says relations with Russia are the worst he's seen in his entire career, everyone should take notice. In this week's "Channeling Brussels," Vershbow calls 2014, with Russia's takeover of Ukraine's Crimea region, a "watershed year" for him—and not in a good way.
Vershbow has been a student of the Soviet Union and Russia for many decades, rising to the highest levels of the US State Department, the Pentagon and NATO. Before his recently-ended tenure as NATO's deputy secretary general, Vershbow had served as the American ambassador to the Alliance from 1998 to 2001 and to Moscow from 2001 to 2005. With all that Russia-watching history, Vershbow says he'd have to go back to the Berlin crises of the early 1960s to imagine "as volatile and unpredictable and dangerous a situation as we have now."
Back then, things were certainly testy and uncomfortable but at least, he says, "there was a certain acceptance of some basic rules of the game and that applied most of all to Europe." But today, he says regretfully, "we don't have those rules being observed by Russia anymore."

Vershbow himself helped write some of those rules, as part of the delegation that crafted the 1997 "NATO-Russia Founding Act," laying out guidelines for the relationship between the alliance and Moscow. Vershbow's intimate knowledge of both the letter and the spirit of the agreement has come in very handy with the frequent Russian accusations that NATO has violated it with military reinforcements in eastern allies after the annexation of Crimea.
That's the one Kremlin action Vershbow acknowledges took him by surprise. "That, I think, exceeded our imagination, but it all happened so quickly," he recalls. "At the time we assumed that it was in Russia's interest to preserve this rules-based system; the sovereignty of borders is something they emphasized very much."

Vershbow makes a remarkable admission in this interview. He says he'd been given a sort of "early warning" this could happen, speculative though it may have seemed at the time, in a meeting he held as assistant secretary of defense for international security affairs with former Georgian President Mikheil Saakashvili. Vershbow says he was reminded of this conversation when WikiLeaks published an account of that meeting. "I can read the record on the Internet now in which Saakashvili warned—and this was I think a year or two after the war in Georgia—he said, 'Mark my words: Crimea is next,'" Vershbow says. "And I obviously wasn't listening carefully enough at the time."
Vershbow says there were also potential hints in comments made by Russian President Vladimir Putin at the Munich Security Conference in 2007 and at the NATO summit in Bucharest in 2008. Putin "questioned Ukraine's statehood," Vershbow notes, revealing "he has had ideas about Ukraine and Crimea going back many years."
Vershbow says Ukraine itself should also have done a better job of creating national unity and a resilient political system and society. "[T]hey had a great opportunity to clean up their act to control corruption, to introduce reforms," he said. "And they blew it, to put it on diplomatically." He admits perhaps the west should have applied more pressure for these reforms.
That this is where NATO-Russia and US-Russia relations are after a lifetime working on improving those ties is something that disappoints Vershbow. He remembers former Russian President Boris Yeltsin even contemplating joining NATO at one point. Vershbow thinks of "all the missed opportunities," joint missile defense the most significant, and he can't imagine a near-term improvement in relations with the current Moscow mindset.
At the time of this interview, Vershbow didn't know where he'd be headed in the next phase of his career. That question has now been answered with his appointment as a senior fellow at the Atlantic Council, which sponsors "Channeling Brussels." But among his hopes for his ongoing career is to be an advocate for the countries on Russia's borders. "[I]f we can succeed in making Ukraine, Georgia, in terms of market economies, rule of law robust democratic institutions, accountable leaders," he says, "that's the best response to Putin's effort to reestablish dominion over the former Soviet Union."