Since its founding more than a decade ago, the BRICS group (Brazil, Russia, India, China, and South Africa) has grown substantially in stature as a forum to articulate the views of countries in the Global South in their dealings with developed countries. The group could evolve to become a counterpart to the Group of Seven (G7) in world affairs, resulting in a profound impact on international relations. But whether this impact turns out to be positive or negative will depend on which country's vision for the BRICS forum's future ultimately prevails: India's or China's. The two countries have vastly different ideas about how the group should move forward, as India's disagreement with China's push to rapidly expand the organization's membership in the lead-up to the August 22-24 BRICS summit in Johannesburg, South Africa, demonstrates.
If the BRICS group follows India's approach, then it can promote cooperation among developing countries and, on that basis, engage with the G7 to discuss ways to reform the international economic and financial system and deal with global problems such as the impacts of climate change. This would seem to appeal to many developing countries, which want to reform the current international economic and financial system but do not want to explicitly take sides between the United States and China. On the other hand, if China prevails, the BRICS group will likely become another venue for anti-US political activism, probably risking its ability to deliver concrete benefits to many developing countries.
Given this backdrop, it is important for the G7 to develop an effective approach to the evolution of BRICS—finding ways to engage with its constructive proposals to seek common solutions to global problems, while pushing back against its negative tendencies.
The rise of BRICS
The acronym BRIC (Brazil, Russia, India, China) was coined in 2001 by Goldman Sachs economist Jim O'Neill to designate these four countries as attractive investment destinations, riding on a wave of enthusiasm about the prospects of emerging markets. In 2006, the four countries' foreign ministers met on the sidelines of the United Nations General Assembly in New York to formalize the group known as BRIC. In 2009, the first summit of leaders took place, followed by annual meetings ever since. In 2010, the group was expanded to include South Africa—becoming BRICS.
The BRICS group was organized around the goal of enhancing consultation and coordination between the five major developing countries to change the current Western-led world order into a multipolar system where developing countries have more influence, commensurate with their shares of the global economy. Despite the five members' divergent economic trajectories in the years since—with China and India having grown impressively while the other three saw weak growth—the BRICS group has made significant progress.
Together, BRICS countries have 3.24 billion inhabitants—or 41 percent of the world population—and a combined gross domestic product (GDP) of $26 trillion, or 60 percent of the G7 countries' combined GDP. However, on a purchasing power parity basis, BRICS countries' GDP accounts for 31.5 percent of the global economy, overtaking the G7 share of 30.4 percent. Despite this, BRICS countries get only 15 percent of the voting power at the International Monetary Fund—a source of developing countries' discontent over the governance of international financial institutions.
Competing visions
The BRICS group has revealed its internal divisions, however, as the rivalry between China and the United States has intensified. India has tried to resist China's efforts to turn the BRICS group into a support organization for China's geopolitical agenda, such as promoting Beijing's Belt and Road Initiative, its Global Development Initiative, and explicit anti-US rhetoric. Instead, India has focused BRICS discussions and activities on South-South economic and financial cooperation projects, initiatives to reduce global reliance on the US dollar-based international financial and payment system, and reforms of international financial institutions to give developing countries more voice and representation. South Africa seems to have followed this approach in formulating the theme for the upcoming summit: "BRICS and Africa: Partnership for Mutually Accelerated Growth, Sustainable Development, and Inclusive Multilateralism." To reinforce its focus on Africa, South Africa has reportedly invited the leaders of all African countries to attend the summit.
China and India's disagreement regarding membership expansion will shape the prospects of aspiring BRICS countries and the organization's future. According to South African authorities, twenty-two countries have formally applied to join the BRICS group, and a similar number of countries have expressed their interest. While this has enhanced the group's stature, it also poses a difficult problem for the organization: admitting too many new members risks diluting the BRICS group, making it ineffectual if it continues to operate on a consensus basis. China and Russia have wanted to quickly expand the BRICS group to strengthen their influence in important developing countries—many of which also see the organization as an opportunity to get closer to China economically. India, on the other hand, is concerned about losing its own influence if the BRICS group admits too many new members closely aligned with China's agenda. After all, India has had a persistently bitter border dispute with China, as well as a rivalry with Beijing for regional influence. Against this backdrop, India has proposed to discuss and agree on the criteria for membership—as an item on the August summit agenda—before admitting new members.
An effective G7 approach
Confronted with the efforts of several countries in the Global South to establish a forum—likely to be based on the BRICS format—to coordinate their views and policies to deal with the developed countries, the G7 should find an effective approach to manage its interactions with the BRICS group. If the BRICS group follows India's agenda and comes up with concrete ideas to reform the international economic and financial system, the G7 should engage constructively and discuss in earnest those ideas—and not dismiss out of hand the demands for changes. However, if the BRICS group turns out to be a China-driven forum sponsoring anti-US and anti-West rhetoric and initiatives, then the G7 should push back against those criticisms—most effectively by suggesting ways to improve the current economic and financial system to address the shortcomings in meeting the development needs of countries in the Global South.
In any event, the BRICS forum is an idea whose time has come, and the world should be prepared to interact with it.
---
Hung Tran is a nonresident senior fellow at the Atlantic Council's GeoEconomics Center, a former executive managing director at the Institute of International Finance and former deputy director at the International Monetary Fund.
Further reading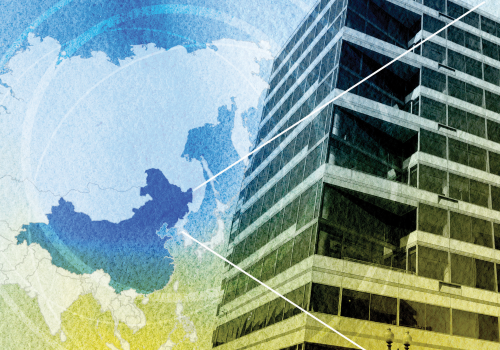 Mon, Oct 17, 2022
Report By Victor Shih
Despite its size, China has an inadequate voice in traditional Bretton Woods Institutions. This paper examines aspects of the dissatisfaction China has with existing global governance institutions such as the World Trade Organization (WTO) and the International Monetary Fund (IMF). It also discusses the proposed changes to these institutions according to discussions with Chinese experts.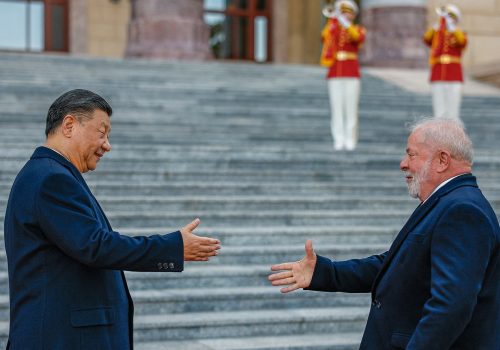 Fri, Apr 14, 2023
New Atlanticist By Atlantic Council experts
Brazilian President Luiz Inácio Lula da Silva and Chinese leader Xi Jinping just met in Beijing, but it is who else came on the visit that reveals big changes ahead for the two countries and the world.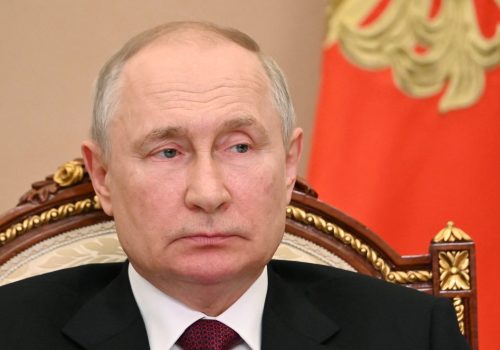 Thu, Jul 20, 2023
UkraineAlert By Peter Dickinson
Vladimir Putin's pariah status has been confirmed after he was forced to cancel plans to attend a summit of BRICS leaders in South Africa over fears that he may be arrested for war crimes, writes Peter Dickinson.