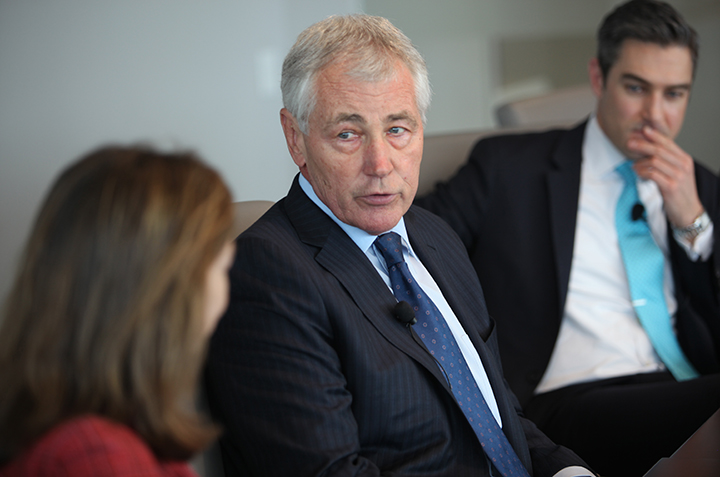 Former Defense Secretary warns against 'Cold War buildup' as NATO deploys in Europe's eastern flank
As it ramps up its troop presence in Europe's eastern flank, NATO must be careful not to get embroiled in a "Cold War buildup" with Russia, and the next US president must make it a priority to engage directly with Russian President Vladimir Putin, Chuck Hagel, a former US defense secretary who currently serves as a distinguished statesman at the Atlantic Council, said in Washington on May 10.
NATO is planning to deploy four combat battalions—two American, one German, and one British—of roughly 1,000 troops each in Poland and the three Baltic States: Estonia, Latvia, and Lithuania; preparing to conduct major military exercises that will include a significant number of US troops in Poland this spring; and on May 11, US military officials will inaugurate a ground-based missile interceptor site in Romania that will be part of a larger missile defense shield. All of this has provoked a sharp response from Russia, which has said it will add three divisions of roughly 10,000 troops each to its western and southern flanks by the end of the year.
Warning that "we can find ourselves very quickly in another Cold War buildup," Hagel said he was "not sure there is real strategic thinking here. It is a tactical ricocheting from crisis to crisis."
"Initially, the four battalions…is OK, but I would be very careful with this," he said. "The centrifugal force of this is so subtle, it takes you right down into the middle of a situation that you didn't want to get into…Don't ever think that when you commit military that is all it is going to be. There is always going to be an increase."

Hagel spoke at an Atlantic Council media briefing. Atlantic Council Executive Vice President for Programs and Strategy, Damon Wilson, also participated in the briefing, which was moderated by Evelyn Farkas, a Nonresident Senior Fellow at the Atlantic Council's Future Europe Initiative, Dinu Patriciu Eurasia Center, and Brent Scowcroft Center on International Security.
The Atlantic Council will host two major events in Poland over the summer—its annual Wroclaw Global Forum from June 2-3 and NATO Future Leaders Summit, which will coincide with NATO's annual summit in Warsaw in July.
Talk to Putin
Hagel noted the need for a coherent national debate on the United States' role in the world and hoped this will happen once "most of the entertainment factor evaporates from the primary presidential campaigns."
Hagel, a former Republican senator from Nebraska who served as US President Barack Obama's defense secretary, declined to say which presidential candidate he would endorse, but noted that both Donald Trump, the Republican Party's presumptive nominee, and Hillary Rodham Clinton, the Democratic frontrunner, bring "interesting, unique approaches to geopolitics."
In a bid to reassure its NATO allies in Europe's east, the Obama administration announced in February that it intends to quadruple US military spending in Europe. NATO officials say the troop buildup on the Alliance's eastern flank is in response to a revanchist Russia that annexed Crimea in 2014, continues to support separatists in eastern Ukraine, and threatens the Baltic States.
Hagel said one of the first orders of business for the next US president should be to sit down with Putin. "That may be distasteful, but we know enough about President Putin. He deals with leader-to-leader," he said.
Until that leader-to-leader dialogue begins, Russia will respond to the buildup on NATO's eastern flank with more battalions, military exercises, ships, and weapons platforms, he added.
In a foreign policy speech on April 27, Trump said he believes "an easing of tensions, and improved relations with Russia from a position of strength only is possible, absolutely possible. Common sense says this cycle, this horrible cycle of hostility must end and ideally will end soon."
"Some say the Russians won't be reasonable. I intend to find out," he added.
Early in his presidency, Obama attempted to reset relations with Russia—a policy championed by Clinton, who was then secretary of State. The reset was officially deemed a failure when Russia annexed Crimea from Ukraine on March 18, 2014.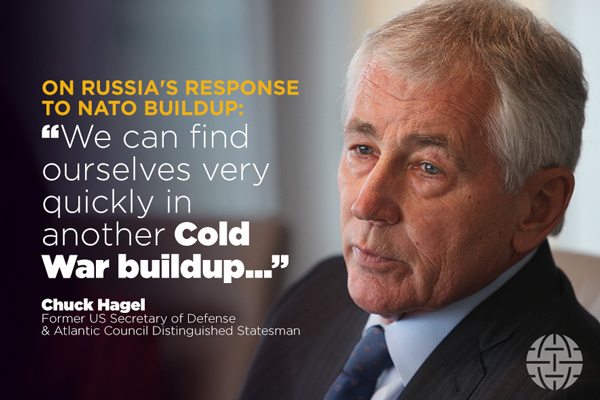 'Legitimate' questions
NATO has become an unusual talking point in the US presidential campaign after Trump declared it obsolete, complained that European members of the Alliance are "not paying their fair share," and suggested that the United States scale down its contributions.
Obama, too, in an interview with the Atlantic described some of the United States' European partners as "free riders."
Americans are asking "legitimate" questions about European contributions to security that "should be aired in the United States," said Hagel, while maintaining that it is in the United States' interests to have global alliances.
That said, all NATO member states "have to put something on the table," Hagel contended, adding, "If a nation thinks its security is the highest order—and most nations do—then they should be willing to make that contribution."
Only five of the twenty-eight NATO member states meet the goal of spending two percent of their GDP on defense.
Clinton, referring to Trump's remarks on NATO, told CBS News' "Face the Nation" earlier this month: "Being a loose cannon is saying we should pull out of NATO—the strongest military alliance in the history of the world, and something that we really need to modernize, but not abandon."
Farkas described NATO as the United States' "only collective security alliance."
Warning on Syria
Hagel said he would advise the next US president against getting NATO involved in Syria. The war in Syria, now in its sixth year, has left more than 250,000 dead and created over three million refugees, Many of these migrants are fleeing to Europe in what is the largest movement of people across the continent since World War II.
"NATO has got to be very careful not to overplay its hand" in the Middle East, said Hagel.
"That problem in the Middle East…it ain't going to be solved by NATO, and it's not going to be solved militarily," he said noting that the solution has to come from the people of the region. "The last thing we want to do is to impose Western will, Western institutions, and I hope we learned a lesson from Iraq. It won't work," he added.
Wilson said that "the worst thing to do is for NATO to be a substitute for a US or Western strategy or approach."
"NATO can be a vehicle through which we pursue that, but it's not a substitute. Too many American politicians think of NATO as 'them,' and too many European politicians think of NATO as us, the Americans. It's not a self-executing organization. It just doesn't exist in a vacuum," Wilson said. "That's why it's not going to be an easy answer for Syria if we don't have a strategy in Washington and Berlin and London."
Weapons for Ukraine?
As secretary of defense, Hagel advocated doing more to help the Ukrainians who were fighting Russian-backed separatists in the east. He said that because the Ukrainian military infrastructure couldn't absorb sophisticated weapons, the Obama administration eventually took the decision to only provide defensive equipment.
Hagel said: "If you started providing sophisticated weaponry to the Ukrainians, first of all, most of them wouldn't have the capability to use it, and second, that would accelerate the killing…And then you get into this question: Do you want to go to war with Russia over Ukraine?"
Wilson, however, cautioned against falling into the trap of "everything that we do is provocative."
"We are in this situation because of what Mr. Putin is doing in the east and our goal is to have the right posture, both psychologically and militarily, to ensure deterrence…and that we don't find ourselves in the position of having to go to war in Russia," he said.
"What is dangerous," he said, is when "we project and telegraph too frequently our ambivalence." Putin is looking for vulnerabilities and the point of the strategy should be to ensure that there are no vulnerabilities, he added.
Wilson said that rather than focusing on just providing weapons to Ukraine, the focus should be on the larger question of how to build an "arc of stability" in Europe's east. "What the Russians have done, essentially, is almost ended the arms control regime…so what is our strategy now," he asked.
Brexit will weaken NATO
Besides the challenges on its east—from Russia—and its south—from migrants fleeing war zones, NATO also faces challenges from within. The United Kingdom will hold a referendum on June 23 to decide whether to remain part of the European Union. British voters are evenly split. A Brexit—British exit—will weaken Europe as well as NATO, said Wilson; and Farkas warned that Russia would exploit this weakness.
On May 10, former NATO secretary generals and former US secretaries of state, secretaries of defense, and national security advisors warned against the UK leaving the EU.
"We are concerned that should the UK choose to leave the European Union, the UK's place and influence in the world would be diminished and Europe would be dangerously weakened," thirteen former US secretaries of state and defense and national security advisers, including former Secretaries of State Madeleine Albright and George Shultz, and former National Security Advisor Brent Scowcroft, wrote in a letter to the Times in London.

In a separate letter to the Daily Telegraph, five former NATO secretary generals—Peter Carrington, Javier Solana, George Robertson, Jaap de Hoop Scheffer, and Anders Fogh Rasmussen—wrote: "Brexit would undoubtedly lead to a loss of British influence, undermine NATO and give succour to the West's enemies just when we need to stand shoulder-to-shoulder across the Euro-Atlantic community against common threats, including those on our doorstep."
Ashish Kumar Sen is Deputy Director, Editorial, at the Atlantic Council.