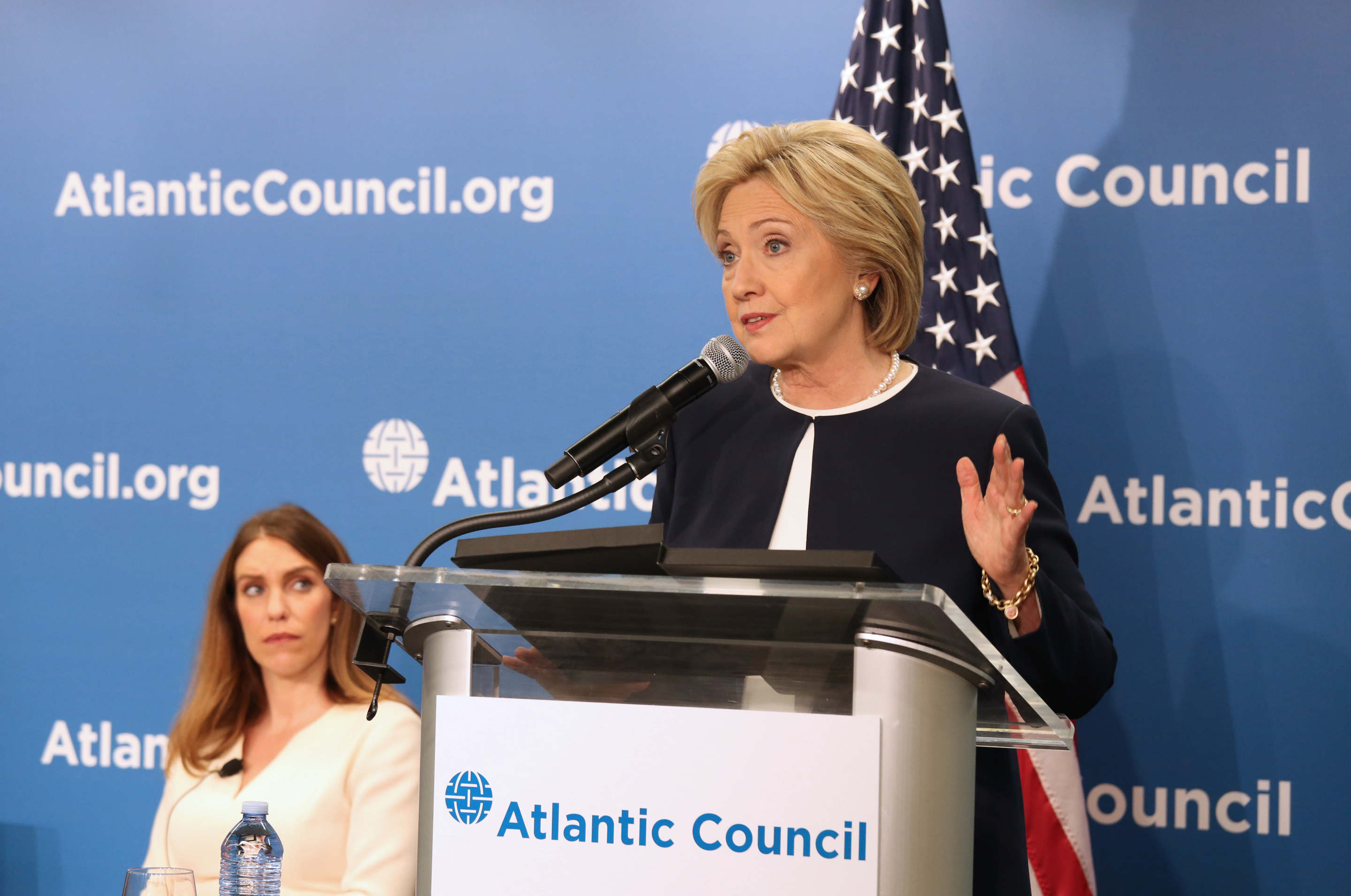 Democratic presidential frontrunner says Venezuelan government doing 'all it can to rig' parliamentary elections
The Venezuelan government must respect the outcome of parliamentary elections scheduled for Dec. 6, former Secretary of State Hillary Rodham Clinton said at the Atlantic Council on Nov. 30.
"As the people of Venezuela go the ballot box this weekend, it is really up to all of us in this hemisphere to ensure their will is respected, and that responsibility begins with the Maduro administration," Clinton said, "which to date has been doing all it can to rig these elections."
Venezuelan President Nicolás Maduro's term doesn't expire until 2019, but he could face a recall if the opposition takes control of parliament. Most polls show Maduro's United Socialist Party of Venezuela losing seats in parliament in an election that will lack credible monitors. The Carter Center, which has monitored elections in Venezuela in the past, shut down its offices in Caracas over the summer.
The elections are taking place amid a government crackdown on political opponents that has sharpened political tensions, and just days after the assassination of opposition politician Luis Manuel Diaz. Clinton expressed outrage at Diaz's "cold-blooded assassination."
"Our voices need to be raised on behalf of the people of Venezuela," Clinton said, "and voices across the region have started to speak up for democratic values, but we need much more."

"The people of Venezuela need to know that their friends and neighbors in the Americas are rallying to their cause and defense," she said. "They are not alone. They deserve every opportunity to have the same choices and chances that everyone in this hemisphere is finally seeing within grasp."
US leadership in Latin America
Clinton, who is the Democratic presidential frontrunner, delivered the strong statement on Venezuela at the launch of the Atlantic Council's Adrienne Arsht Latin America Center's Women's Leadership in Latin America Initiative.
Atlantic Council Chairman Jon M. Huntsman, Jr. and Latin America Center Director Peter Schechter introduced Clinton.
The United States has to show leadership and lead "more broadly" in the Western Hemisphere, Clinton said while pledging to do just that if she is elected President because she is "really excited about how much more we can do together."
Clinton, who hopes to be the United States' first female President, joked that there is a lot Americans can learn from Latin America's success at electing female leaders. Latin America's commitment to supporting female leaders is a sign of a "deeper alignment" and no region in the world is more important to the United States' long-term prosperity and security, she said. "No region in the world is better positioned to emerge as a new force for global peace and progress," she added.
The United States and Latin America: 'The power of proximity'
In a thinly veiled swipe at Donald Trump, Clinton noted that "there are Americans who only think of Latin America as a land of crime and coups." She said such remarks are "very out of date, but that is a stereotype that has fixated itself in the psyche."
Trump, who is leading the pack among the Republican presidential hopefuls, has described Mexican migrants to the United States as drug traffickers and rapists.
Clinton also knocked critics of US President Barack Obama's rapprochement with Cuba saying they "want to return to a failed policy on Cuba and cut our ties instead of strengthening them." The Obama administration restored diplomatic ties with Cuba over the summer after a fifty-four-year break in relations.
Sen. Marco Rubio (R-FL), another presidential hopeful, has vowed to roll back Obama's diplomatic engagement with Cuba if he is elected President.
Clinton, without naming Trump, also criticized those who "talk about deportation and walls instead of recognizing that America's diversity is our greatest strength and supporting meaningful reform that will keep families together benefits all of us."
Trump has said that if he is elected President he will build a wall along the US-Mexico border and deport millions.
The interdependence between the United States and Latin America "is an advantage that needs to be embraced," Clinton said while calling for the need to build on "the power of proximity."
"It is not just geography," she said, "it is common values, common culture, common heritage, and, yes, common interests."
Closer ties across Latin America will help the US economy, Clinton said, while noting that there are enormous opportunities for regional cooperation on clean energy with the goal of combatting climate change.
Women in leadership
In 1998, as first lady, Clinton spoke on the subject of women's leadership at a conference in Montevideo, Uruguay. Seventeen years later, there have been "enormous gains" for women in Latin America and the Caribbean, she said at the Atlantic Council.
Acknowledging that women today are leading Latin America's transformation at all levels, Clinton said still more needs to be done. Incomes need to be raised, gender-based violence eliminated, and women paid equal to men, she added.
"When women and girls participate economies grow and nations prosper," said Clinton. Global GDP would grow by nearly 12 percent by 2030 if the global gap in workforce participation is closed; agricultural output would rise if female farmers had similar access as men to resources; and when women are involved in peace processes they are more likely to raise issues like justice and health care, she added.
"Advancing the full participation of girls and women isn't just the right thing to do, it is the smart thing as well," said Clinton. "It's not just about women's lives, women's rights, and women's opportunities. It is about lifting up families, communities, and countries and providing greater opportunities for everyone. That should be our hallmark and our clarion call."
Following Clinton's remarks, Capricia Penavic Marshall, Ambassador-in-Residence at the Council's Latin America Center, moderated a panel of female leaders from Latin America. Marshall leads the Women's Leadership in Latin America Initiative.
Panelists included Mexican Sen. Ninfa Salinas; Colombia's Consul General in New York, Maria Isabel Nieto; and Muni Figueres, a former Ambassador of Costa Rica to the United States.
What motivated each of them to enter politics?
Salinas was motivated by the public's detachment from public service. "Every day that we don't have a voice is a day that we let go by without building what we want to see for our children, for ourselves," she said.
Nieto said she didn't go looking for a life in politics, instead, politics found her.
And Figueres never had a "Joan of Arc moment" about getting into politics because she was raised in a political family.
Marshall asked the panelists whether Latin America's "machismo culture" had been an obstacle in the advancement of their careers.
Mexico has a matriarchal society in which "everything is held together by women," said Salinas. Women need the same opportunities as men to flourish, she added.
A quota system has helped advance the role of women in leadership positions across Latin America.
Quotas have been successful everywhere they have been implemented and will remain in place until women in politics becomes a "mainstream phenomenon, and a non-topic," said Figueres. The obstacles women face in politics depend on their backgrounds and the resources available to their families, she added.
Nieto is a firm believer in the quota system. "If the quotas didn't exist then women [entering] into politics … would be very difficult," she said.
Ashish Kumar Sen is a staff writer at the Atlantic Council.