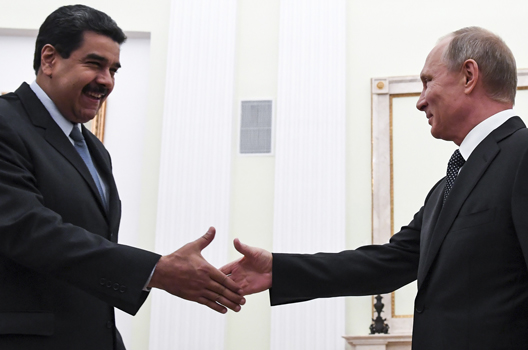 Venezuela's default on a massive international debt and Russia's ongoing financial assistance to the South American country that is under both US and European Union (EU) sanctions, will push Caracas further into Moscow's sphere of influence, according to an Atlantic Council analyst.
"The Russians are throwing lifelines to the criminal Venezuelan regime with the intention of further pushing Caracas into Moscow's orbit. With Venezuela both under US and EU sanctions and being shunned by the major countries of the hemisphere, the Russians see an opportunity to swoop in and use the situation to their advantage," said Jason Marczak, director of the Atlantic Council's Adrienne Arsht Latin America Center. He described how a country that is diplomatically isolated and run by an anti-US regime "provides a huge opportunity for Russia to establish a further footprint in a country that is within the geostrategic, geographical orbit of the United States."

As a result, Marczak cautioned, Caracas will become more closely aligned with Moscow and its interests, to the detriment of the United States. "As Venezuela continues to degrade, this puts out an 'open-for-business' sign to Russia, primarily for nefarious reasons," he said.
On November 13, Venezuela defaulted on billions of US dollars' worth of international loans to both the government of Venezuelan President Nicolás Maduro and the state-run oil company PDVSA. Venezuela failed to make the payments despite a thirty-day grace period. According to Marczak, "this is no surprise."
Venezuela has a "massive debt load," said Bart Oosterveld, director of the Atlantic Council's Global Business and Economics Program, estimating this to be somewhere between $100 billion and $150 billion.
Though Venezuela was unable to pay back its loans "because of corruption in the Venezuelan government, cronyism, economic mismanagement, and a general pilfering of the state resources," said Marczak, Moscow has offered a degree of debt relief.
On November 16, Russia offered Venezuela $3 billion worth of debt restructuring. Moscow has also helped Venezuela pay off its debts in the past.
While this is a lifeline for the isolated Maduro government, it is not enough to get the government back on track toward paying off its debts, said Oosterveld. "It's a $3.5 billion debt restructuring, so it provides a bit of short-term relief, but it is small compared to more than $100 billion of debt," he said.
US President Donald J. Trump imposed further sanctions on Venezuela in the wake of a July 30 constituent assembly vote which established a new legislative body comprised entirely of Maduro's supporters. Both Maduro and his vice president were targeted by those sanctions. The EU recently followed suit, imposing an embargo on arms and on materials that could be used for repression. It also adopted a legal framework which would allow in the near term to impose travel bans and assets freeze to Venezuelan government officials."
As Caracas attempts to negotiate its way around the messy default, "the most important effect that the US sanctions have had is that they currently preclude the government from negotiation with its creditors," said Oosterveld.
With the breathing room provided by Moscow's debt restructuring deal, Caracas has instigated a set of negotiations with its debtholders, primarily US businesses. Venezuelan Vice President Tareck El Aissami has been assigned to lead these negotiations. However, El Aissami is under US sanctions which preclude the US banks and businesses holding Venezuela's debts from meeting with him.
"So," said Marczak, "the Maduro regime has put in place someone who is under US sanctions to try to convene debtholders—a large percentage of which are US debtholders—to try and figure out a solution and a way forward."
According to Marczak, "it's a farce of an attempt by the Venezuelan government to find a solution."
However, said Oosterveld, it does not seem as though Maduro is particularly interested in achieving a legal solution through traditional means, if at all. "International bodies could assist," he said, "but what's interesting is that the government is trying to circumvent them." Oosterveld described how "if you're in this kind of financial crisis, the normal path is to go to the International Monetary Fund (IMF), get a support program, and adjust your economy according to their recommendations."
However, he said "if you negotiate side deals with the Russians and the Chinese," as Maduro has done, "it effectively means you're not interested in that path." According to Oosterveld, "the government is not interested in engaging."
In light of the scale of Venezuela's debts, Maduro's government will not be able to pay them back, "and it's no longer trying," said Oosterveld.
Venezuela's remaining options, according to Marczak, are to either attempt to negotiate a settlement—an outcome both experts agree is unlikely—or remain in default. However, settling in default would see Venezuela "shunned out of world financial markets," said Marczak. "This would make it even more difficult for them to get new loans even from less-than-savory creditors," who are still willing to deal with Maduro, he added.
In the absence of a negotiated solution, Venezuela will "default on the debt altogether," said Oosterveld. He described how such an outcome "will mean years of lawsuits that will likely be filed in New York with uncertain outcomes." According to Oosterveld, "in that period of lawsuits, my expectation is that Venezuela will not have access to international capital markets, so they would not be able to borrow internationally as long as this lingers."
Marczak cautioned that Venezuela's isolation from international capital markets will intensify the ongoing political and humanitarian crisis in the country. "The debt restructuring puts a further squeeze on those who are benefitting in the government from access to the international capital market," he said, "but, it also has a real potential to further aggravate the humanitarian crisis," which is at "an all-time high." The Maduro government's rampant corruption has had the greatest impact on the Venezuelan people who no longer have access to basic food and medicine. According to Marczak, 90 percent of Venezuelans are unable to eat more than two meals per day.
Marczak described how "the less access to cash financing that Venezuela has, the less that it can import basic food stuffs to provide a subsistence living for those who are dependent upon that food."
"I don't know if the situation could get any more dire for the population," said Oosterveld.
Rachel Ansley is an editorial assistant at the Atlantic Council.