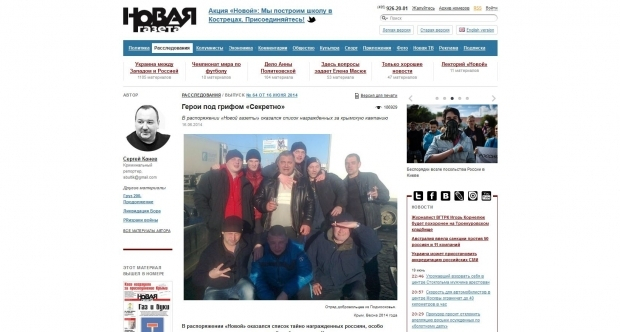 Putin Secretly Decorates Russian Volunteers Who Backed Moscow's Troops in Takeover
Russian President Vladimir Putin bestowed state honors in recent months on more than 300 Russians who it declared had done an outstanding job in helping Russia's seizure from Ukraine of the Crimean peninsula. But the happy news has been kept strangely quiet. The official Russian presidential website, which assiduously lists the text of each Putin ukaz, or executive order, skipped over Ukaz No. 269, in which he bestowed most of those honors. The website simply skips from No. 268 to No. 270, and the president's press office told the Russian daily Vedomosti last month that Ukaz No. 269 "is not within public access."

While the decree is secret, the names of its honorees are slowly leaking out. Many of those known until now are prominent media executives and journalists who helped shape the Crimea story to the Kremlin's liking — a reminder that the Russian state's propaganda machine, both domestic and international, is one of its most powerful weapons in the conflict with Ukraine.
This week, Sergei Kanev, a crime reporter of the liberal opposition newspaper Novaya Gazeta, published a long report identifying several more of Putin's awardees. They are a roguish, colorful lot, from football hooligans and armed motorbikers, to hardline Russian nationalists and convicted criminals. Kanev documents his article with group photographs of award recipients on their way to Crimea, pictures of some of the honorees behind bars, copies of the award certificates and pictures of the awards ceremony and reception.
Novaya Gazeta
Novaya Gazeta, (New Gazette), owned partly by former Soviet leader Mikhail Gorbachev, is known for its critical and investigative coverage of Russian political and social affairs. Since 2001 four of its journalists have been murdered. They include Anna Politkovskaya, who covered organized crime and its links to Russia's suppression of more than a decade of rebellion in the Caucasus region of Chechnya. The newly decorated allies of the Kremlin range from the executive council secretary of the ruling United Russia party, Sergey Neverov, to Felix Chernyakhovsky, a prominent member of the Night Wolves, a Russian nationalist motorcycle club with whom Putin has taken well-publicized rides. Night Wolves joined in the armed takeover of Crimea in March. Also among the honorees was Belarusian citizen Vladimir Korotkevich, who helped lead the seizure of government buildings in Crimea, and a former Afghan intelligence officer named Hostai Mubarak Shah, who currently holds a seat in the Kaluga oblast, or provincial, legislature. (Kaluga is about 150 kilometers, or 90 miles, southwest of Moscow.)
The Kremlin hosted three secret award ceremonies for those who were instrumental in taking Crimea, writes Kanev. Senior administration members were honored first, followed by prominent members of the United Russia party and ending with members of Russia's Afghan Veterans' Union. Many such awards can include significant cash and perks; some state awards can boost their holders' state pension earnings by three to four times.
The honors bestowed were varied: orders for Service to the Motherland, the Presidential Certificate of Gratitude, Certificates of honor "For strengthening the friendship of nations," and a Defense Ministry medal "For the Return of Crimea".
'NIght Wolves,' Felons
Kanev profiles Felix Chernyakhovsky, the biker, who is known among the Night Wolves as "Black Raven." When not riding his bike, Chernyakhovsky drives a Hummer around Moscow, where he lives. Kanev reports he has been involved in sometimes deadly fights between the Night Wolves and a rival club, Try Dorogy (Three Roads).
Kanev found a number of convicted felons among the awardees: a 26-year-old man charged with assault and an armed attack on an Orthodox church; a 60-year-old director of a nature reserve charged with embezzlement and abuse of office; and Viktor Keller, who was convicted and sentenced to eight years imprisonment for stealing 18th-century antique jewelry from a private home. Keller served four years of his sentence and today is the chairman of the anti-corruption department of the Russian Afghan Veterans' Union — and of an environmental community organization, Kanev reports.
Novaya Gazeta reached out to the newly decorated honorees through social media, writes Kanev, but none of them wanted to speak about the exploits they were rewarded for. Some pretended that they had never gone to Crimea; others threatened Kanev; others quickly removed photos of themselves in Crimea from their social media accounts.
'A Business Trip'
One Crimean campaign veteran, however, opened up to Kanev, without allowing his name to be used. "A friend from our gang called and proposed that I go on a business trip to Crimea to help our Russian brothers," this veteran said. "We were taken to Crimea by a military IL-76 plane; there were fifty of us. We landed at a military airport, were taken to a hostel by bus. Another group came by sea via Sevastopol. Our commander was a man named Nikolay. … Our job was to seize and block buildings in Simferopol [the Crimean capital], support our military and silence dissenters. One fighter from Moscow knew our TV crews very well. We were constantly in masks and wearing hoodies but we would remove them during demonstrations. Many of us grew beards so we wouldn't be recognized. In our detachment we had sportsmen from Podolsk, Noginsk and wise guys from Orekhov. They called each other only by their nicknames. There was also a muscular swimmer from the marine special forces and many people who had fought in Chechnya. They fed us really well and we even had a tourist outing to Yalta. After Crimea became ours, some of the volunteers went to Donetsk and I don't know what happened to them." When the award ceremony was held, the Crimea veteran said: "I didn't go to the Kremlin. A friend brought me the letter and medal from Putin."
This is not the first time that former officers, idealists, romantics and adventurers with a tendency toward violence and a willingness to overlook the law were used in the interests of a state, Kanev writes. Someone's criminal past is irrelevant when the state has a purpose, he says, recalling the British Empire's long-ago recruitment of pirates into its navy. But why all this secrecy, he asks?
Because the official line of Putin's Kremlin is that there were no Russians in Crimea, Kanev posits. Just like there are no Russians fighting now in Ukraine's southeastern provinces of Donetsk and Luhansk.
Irena Chalupa covers Ukraine and Eastern Europe for the Atlantic Council.