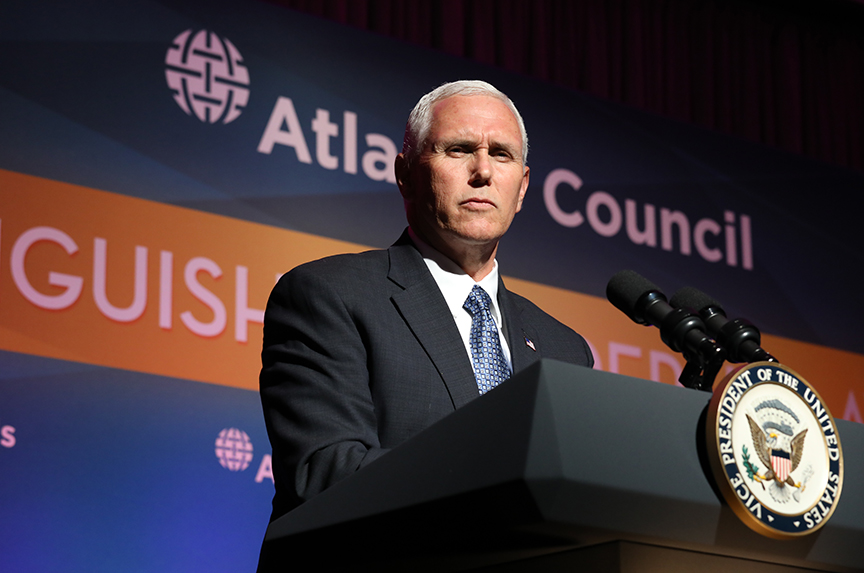 Transatlantic Alliance Front and Center at Atlantic Council's Distinguished Leadership Awards
US Vice President Mike Pence affirmed the United States' support for NATO and its commitment to the collective defense of the Alliance at the Atlantic Council's Distinguished Leadership Awards reception in Washington on June 5.
"Our commitment [to NATO] is unwavering," Pence said. The United States, he added, will "meet our obligations to people to provide for the collective defense of all of our allies. The United States is resolved… to live by that principle that an attack on one of us is an attack on all of us."
Pence made a commitment to Article 5 of the Washington Treaty, which deals with collective defense, less than two weeks after US President Donald J. Trump publicly omitted doing so at a meeting of NATO leaders in Brussels, reportedly surprising his closest advisors.
"A strong NATO is vitally important, especially in these trying times," Pence said, going on to add: "From Russia's efforts to redraw international borders by force, to Iran's attempts to destabilize the Middle East, to the global menace of terrorism that can strike anywhere at any time, it seems that the world is more dangerous today than at any point since the fall of communism a quarter century ago."

The Atlantic Council's 2017 Distinguished Leadership Awards ceremony was a celebration of the transatlantic alliance and a recognition of the accomplishments of five unique individuals.
The event coincided with the 70th anniversary of the Marshall Plan—an unprecedented American commitment to rebuild Europe after World War II—and the expansion of NATO with Montenegro becoming the twenty-ninth nation to join the military alliance earlier in the day.
Pence and Montenegrin Prime Minister Duško Marković were among those who spoke at the celebration at which the Atlantic Council presented its Distinguished Humanitarian Leadership Award to Princess Haya Bint Al Hussein of the United Arab Emirates; Distinguished International Leadership Award to NATO Secretary General Jens Stoltenberg; Distinguished Business Leadership Award to William C. Ford, Jr., executive chairman of Ford Motor Company; the Distinguished Military Leadership Award to Adm. Michelle Howard, Commander of NATO's Allied Joint Force Command Naples and US Naval Forces Europe and Africa; and the Distinguished Artistic Leadership Award to Renée Fleming, an award-winning American soprano.
Referring to the Marshall Plan, Pence said that the United States "will continue to build… and we will continue to strengthen the bonds between our nation and the nations of Europe for the benefit of people for generations to come."
Earlier, Montenegro's prime minister, Duško Marković, speaking through an interpreter, said of his country's membership in NATO: "This is a small step for the United States and its allies, but a great day for Montenegro."
American leadership and the Marshall Plan
Speakers at the event underscored the importance of engagement at a time when Trump's "America First" approach has created unease about the United States' role in the world.
Madeleine Albright, a former US secretary of state, delivered an impassioned plea for US leadership on the world stage. Referring to America's role in the world after World War II, Albright said: "It may be hard for people today, who have no memory of that time seventy years ago, to understand the difference that American leadership made. But it is necessary for them to try to understand. Because today, here in America, we are facing a great danger. And that danger is not a foreign enemy. It is the possibility that we will fail to hear the example of [former US Secretary of State George] Marshall; that we will take for granted the institutions and principles upon which our own freedom is based, and forget what the history of the past century reminds us—that problems abroad, if left unattended, will come home to America, and that the United States is stronger when it has allies and friends that share our interests and ideals."
Noting the high cost of US withdrawal from the world after World War I, Albright said: "The result was the rise of great evil in the heart of Europe."
The United States embraced a global leadership role at the end of World War II.
On June 5, 1947, in response to the devastation caused by World War II, Marshall announced an unprecedented American commitment to help rebuild the economies of Europe. That speech became known as the Marshall Plan: a US strategy to promote European cohesion and prevent another world war. It was based on an understanding that American security and prosperity were sustainable only if shared; the United States and Europe would stand, or fall, together.
Atlantic Council Chairman Jon M. Huntsman, Jr., described the Marshall Plan as "one of the most visionary foreign policy initiatives in US history," and Atlantic Council President and Chief Executive Officer Frederick Kempe noted that Marshall's words, spoken seventy years ago, ring true today.
"The Marshall Plan planted seeds of transatlantic partnership that would soon blossom in the form of NATO and the cooperative institutions of a new Europe," said Albright. "But just as important was the expression of leadership that the Marshall Plan conveyed."
Albright leads the Atlantic Council's bipartisan effort to cultivate a network of current and future transatlantic leaders to advance the strategies and values upon which peace, prosperity, and freedom stand.
Global challenges
As NATO's 13th secretary general, Stoltenberg has a full plate of challenges that range from a revanchist Russia on Europe's east, conflict and instability on Europe's south, and a US president who has in the past expressed skepticism about the Alliance's worth.
At a meeting of NATO leaders in Brussels on May 25, Trump, with Stoltenberg in attendance, publicly chided the United States' NATO allies that do not meet the goal of spending 2 percent of their GDP on defense; he also failed to affirm his commitment to Article 5. Only five of NATO's twenty-eight (now twenty-nine with Montenegro's inclusion) member states meet the 2 percent target. Montenegro plans to reach the 2 percent goal by 2024.
Stoltenberg, a former prime minister of Norway, has made "a vigorous effort to dispel myths about the Alliance, including the supposed lack of European commitment to NATO," said Albright. He has also "made clear that NATO's European members are fully behind the Alliance, and that each member must meet its obligations—including to Article 5—fully and without fail."
In her acceptance speech, Howard, the first female four-star in the history of the US Navy, emphasized the importance of Articles 4 and 5 of the Washington Treaty, which she described as the "bedrock" of NATO. Article 5 has been invoked just once—after al Qaeda attacked the United States on September 11, 2001.
Albright noted that on the verge of NATO's own seventieth anniversary, Stoltenberg "will be grappling with many competing ideas about NATO's purpose, direction, organization, and future tasks."
"The stakes are high because NATO is not just the world's most successful military and political alliance; it is also the only organization of its kind," she said.
"NATO is a unique and indispensable contributor to global security, born of Truman and Marshall but defended and shaped for the better by Reagan and Bush, Clinton and Obama," she said. "Its continued effectiveness, and America's continued support for it, should be a matter of urgent concern to us all, and especially to the Atlantic Council."
Stoltenberg thanked the Atlantic Council for its "steadfast leadership in support of a strong transatlantic Alliance."
"I'm a true Atlanticist in every sense of the word. I believe deeply in the purpose of the Atlantic Council," he said.
He welcomed Montenegro joining NATO and said that the Alliance has "worked together for a common purpose: the peace and security of our people. On both sides of the Atlantic."
"It's a unique bond that has kept our nations safe for almost seven decades," he said of NATO. "Today, our commitment to the Alliance is as strong as ever. We see it in a stronger US military presence in Europe. And Europe and Canada investing more in defense."
Howard, who was introduced by Lt. Gen. Alain Parent, Canada's vice chief of defense staff, made note of the threats facing Europe from its south. "Violent extremists, failed governments and mass migration have the potential to destabilize the transatlantic community," said Howard. "The treaty founders had the wisdom to understand that the world would change, and the Alliance had to be able to change with it. The response for the current challenges from the south may not require Article 4 or 5 implementation, but may be better suited to Article 2 that requires the parties to 'contribute toward the further development of peaceful and international relations' by 'promoting conditions of stability and well-being.'"
Huntsman introduced Ford, who described himself as an environmentalist at a time when it was not a popular label in the auto industry. Noting breathtaking technological advances, Ford said: "Technology for its own sake doesn't make any sense. You always have to put people at the center of all those conversations and say, 'How is this technology going to make all those people's lives better?'"
In a moving acceptance speech, Haya recounted the plight of South Sudanese living in famine and refugees who have fled wars in the Middle East. "The world looks to the United States for leadership. American involvement is crucial to ending the kinds of conflicts that have created the threat of mass starvation in East Africa and Yemen… together we can create a different future for our children," she said.
Earlier, Ian Brzezinski, a resident senior fellow in the Atlantic Council's Brent Scowcroft Center on International Security, paid tribute to his father, Zbigniew Brzezinski, who served as National Security Advisor to US President Jimmy Carter and died on May 26.
Adrienne Arsht, executive vice chair of the Atlantic Council's board of directors, presented the award to Fleming whose protégé, Raquel Gonzalez, rounded off the evening with a musical performance.
Ashish Kumar Sen is deputy director of communications at the Atlantic Council. You can follow him on Twitter @AshishSen.