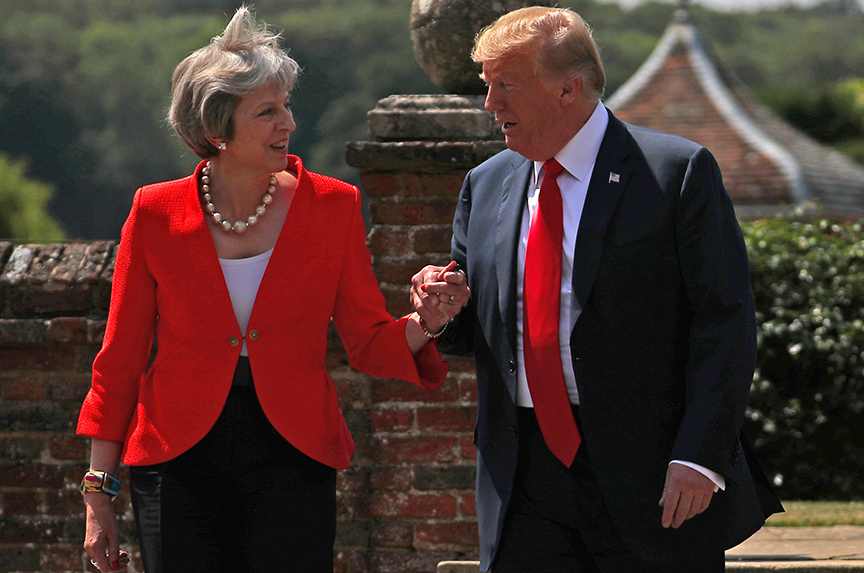 Donald J. Trump and Theresa May attempted to paper over their differences—at least in public—at a joint press conference on July 13. This interaction followed a controversial interview Trump gave to the British tabloid The Sun in which the US president criticized the British prime minister's approach to Brexit.
Here's a look at where the two leaders came out on some key issues as they fielded questions from journalists at the prime minister's country residence, Chequers.

Immigration

Trump and May had polar opposite positions on the benefits of immigration.

"I think it's been very bad for Europe," Trump insisted, describing immigration as "a very negative thing for Europe." He added a warning to Europe: "They better watch themselves because you are changing culture, you are changing a lot of things, you're changing security."
May, on the other hand, said immigration has been beneficial for the United Kingdom. "The UK has a proud history of welcoming people who flee persecution or want to contribute to our economy and society. Over the years, immigration has been good for the UK." However, she added, "what is important is we have control of our borders and a set of rules to determine who comes into our country."
Brexit and Trade

In his interview with The Sun, Trump said May had ignored his advice by opting for a soft Brexit, which he said would hurt the prospects of a US-UK trade deal. "If they do a deal like that, we would be dealing with the European Union instead of dealing with the UK, so it will probably kill the deal," he told the tabloid.
Speaking at Chequers, Trump backtracked. "I didn't criticize the prime minister. I have a lot of respect for the prime minister… And I think she's doing a terrific job," Trump said, blaming "fake news."
"The only thing I ask of Theresa is we make sure that we can trade and don't have any restrictions. We want the UK to trade with us," he said. "Whatever you're going to do [as regards Brexit] is OK with us. Just make sure we can trade together. That's all that matters."
May said there "will be no limit to the possibility of us doing trade deals around the world once we leave the EU."

The two leaders discussed the possibility of a US-UK free trade agreement. "The Chequers Agreement [on Brexit] reached last week provides the platform for Donald and me to agree an ambitious deal that works for both countries," the prime minister said. Trump described such an agreement as an "incredible opportunity for our two countries and we will seize it fully."
The Future of Brexit

May suffered a setback earlier in July when two prominent members of her cabinet—Brexit Secretary David Davis and Foreign Secretary Boris Johnson—resigned in protest over her soft Brexit plan, which would retain close trade ties between the United Kingdom and the EU once the former leaves the bloc.
She asserted that Brexit remains on track. "We will be leaving the European Union. And we are leaving on the 29th of March, 2019," May said. "As we leave the European Union, we will be delivering on what people voted for," she added.
Transatlantic Relationship
It is no secret that the transatlantic relationship is facing considerable stress—in large part due to the US president. Emphasizing the importance of this relationship, May said: "It is all of our responsibilities to ensure that transatlantic unity endures, for it has been fundamental to the protection and projection of our interests and values for generations."
The Trump-Putin Summit

Trump will hold his first summit with Russian President Vladimir Putin in Helsinki on July 16. US allies, particularly in Europe, will be anxiously watching the meeting.

"We go in strong," Trump said, adding that he will talk to Putin about "a number of things," including Ukraine, Syria, and nonproliferation.
"Hopefully, we'll have a very good relationship with Russia," said Trump, while repeating his claim that his administration has been "far tougher on Russia than anybody."
May noted that she has welcomed the Trump-Putin summit. "But what is important is that the president goes into this, as he is doing, from a position of strength, and also from a position of unity in NATO," she said.
The Special Relationship

On the US-UK special relationship, Trump said: "I give our relationship, in terms of grade, the highest level of special."
On Nord Stream 2

Trump repeated his criticism of the gas pipeline that would connect Germany to Russia. "To me, it is a tragedy," he said. "I think it's a horrific thing that's being done, where you're feeding billions and billions of dollars from Germany… into the coffers of Russia."
May said she has been talking to other EU leaders about this issue. "Obviously we'll make our views known there," she said.
Boris Johnson
In his interview with The Sun, Trump praised Johnson, May's political rival who is viewed by many as her main challenger. Trump said Johnson "would make a great prime minister," an opinion that he reiterated on July 13. But, he added, "I also said that this incredible woman right here is doing a fantastic job. A great job. And I mean that."
Ashish Kumar Sen is deputy director of communications, editorial, at the Atlantic Council. Follow him on Twitter @AshishSen.