Ecuador's presidential election is a choice between the future and experience
Ecuadorians head to the polls on October 15 to vote in a runoff election for the country's next president. Daniel Noboa and Luisa González are the primary contenders, with Noboa currently leading in the polls by a 7 percent margin. Initially, the candidates embarked on their election campaigns with contrasting platforms and visions, with Noboa embracing a forward-looking agenda and González drawing from past experience. These different visions for Ecuador, one looking to the future and the other to the past, have in common an acknowledgement of popular discontent with the current status of the country, which is haunted by extreme violence, few employment opportunities, and disappointment in democratic institutions.
In the days before the runoff election, Ecuador experienced several significant political developments, starting with the assassination of seven suspects linked to the killing of presidential candidate Fernando Villavicencio in two Ecuadorian prisons. The jail killings were followed by an alleged testimony from a survivor of one of the attacks implicating González's party in the assassination of Villavicencio. While these allegations are still under investigation, they may influence public opinion in the lead-up to Sunday's vote.
Ecuador is currently plagued by killings, car bombings, shootings, and a deepening security crisis. Transnational criminal gangs from Albania, Mexico, Venezuela, and Colombia, along with local criminal organizations, vie for control of territory to profit from illicit drug, human, and arms trafficking. Ecuadorians have fled their country in record numbers since 2021, almost surpassing levels seen during the notorious Feriado Bancario—Ecuador's historic economic crisis in 1999. It is no wonder Ecuadorians are so desperate for a change in leadership and a new approach to address these challenges.
The newcomer and the throwback
Noboa's rise in Ecuadorian politics as a newcomer and the youngest presidential candidate in Ecuador's history garnered significant attention from voters. Noboa's vision for Ecuador is portrayed as forward-looking, with a focus on three main areas: addressing the security crisis, creating employment opportunities for the youth, and improving healthcare access. His proposals include creating isolated maritime maximum-security prisons to alleviate the jail crisis, which has resulted in more than eighteen massacres in 2023 alone; the creation of a centralized intelligence unit to encourage efficient information sharing; and increased access and use of technology, such as drones and advanced military equipment to combat organized crime.
Regarding employment, Noboa's campaign has focused on connecting with students in the attempt to comprehend their challenges, with employment being the leading preoccupation of many. He has proposed a plan of "educating to employ" to facilitate their transition into the job market while providing tax incentives to companies that hire university graduates. Access to healthcare and medicine shortages is a concern as well, and Noboa has pledged to address these limitations by institutionalizing and upscaling the country's system of medical brigades.
On the other hand, González has built her campaign by drawing upon her party's experience and achievements in Ecuadorian politics. She has underscored that the country did not experience its current problems during her party's government from 2007 to 2017. Her approach to the security crisis is reminiscent of former Ecuadorian President Rafael Correa's strategy, focusing on prison control and drug decriminalization, along with negotiation and dismantling of large criminal organizations. González's emphasis on women, single heads of families, and the transportation sector remain the main target of her political campaign and align with past efforts of her party. However, following a disappointing first presidential debate on August 13 and a failure to close the gap in polling against Noboa, González has gone through a rebranding process. As the election nears, she has tried to positioned herself as someone that will rule differently than former politicians of her party, trying to appeal to younger voters, which compose more than 30 percent of Ecuador's electorate.
In both presidential campaigns, however, there have also been two points of consensus. The first has been a clear attempt by both to "differentiate" themselves from current President Guillermo Lasso, which is unsurprising given his low approval ratings and widespread dissatisfaction with his government. Both candidates have criticized the current administration as part of their campaign strategy, while also proposing plans that resonate with the electorate. Notably, attacks on each other have been limited, primarily in response to the population's urgent need for politicians to focus on action instead of rhetoric.
The second point of consensus seems to be on issues related to climate change, environmental protection, and sustainability. This is an area in which Ecuador has pioneered in the last couple of years through its historic debt for nature swap, the expansion of its marine reserve and its Amazon conservation efforts.
What's at stake for Ecuador, the US, and the broader hemisphere
Should the frontrunner Noboa secure victory on Sunday, he will face a herculean task. The next president will face climate change repercussions such as El Niño, rising violence and organized crime, and diminished faith in democratic institutions—and financial constraints to deal with them. Ecuador will close 2023 with a fiscal deficit of $2.8 million, or 2 percent of its gross domestic product, making it likely that a new government will struggle to find enough money to fulfill campaign proposals and address these challenges. Some analysts speculate that González's party may have deliberately positioned themselves to lose this election, foreseeing a turbulent period for the incoming government and planning to reclaim power in 2025.
The United States, facing declining influence in the region, has much at stake in Ecuador's future. Regardless of who wins, the United States should consider doubling down on its engagement with Ecuador, particularly on the main points of consensus, including security and climate change. Both are priorities for the United States. They offer an opportunity to continue strengthening US-Ecuador relations, which have improved since full diplomatic relations were reestablished in 2012 following Ecuador's expulsion of the US ambassador a year earlier. Expanding on this progress could allow the United States to secure a strategic footing in Ecuador and gain broader access to the region, particularly as global challenges such as food insecurity, migration, transnational crime, and climate change become even more pressing.
Whether Noboa or González wins on Sunday, Ecuador's choice will shape its trajectory and its place in the changing geopolitical landscape of Latin America.
---
Isabel Chiriboga is a program assistant at the Adrienne Arsht Latin America Center and is originally from Ecuador.
Further reading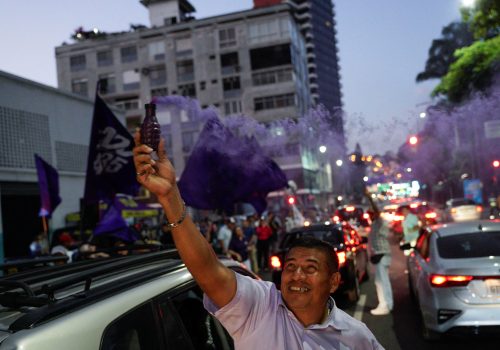 Tue, Aug 22, 2023
New Atlanticist By Isabel Chiriboga, Diego Area
Luisa Gonzalez and Daniel Noboa will now go head-to-head in a runoff election on October 15 to determine the next leader of the Andean nation.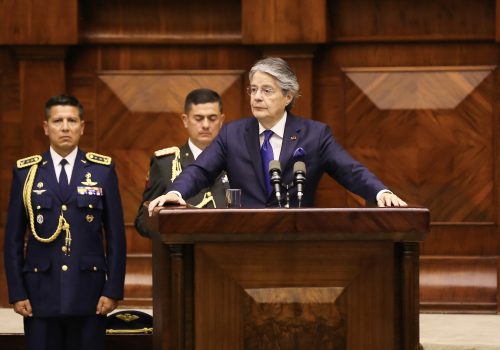 Wed, May 17, 2023
New Atlanticist By Atlantic Council experts
President Guillermo Lasso of Ecuador has used a rare constitutional mechanism to dissolve the National Assembly. Atlantic Council experts share their insights on what it means and what comes next.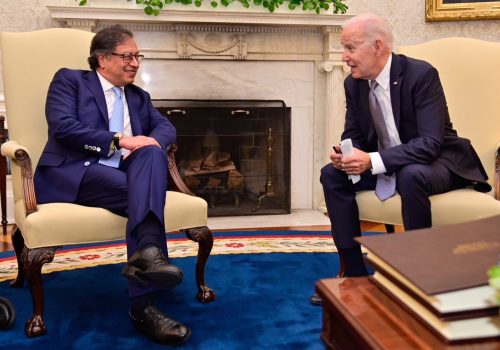 Fri, Apr 21, 2023
New Atlanticist By Atlantic Council experts
The two countries find themselves at odds on counternarcotics policy, but in synch on climate. Our experts break down the presidents' Oval Office meeting