When the first-round presidential election polls closed on August 20 and the results came in, Ecuadoreans were faced with one expected result and one surprise. In first place was correísta candidate Luisa Gonzalez, who led in the polls for weeks, and in second place was businessman Daniel Noboa, who surged in the final days before the vote. The two will now go head-to-head in a runoff election on October 15. While Gonzalez remains the frontrunner, the runoff will likely be close. The winner will take office at a critical point in Ecuador's history amid a worsening security crisis. In the first six months of this year, around 3,500 Ecuadoreans have been killed (compared to 2,000 in the same period in 2022). On August 9, presidential candidate Fernando Villavicencio was gunned down just north of the capital.
The murdered Villavicencio and his last-minute replacement, Christian Zurita, came in third. But while the shock of Villavicencio's assassination lingers in Ecuador's collective memory, the runoff election seems poised to pivot from an all-security focus to one encompassing a range of social and economic policies, in addition to security. As articulated by Gonzalez in her August 20 press conference, "We've seen that the country doesn't settle for just single-issue voting, like security. No, this country must demand everything, must ask for the best conditions."
In an election filled with violence and terror, Ecuadoreans still showcased their commitment to democracy, recording some of the highest levels of local voting in history. The first-round election also once again highlighted Ecuador's voto duro, or "hard vote," in support of correísmo, which stands for the beliefs and policies of former President Rafael Correa. Support for correísmo stood at 30 percent, the same as in previous elections. But the election also revealed a striking fragmentation of the vote among the other candidates. Villavicencio/Zurita took 16 percent of the votes, followed by Jan Topic in fourth place with 14 percent of the votes, and Otto Sonnenholzner in fifth place with a share of less than 7 percent.
Although Noboa has stated that he will not seek alliances with other political parties to counter Gonzalez, circumstances might work in his favor. It's possible that Villavicencio's voters will support Noboa as the anti-correísmo candidate due to suspicions arising from Correa's past persecution of Villavicencio back in 2014. Furthermore, Sonnenholzner's votes could very well shift toward Noboa, considering the substantial support he enjoys from younger voters. On the other hand, Jan Topic's votes appear to be divided, tethered to security concerns, whereas Noboa's reputation on security matters is less established. Meanwhile, progressive voters who favored Yaku Perez seem to align largely with Gonzalez's views. It all adds up to a tight race.
Past versus future
To leverage the historic voto duro, Gonzalez's campaign has proposed restoring Ecuador's former glory, a time reminiscent of Correa's presidency from 2007 to 2017. Her campaign has emphasized a wide range of proposals, which include seeking technical advice from Correa on economic matters, implementing an expansive low-rate credit system to alleviate debt, and enhancing strategies for formal job creation. On the security front, her plans encompass strengthening judicial processes, improving crime investigations, safeguarding victims' rights, advancing intelligence and technology, and bolstering emergency services. On health care, Gonzalez has proposed increasing budget allocations, reinstating unfairly dismissed health care workers, incorporating private health care into the public system, and encouraging local production of generic medications.
Noboa's platform, meanwhile, is more future-oriented, distinct from traditional political approaches. The thirty-five-year-old's meteoric rise is attributed in part to a strong performance in the presidential debate on August 13. But it is also a result of his grassroots, door-to-door approach, which connected emotionally with the hopes for a brighter future among families, youth, entrepreneurs, business owners, and investors. Skillfully capitalizing on the campaigning and voter targeting expertise gained during his father's five earlier campaigns for president, the son's campaign drew on his father's political legacy and substantial resources as a prominent family in Ecuador's banana industry.
Noboa's economic blueprint encompasses propelling the technology sector for employment growth, modernizing minimum wage regulations, and streamlining bureaucracy to foster the development of small and medium-sized enterprises. On the security front, he advocates conflict resolution training for law enforcement and national police, reinforced border and port security, and the establishment of rehabilitation-focused jails for minor offenses. His vision for Ecuador also entails recruiting health care professionals for rural areas, fortifying preventative care programs, and enhancing specialization opportunities. Education and skills development are integral to Noboa's plan, acting as catalysts for job creation and economic progress. A pivotal factor in Noboa's favor is his restraint; he doesn't engage in attacks and criticisms of correísmo and remains focused on his campaign and proposals.
The stakes for the region and beyond
The results of the runoff elections will define the nation's democratic trajectory and reverberate beyond Ecuador's borders, carrying implications for both Latin America and the United States. However, the country's current economic, social, and security challenges will require a pragmatic approach for any candidate to navigate the fragile democratic governance of the country. With the promise of restoring Ecuador's past economic and social policies, Gonzalez has ideological alignment with the current regional pink tide.
On the other hand, Noboa's approach connects with a more moderate and less ideological perspective, reflecting a potential improvement on outgoing President Guillermo Lasso's market-oriented economic policies and greater engagement with international markets. These contrasting visions could influence regional dynamics, impacting trade relations, geostrategic alignments, and cooperation on regional challenges.
Whichever candidate wins, the United States must maintain sustained engagement with the next Ecuadorean president and have a pragmatic approach to bilateral relations. China is a major financial backer in the Andean nation despite opposition from the United States. Successful examples of engagement such as the Alliance for Development in Democracy will remain effective avenues to promote common values and foster economic cooperation. Also, by advancing concrete, bipartisan regional incentives such as the Americas Act, the United States has positioned itself as a desirable diplomatic partner and will therefore have the opportunity to mitigate China's role in the country.
In an election already marred by violence, the two remaining presidential candidates offer Ecuadoreans a clear contrast. Their approach to security is only one part of a complex choice that will reverberate across the hemisphere.
---
Isabel Chiriboga is a program assistant at the Atlantic Council's Adrienne Arsht Latin America Center.
Diego Area is a deputy director of strategic development at the Adrienne Arsht Latin America Center.
Further reading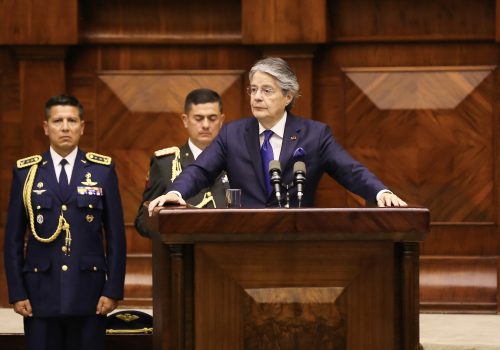 Wed, May 17, 2023
New Atlanticist By Atlantic Council experts
President Guillermo Lasso of Ecuador has used a rare constitutional mechanism to dissolve the National Assembly. Atlantic Council experts share their insights on what it means and what comes next.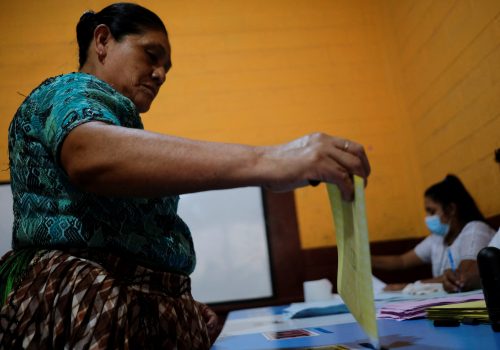 Mon, Jun 26, 2023
New Atlanticist By María Fernanda Bozmoski, Eva Lardizábal
The outcome of Guatemala's presidential runoff election this August could reshape the geopolitical map of the Western Hemisphere.
Fri, Aug 11, 2023
Issue Brief By Geoff Ramsey, Ignacia Ulloa Peters
Venezuela's crisis has generated a large and complex global emergency. Recent negotiations have resulted in agreements between the Maduro regime and the opposition, including a $3.2 billion Social Agreement. This issue brief highlights five key recommendations for leaders in the United States and abroad to help shape the way for its successful implementation.