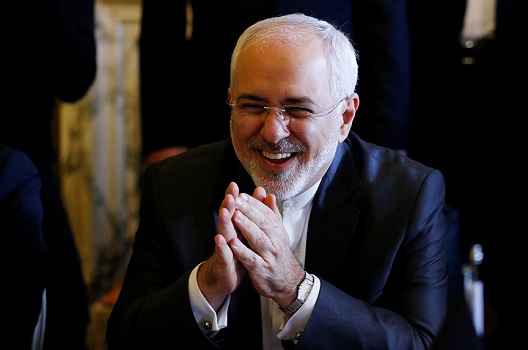 As French President Emmanuel Macron arrives in Washington, a top priority will be convincing his American counterpart to stay within the landmark nuclear agreement with Iran.
But judging from this analyst's conversations with Iranian diplomats in Europe and New York over the past week, Macron and his colleagues in Germany and Britain may have an equally crucial task persuading Iran to remain within the Joint Comprehensive Plan of Action (JCPOA) if US President Donald J. Trump fails to reissue waivers of US sanctions on the next deadline, May 12.
Despite all the attention paid to the US-Iran aspect of the nuclear issue, Iran's main expectation upon signing the JCPOA was that it would be able to restore and increase economic relations with Europe, traditionally Iran's major trading partner.

While Iran-European trade has increased over the past few years, it has not met Iranian expectations (and remains eclipsed by Iran-China commerce). Very few major deals have been signed—one by the French oil giant, Total, is an exception that is now under threat because of uncertainty over US sanctions. There is still no major European bank willing to finance trade with or investment in Iran because of fear of possible US penalties. Iranian diplomats in London complain that they cannot even open a bank account to finance their embassy's routine functions.
Since Trump last waived sanctions on January 12 and threatened that this would be the last time without a major "fix" to the agreement, Britain, France and Germany—the so-called E-3—have labored to achieve a joint statement with the United States augmenting the JCPOA's provisions. As of this writing, it is not clear if a text will be ready for Macron to present to Trump.
On April 27, German Chancellor Angela Merkel will arrive in Washington as the other half of a European tag team to try to convince the US president that Western interests will be far better served if the United States stays in the Iran deal.
But if Europe hopes that its premier diplomatic achievement can survive, it also needs to make some gestures to Iran, not simply agree to new sanctions connected to Iran's missile program and regional interventions. The E-3 could declare in advance that a restoration of US secondary sanctions would be illegal—if Iran remains in the JCPOA—and threaten trade penalties if the United States tries to enforce resumed sanctions on oil imports from Iran. The European Union could devise a reliable financial mechanism for European companies to do legal business with Iran.
It is this analyst's understanding that in return for a package of new sanctions designations and language intended to address concerns about the expiration of certain restrictions on Iran's nuclear program, the Europeans are demanding that the Trump administration guarantee that it will stay within the agreement for the long term.
At a meeting with journalists in New York on April 21, Iranian Foreign Minister Javad Zarif said that for European leaders "to try to appease the [US] president would be an exercise in futility." Instead of coming up with new ways to punish Iran, Zarif said, the Europeans should try to convince the leader of the United States to "live up to its commitments" under the JCPOA.
It is the lack of certainty over US intentions since Trump was inaugurated that has drained much of the value from the JCPOA for Iran, scaring off potential investors and contributing to a precipitous drop in the value of the Iranian currency. If the Europeans and the United States do reach an agreement, the US Congress might then step in and codify changes to legislation that requires the president to "certify" every ninety days that the JCPOA is in US national security interests. Provisions might also be added to change the timing for sanctions' waivers from every three to six months to once a year or once every two years.
Some US analysts have insisted that Iran will abide by the JCPOA even if Trump does not re-issue sanctions waivers on May 12, arguing that Iran's fragile economy leaves it no other recourse. Zarif said, however, that that was "highly unlikely."
Iran has several options to respond to a US withdrawal, including a rapid acceleration of uranium enrichment, the Iranian foreign minister said. The most likely is that Tehran would invoke a dispute resolution mechanism in the agreement, which could buy another forty-five days for the Europeans to come up with new arguments to convince the United States to return to the JCPOA fold and Iran to continue its compliance.
Frankly, since the Trump administration has already succeeded in reducing the economic benefits of the agreement for Iran, it is hard to understand why it would create a potential new proliferation crisis. Some administration hawks have suggested that walking out of what they perceive as a flawed deal with Iran would strengthen Trump's hand when he meets North Korean leader Kim Jong-un. But to the extent Kim compares his country's situation to Iran's, he is likelier to demand more concrete benefits from the United States upfront in return for concessions to an interlocutor who violates nuclear agreements negotiated by predecessors.
With much of the Middle East in turmoil, even more is riding on the continuation of the JCPOA than a possible impact on North Korea talks. Europe and Iran have also been engaged in discussions on finding an end to the ruinous war in Yemen and would like to broaden the dialogue to Syria. With both Iran and the United States out of the JCPOA, however, regional conflicts are likely to escalate, with the potential for armed clashes between US forces in the region and Iranian proxies. Israel could also become embroiled in a new conflict with Hezbollah in Syria.
Also at stake is the fate of a dozen Iranian dual nationals languishing in prison in Tehran. They include several Americans and British, Canadian, and Swedish citizens.
Pressed on this issue, Zarif repeated his standard line that these were matters for Iran's judiciary, which is independent of the executive branch. He suggested that Iran might swap the Iranian-American detainees for Iranians imprisoned in the United States and other countries, primarily for violation of US sanctions that were lifted by the JCPOA. But while there have been talks on such swaps in the past, "none of that is ongoing right now," Zarif said. "We have not sensed the necessary mutual respect that would be required for such an operation."
Barbara Slavin is director of the Future of Iran Initiative at the Atlantic Council. Follow her on Twitter @barbaraslavin1.