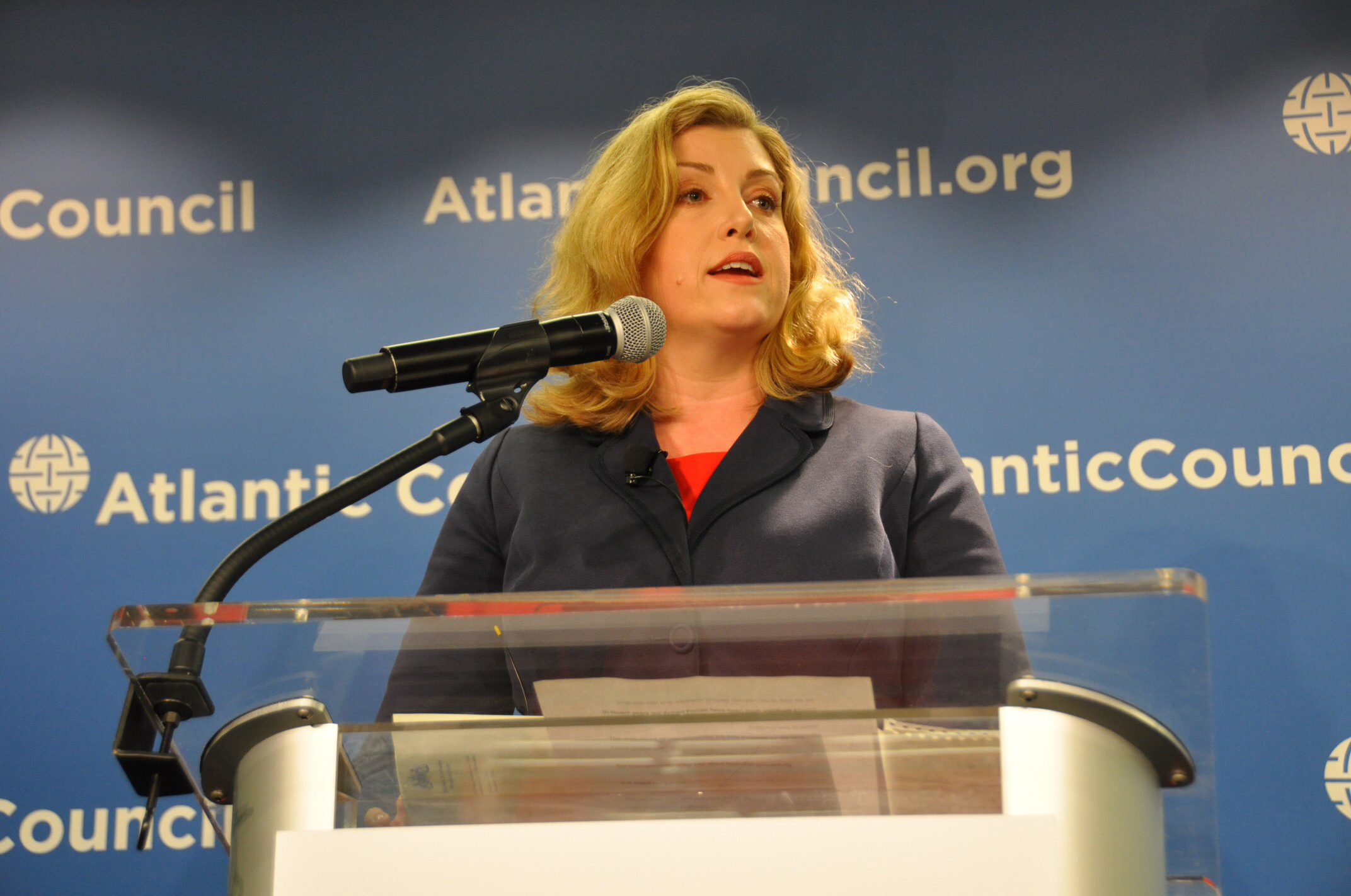 The best way to deal with the migrant crisis facing Europe is to shut down illegal human trafficking networks, not take in more refugees, Penny Mordaunt, the United Kingdom's Minister of State for the Armed Forces, said at the Atlantic Council September 3.
"The notion that if we just increase the number of people we're actually taking to the UK [will] have an impact on these desperate situations is fantasy," Mordaunt said.

"We must try and remove every incentive to these smuggling gangs, and we have been taking a real lead in combating that criminal activity," she added.
British Prime Minister David Cameron, under pressure to allow more refugees into the United Kingdom, has emphasized the importance of addressing the root causes of what is being described as the largest migration of people since World War II. However, Cameron agreed September 4 to allow "thousands more" refugees from camps outside Europe into the United Kingdom.
Syrians make up the majority of the refugees now flooding into Europe. The war in Syria, now in its fifth year, has created more than four million refugees.
Fighting ISIS
The British army is supporting a US-led effort to train moderate Syrian rebels in Turkey and Jordan in an effort to take on Islamic State of Iraq and al-Sham (ISIS) fighters in Syria.
Mordaunt voiced support for this effort, countering doubt over the program's effectiveness.
"I think [UK-trained fighters] are doing a tremendous job, they are incredibly brave," she said. "It is a tough fight, but we are there doing what we need to do to enable them to win that."
Any anti-ISIS operation must be swift and thorough, or risk a future resurgence of the problem, Mordaunt said.
"What we need to ensure is … as we defeat [ISIS], and we will defeat them, that there is not a vacuum for something else to emerge," she added.
Expect the unexpected
Mordaunt described the United Kingdom's approach to future security challenges as expecting the unexpected.
She addressed a range of security challenges facing both the United Kingdom and the United States and called for increased cooperation between the two nations to combat present and future security threats.
"The security of the United States is greatly enhanced by your relationship with us, NATO, and with our allies around the world," Mordaunt said. "We must continue to stand together to ensure the security, prosperity, and freedom of all our people."
Mordaunt's visit to the Atlantic Council comes at a crucial moment for transatlantic security, where new threats are forcing major Western powers to revise their defense strategies and develop rapid reaction strategies to unforeseeable threats.
On the United Kingdom's ongoing Strategic Defense and Security Review (SDSR), Mordaunt noted that unpredictability is a fact of the modern world.
"We know from previous defense reviews that you can't predict what's going to happen, that's for sure," she said. "The main challenge in the review going forward is trying to be prepared and to enable our capabilities for situations which we can't imagine now."
The United Kingdom's defense budget must, likewise, incorporate flexibility to account for rapidly shifting threats, she added.
Mordaunt also encouraged US investment in the British defense sector. "I think we need to have some discussions around how the US can help itself by helping us," she said. "We have a good enough relationship to have those conversations."
Women in the British armed forces
A large part of Mordaunt's remarks centered on efforts to increase the role of women in the British military, ranging from more employment opportunities to broader accommodation for family commitments.
Mordaunt is the first woman in the post of Minister of State for the Armed Forces, a British Ministry of Defense position subordinate only to the Secretary of State for Defense—a job currently held by Michael Fallon.
"Some of the common themes are retaining women in our forces, ensuring that they can have a full career [with] more flexible and part-time working, and providing incentives and looking at someone's aspirations in their whole family," Mordaunt said.
"One of the things we're particularly focused on is spousal employment. It doesn't matter how good the offer is to the serviceman or woman if their other half can't get employment where they're going," she added.
Alejandro Alvarez is an intern at the Atlantic Council.