Another brick in the One-China wall. Honduran President Xiomara Castro said Tuesday that her country will seek formal diplomatic ties with the People's Republic of China (PRC), implying that it will no longer recognize Taiwan. With the switch, Taiwan will only be formally recognized by thirteen countries. What does this mean for Honduras, China, and the United States? What's next for Taiwan, as President Tsai ing-Wen plans a trip to the United States and Central America in the coming weeks? Which country will be next to make the switch? Our experts weigh in below.
Jump to an expert reaction
Leland Lazarus: Rather than wagging the finger at Honduras, the US can take some practical steps to help Taiwan
Kitsch Liao: This is not as big a blow to Taiwan as it would have been in years past
Isabel Bernhard: Which country will switch sides next? Keep an eye on Paraguay.
Jason Marczak: Another reason for the US to invest more in Central America
Parsifal D'Sola: China's gain points to the United States' loss
María Fernanda Bozmoski: With the Northern Triangle divided on China, US strategy becomes more complicated
Rather than wagging the finger at Honduras, the US can take some practical steps to help Taiwan
Honduras's decision, while unfortunate, was not unexpected. As a presidential candidate, Castro signaled that she would foster ties with Beijing, although that talk subsided after her election. Earlier this year, Honduran Foreign Minister Eduardo Enrique Reina met with Chinese Vice Minister of Foreign Affairs Xie Feng on the sidelines of Brazil's presidential inauguration. The fact of the matter is that it makes hard economic sense for countries to do business with the world's second-largest economy, especially countries like Honduras looking to boost economic growth to deal with income inequality, security, and climate change.
The most immediate benefit Honduras will likely receive is Chinese financing for the Patuca III hydroelectric dam, which would provide much-needed electricity in rural parts of the country. In January, China's ambassador to Costa Rica, who oversaw unofficial engagement with Honduras, said there was no possibility of such financing while Honduras remained a diplomatic ally of Taiwan.
Honduras will also be able to export its core commodities such as coffee, bananas, and seafood to the large Chinese market. Costa Rica, Panama, El Salvador, and the Dominican Republic have all seen their exports increase after establishing relations with China. Honduras will also likely join the Belt and Road Initiative, gaining access to concessional loans that are often hard to get from the World Bank, International Monetary Fund, or Inter-American Development Bank. China may also donate equipment and offer law enforcement training to Honduras's national police to boost public security, which China has done in Nicaragua and elsewhere.
For the United States, rather than criticizing countries that switch sides, a far better strategy would be to encourage countries to maintain unofficial economic relations with Taiwan even as they make Beijing a new diplomatic ally. Several countries around the world still have Taiwan Economic and Cultural Offices. They should work collectively with regional and international partners to protect themselves from possible economic coercion from China.
It will be interesting to watch the upcoming presidential elections in two other Taiwan allies in the region: Paraguay (April 30) and Guatemala (June 25). If the opposition wins in both countries, they may make the same economic cost-benefit decision as Honduras's Castro.
But measuring Taiwan's success based on the number of diplomatic allies it has compared to China is a losing battle. Taiwan can always do a better job at selling its narrative and importance globally. The global role of TSMC as the manufacturer of 90 percent of the world's most advanced chips has really come to the forefront in recent years. But Taiwan also has a great story as a foreign-assistance provider; its International Cooperation and Development Fund engages in agricultural technical assistance, digital connectivity, public health, and language teaching. In short, it's not the quantity of diplomatic allies that count; it's the quality. Taiwan and the United States should work together to tell Taiwan's story to the world so that countries will keep Taiwan as a key partner, even if it's no longer a diplomatic ally.
—Leland Lazarus is a nonresident fellow at the Global China Hub and associate director for national security at Florida International University's Jack Gordon Institute of Public Policy. He formerly served as special assistant and speechwriter to the commander of US Southern Command and as a US State Department foreign service officer in China and the Caribbean.
This is not as big a blow to Taiwan as it would have been in years past
Castro's announcement on Twitter marks Honduras's second attempt to switch recognition to the PRC. Castro first attempted this in January while attending Brazilian President Luiz Inácio Lula da Silva's inauguration. However, significant domestic opposition arose because of the widespread technical assistance Taiwan provides to Honduras, especially in agriculture, including shrimp farming, papaya, and fisheries.
Officials from Taiwan's Ministry of Foreign Affairs claim to not have received an official notice regarding the severing of ties, suggesting that this might be a last-ditch negotiating tactic by Castro to try to secure previously requested financial aid. The Castro administration has also requested five hundred million dollars in aid from Taiwan to build a second hydroelectric dam; Sinohydro Corporation, a Chinese state-owned firm with questionable profit motives, already helped Honduras build the first Petuca III hydroelectric dam.
A formal shifting of Honduras's recognition to the PRC would have a smaller impact on Taiwan's ability to preserve its international space than it would have before the international developments of the past year. While Honduras has long been an important ally for helping Taiwan raise awareness of its unique situation within international fora such as the United Nations, Russia's full-scale invasion of Ukraine has raised Taiwan's profile significantly as the international community draws comparisons between the situations in Ukraine and Taiwan. Furthermore, then US House Speaker Nancy Pelosi's visit last year and the subsequent Chinese military exercise generated a significant outpouring of support and created opportunities for Taiwan to formalize and upgrade its various existing engagements with non-diplomatic partners in Europe and elsewhere. Taiwan in the last several years has been working to expand these working-level relationships on a bilateral and multilateral level, focusing on countries sharing similar values and facing similar threats.
These changing circumstances have all contributed to a reluctance on Taiwan's part to accede to the ever-increasing demands for loans and aides from the Castro administration. While losing Honduras as an ally would be regrettable for Taiwan, given their long history of cooperation and exchanges, Taiwanese leaders are weighing the potential costs of maintaining such ties with the potential gains of channeling their efforts elsewhere.
—Kitsch Liao is an assistant director at the Global China Hub.
Which country will switch sides next? Keep an eye on Paraguay.
There are a couple of elements that are critical to take into consideration when assessing which Taiwan allies in Latin America and the Caribbean could switch diplomatic allegiances next.
First, Honduras's switch did not catch Taiwanese authorities off guard. Taiwan's government had been working to strengthen relations in the past few months, particularly through Vice President Lai Ching-te's visit to Honduras in January. A Taiwanese news outlet quoted an unidentified insider as saying that the warning light had been "red" for some time.
Second, Honduras's switch was likely motivated more by political than economic considerations. After entering into a free trade agreement with Taiwan, Honduras ran an average yearly trade surplus of sixty million dollars with Taiwan. Although Honduras will almost certainly receive more trade and investment opportunities from China because of its diplomatic decision, Honduras may soon run a trade deficit with China, as other regional countries have done.
Therefore, in trying to identify the next Taiwan ally in Latin America likely to switch, look for a country that recently had a high-level meeting with Taiwanese authorities and may have an upcoming election, regardless of its economically beneficial relationship with Taiwan. That suggests Paraguay (which will hold elections in April and saw its president travel to Taiwan in February for a state visit) or potentially Guatemala (which is expected to host Tsai later this month ahead of its June elections) may jump ship.
Paraguay's switch to diplomatic recognition of China seems more likely than ever, as the principal opposition candidate in the neck-and-neck election contest is vowing to derecognize Taiwan. Meanwhile, there was evidence of significant behind-the-scenes Chinese pressure on Paraguay to derecognize Taiwan during the COVID-19 pandemic in exchange for vaccines and other assistance, as well as an explicit Paraguayan request for one billion dollars in Taiwanese investment to remain allies.
—Isabel Bernhard is an assistant director at the Adrienne Arsht Latin America Center.
Another reason for the US to invest more in Central America
Honduras's decision to switch diplomatic relations with China—although a seismic moment for Taiwan as the number of its regional allies cascades—was not entirely a surprise. Castro previewed this possible move during the campaign before doing an about-face when a groundswell of pressure mounted in response.
In the end, it's a pragmatic move for the Honduran government. China is increasingly a robust regional economic partner, and Honduras does not want to be left behind. The move, for Honduras, is about diversifying its economy and its diplomatic partners as other countries in Central America have done in recent years. Since 2017, Panama, El Salvador, and Nicaragua have all switched to relations with China. Keep an eye on Guatemala. It's a strong Taiwan ally but presidential elections this year could lead to a rethink as China's influence grows in Central America.
Honduras's move is yet another reason for the United States to advance concrete policies that incentivize US investment in Central America and to move nearshoring from rhetoric into reality. After all, China will use this moment to step up its own investments in the region.
From a bilateral perspective, diplomatic recognition of Taiwan will not alter the course of US-Honduras relations. US engagement with the new Honduran government—a 180-degree turn from its predecessor—will be especially important in the months ahead as Title 42, which allowed the United States to immediately expel migrants because of COVID-19 concerns, is set to expire. Joint work to avoid a surge in migration will be a US priority.
—Jason Marczak is the senior director of the Adrienne Arsht Latin America Center.
China's gain is the United States' loss
To this day, Taiwan remains a hot topic in Central America and the Caribbean because of the United States. Counting Honduras' break with Taiwan as official, six of the remaining thirteen countries that recognize Taiwan are in Central America or the Caribbean. Without US influence —sometimes with carrots, other times with sticks—odds are that every country in Central America and the Caribbean would have shifted recognition to Beijing a long time ago. From an economic standpoint, there's simply no reason why a small state like Honduras should shun Beijing over Taipei. Shifting recognition is a pragmatic choice by the leadership in said country, a decision usually sweetened by PRC investment commitments. Since "national reunification" is a fundamental goal for the PRC, it dedicates vast resources and diplomatic efforts to push countries to abstain from any type of official contact with Taiwan. If there is one key takeaway from Tegucigalpa's decision to break with Taipei, it is not so much greater PRC influence in the region but a loss of influence by the United States.
—Parsifal D'Sola is a nonresident senior fellow in the Atlantic Council's Global China Hub and the founder and chief executive officer of the Andrés Bello Foundation–China Latin America Research Center in Bogotá, Colombia.
With the Northern Triangle divided on China, US strategy becomes more complicated
As a presidential candidate, Castro's foreign-policy plan previewed her intentions to switch recognition to Beijing, but those plans were paused once she assumed office. While Honduras's overt rapprochement to China is not a surprise—Reina met with Xie in Brasilia during Lula's inauguration to talk about a hydroelectric dam in Honduras—the move raises alarm bells throughout the hemisphere. It also further distances El Salvador and Honduras from neighboring Guatemala, which will have an effect on a potential cohesive US strategy towards the region. Historically in Central America, the establishment of relations with China has come with little to no transparency and massive infrastructure projects that generate little to no local jobs. The back-and-forth in Honduras's foreign policy exemplifies the tough position in which Taiwan's remaining Latin American and Caribbean allies are in, with pressure from the United States, China, and their own citizens.
Additionally, Honduras's foreign-policy shift reflects domestic pressures and the effect on foreign direct investment and investor appetite for recent and proposed reforms—including a fiscal reform currently in discussion in Congress.
—María Fernanda Bozmoski is the deputy director of programs at the Adrienne Arsht Latin America Center.
Further reading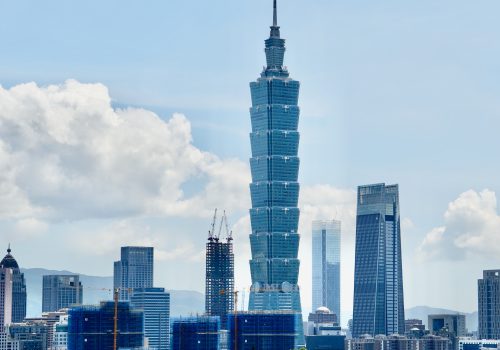 Tue, Dec 20, 2022
Issue Brief By Jessica Drun
Since Taiwan's President Tsai Ing-wen (蔡英文) took office in May 2016, relations across the Taiwan Strait have grown increasingly tense—and even more so following the visit of US House Speaker Nancy Pelosi in August 2022.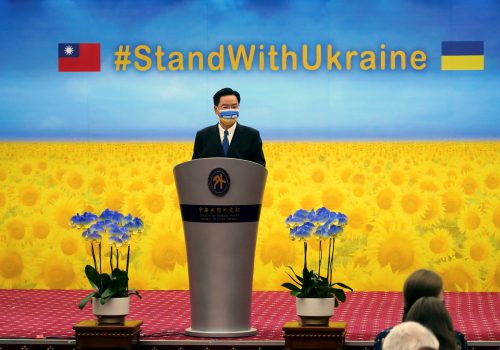 Tue, Nov 1, 2022
UkraineAlert By Michael Druckman
In recent years China has emerged as Ukraine's leading trade partner but the war unleashed by Vladimir Putin has created a geopolitical climate where closer Taiwan-Ukraine ties may make sense, writes Michael Druckman.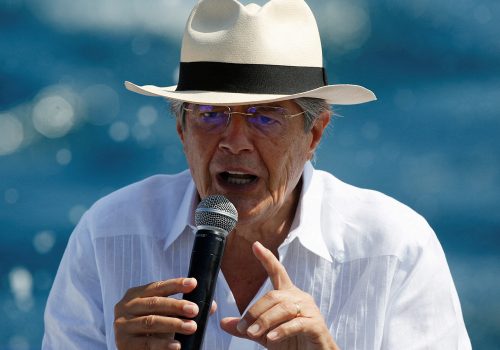 Thu, Mar 3, 2022
New Atlanticist By Gabriel Alvarado
Ecuador's dealings in China highlighted just how important it will be for the United States to nurture its ties with governments that have shown an interest in cooperating with Washington.