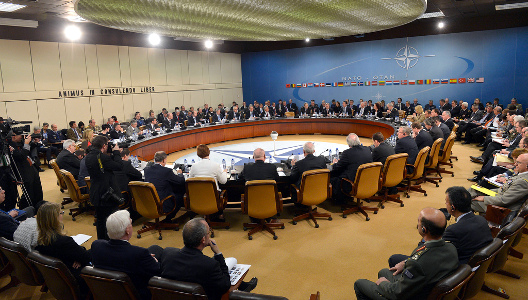 NATO's governing body, the North Atlantic Council, met Sunday to discuss Russia's invasion of Crimea and its threat to take military action elsewhere in Ukraine. Immediately afterwards, the Alliance convened a session of the NATO-Ukraine Commission, which brought Kyiv to the table.
The meetings yielded a strong statement from NATO Secretary General Anders Fogh Rassmussen who declared that "Russia must stop its military activities and threats." However, the alliance announced no actions to reinforce Ukraine's security and demonstrate clearly Western resolve in the face of Putin's aggression. Options that should be considered include the following:



Security assistance to Ukraine: A package of military help, including anti-tank weapons, surface-to-air missiles, ammunition and other supplies should be foremost on the table. Ukraine's military stands among the country's more pro-Western establishments, with nearly two decades of interaction with the NATO through the alliance's Partnership for Peace program. Ukraine has regularly hosted NATO exercises and last fall contributed a company to the alliance's Article V exercise, STEADFAST JAZZ, in Poland.
Deployment of NATO surveillance capabilities in Ukraine: The deployment of NATO sensors, including air-to-ground surveillance assets, to Ukraine would be a clear demonstration of allied commitment to Ukraine. As passive systems they would not threaten Russia, but they would enhance Ukrainian defenses by providing greater awareness of the movement and presence of Russian forces.
Activation of the NATO Response Force: The NRF is the alliance's rapid response force. President Obama recently committed a permanent US contribution to the force that can deploy on immediate notice a brigade land component backed by combat air and air support elements, and special operations forces, among other capabilities. The NRF ought to be activated, if necessary under the pretext of an exercise at NATO's joint training base in Poland, just as Russia initiated a major exercise as it launched its incursion into Crimea.
Deployment of NATO Naval Forces to the Black Sea: The NRF includes a maritime component that, with other NATO naval assets, should be deployed to reinforce the interests of allies and partners in the Black Sea.
If NATO continues to limit its role to consultations in this crisis, its relevance as a security institution will be significantly diminished. Putin's declared preparedness to use force throughout Ukraine, not to mention the mobilization of 150,000 troops in Russia's Western military district has left NATO's Central European allies feeling vulnerable. And it has reanimated memories of August 2008, when NATO sidelined itself during Russia's invasion of Georgia.
The West's response to Putin's provocative use of force against Ukraine needs to include tangible military preparations that will reassure our Central European allies, introduce risk into President's Putin's military actions, and demonstrate the credibility of the West's warnings to Putin. The alliance offers unprecedented military capability. Hopefully, it will demonstrate the political will necessary to exercise that capacity.
Ian Brzezinski is a resident senior fellow with the Brent Scowcroft Center on International Security and a former deputy assistant secretary of defense for Europe and NATO policy.