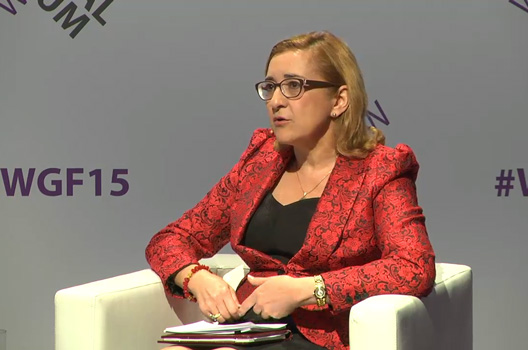 Deep-sea port contract for US firm, economic development plan could encourage other US companies, says Georgia's Foreign Minister Mikheil Janelidze
Georgian Foreign Minister Mikheil Janelidze is hopeful that his government's decision to award a multibillion dollar contract to a US-based company and a new economic development plan will attract more US firms to Georgia.
In February, a US-Georgian consortium was awarded a $2.5 billion contract to build and develop a deep-sea port in Anaklia on Georgia's Black Sea coast. The Anaklia Development Consortium is a joint venture of Georgia's TBC Holding LLC and Conti International LLC, a US-based provider of infrastructure construction services.
"We are sure that the participation of an American company in that project will attract other US companies to Georgia," Janelidze said in an interview at the Atlantic Council in Washington on March 16.
"We are making sure, at the government level, that we facilitate this business-to-business interaction between the United States and Georgia," he added. To this end, Georgian Prime Minister Giorgi Kvirikashvili will visit the United States in the coming months on what Janelidze described as an "investment roadshow."

The Foreign Minister also said that the Iran nuclear deal, which lifts sanctions on Iran in exchange for the Islamic Republic curbing its nuclear ambitions, has created "real opportunities" for economic cooperation. "Georgia is ready to serve as a transit for the Iranian and European trade, and is also looking forward to further opportunities for economic cooperation," he said.
Georgia's reform agenda
Kvirikashvili recently rolled out a four-point economic development plan, the latest of such reforms undertaken by the government in Tbilisi. The plan aims to enhance the business environment, create more inclusive governance, develop regional infrastructure, and modernize the educational system.
Despite having taken a number of steps that put it closer to its goal of Euro-Atlantic integration, it is unlikely that NATO will offer Georgia a Membership Action Plan—a formal step toward membership—at the Alliance's Warsaw Summit in July. This is because of concern in some major European capitals about angering Russia.
Georgia lost 20 percent of its territory when it was invaded by Russia in a war that centered on two breakaway provinces—South Ossetia and Abkhazia. Russian President Vladimir Putin has since signed treaties with South Ossetia and Abkhazia that give Moscow control over their defense as well as their borders.
Janelidze said new regulations in Abkhazia and South Ossetia are creating problems for ethnic Georgians still living in those occupied territories. There is also the daunting challenge of resettling around 300,000 people displaced by the conflict, he added.
US Secretary of State John Kerry, who met Janelidze at the State Department on March 15, affirmed unequivocal US support for Georgia's sovereignty and territorial integrity. Kerry plans to visit Georgia this summer.
Recognition for reforms
The European Union deepened political and economic ties with Georgia in 2014 by signing an Association Agreement. And in 2009, Georgia joined the EU's Eastern Partnership initiative, which encourages democratic reforms in Europe's eastern flank through incentives such as free trade and visa-free travel. Georgia is also currently implementing a Substantial NATO-Georgia Package that was adopted at NATO's Wales Summit in 2014. A Joint Training and Evaluation Center, the largest project under the Package, was inaugurated in August of 2015.
On March 9, in a decision that is widely seen as an acknowledgment of the success of judicial reforms in Georgia, the European Commission proposed visa-free travel for Georgians traveling to the Schengen zone.
Janelidze said visa liberalization would facilitate greater people-to-people interaction and help better realize the benefits of the EU's Deep and Comprehensive Free Trade Area, or DCFTA. "It means that Georgia, step by step, is achieving its historical wish and dream to be a full-fledged member of European society," he added.
Mikheil Janelidze spoke in an interview with the New Atlanticist's Ashish Kumar Sen. Here are excerpts from our interview.
Q: The European Union today is beset by multiple crises: the wave of migrants, a Eurozone crisis, and a looming British referendum on whether the United Kingdom will remain in the bloc. Why then is it still important for Georgia to join the EU?
Janelidze: The European choice is a historical choice of Georgia. We are not a country which just decides to join blocs. The Georgian people are aspiring to be part of European society and a full-fledged member of the European community, which is based on shared interests and values. Those values are the values of Georgia.
Being integrated with the EU means that we are building strong democratic institutions in Georgia; strong statehood; and a better future for our country. By implementing European standards in Georgia we are making our business and private sectors more competitive on international markets. The integration that we already have with the EU—the Association Agreement and the Deep and Comprehensive Free Trade Area (DCFTA) agreement—delivers results. It benefits our economy; it has supported the increase of production in Georgia, including of non-traditional goods that are oriented on the EU market.
Now, with the visa liberalization, we will get a chance to have more people-to-people interaction and the possibility to better use the benefits of the DCFTA, especially for small- and medium-size enterprises that will be able to find their business partners and attend trade fairs. Service providers and professionals will have easier access to European states, our tourists will visit more easily, and there will be more cultural interaction between the European Union and Georgia. It means that Georgia, step by step, is achieving its historical wish and dream to be a full-fledged member of European society.
Q: Georgia has undertaken a four-point reform plan. What opportunities do you see for US companies from this plan?
Janelidze: The proposed four-point plan is an initiative of the new Prime Minister. This is a plan oriented toward overcoming the problem, which is a major challenge for the Georgian population, that is finding new jobs. This plan is about attracting new businesses to Georgia; it is about creating solid grounds for stable economic development.
First, this is about improving the investment climate by liberalizing further the taxation system. Although Georgia has already one of the most liberal tax systems in the world, by abolishing profit tax we will create new opportunities for reinvestments. New investment means new jobs. We are supporting entrepreneurship and will help young people to start their businesses and to employ others, and to develop their own enterprises.
Second, we are making governance more inclusive. All stakeholders will participate in a decision-making process. It is important to ensure inclusiveness in the decision-making process.
Third is infrastructure. Georgia is a very important hub in the region for trade and transit. By speeding up infrastructure projects and developing new ones, we will integrate different Georgian regions with each other and integrate Georgia with the wider region. Infrastructure is key for building all other economic sectors and it is not only necessary for transit and trade, but it is also important for tourism, agriculture, and it will create real new incentives for attracting businesses in different areas of Georgia and facilitate inter-regional trade.
Fourth, with the education system we want to make sure that government financing is directed toward the programs that are needed on the market. Young people graduating from the universities from programs financed by the government will have employment opportunities because their professions will be demanded on the market. At the same time, we are developing professional education and vocational systems to provide more skills to the Georgian people so that they can find jobs.
These reforms are happening in addition to the reform agenda that we are implementing according to the Association Agreement and DCFTA, as well as long-term reforms like pension reform and capital market reform.
Since 1997, the US is the largest cumulative investor in Georgia. The US today is represented in different sectors—real estate, tourism, agriculture, and other areas. We see that new companies are expressing an interest. The latest example is the Conti Group that won the tender for the construction of a very important strategic project for Georgia as well as the whole region—the deep-sea port on the Black Sea. We are sure that the participation of an American company in that project will attract other US companies to Georgia. We are making sure, at the government level, that we facilitate this business-to-business interaction between the United States and Georgia.
The Prime Minister will be visiting the United States with an investment roadshow and we will meet with different institutions. We are happy to have already two US capital funds on the Georgian market. They are mostly engaged in financing small- and medium-size projects. Their committed investments are more than $100 million.
Q: This week is the second anniversary of Russia's annexation of Crimea. Georgia has had its own challenges with Russia in South Ossetia and Abkhazia. Are you seeing additional evidence of Russian involvement in Georgia? What is the status of Georgia's efforts to reconcile with South Ossetia and Abkhazia?

Janelidze: The situation in the occupied regions is very concerning because we see outside the integration treaties signed with the de facto authorities that the integration and assimilation process [with Russia] is happening. Unfortunately, there is no access of international monitors to those territories and we cannot assess the human rights situation in those territories. We see the new regulations which create problems for ethnic Georgians still living in those territories. There is no solution for the safe return of internally displaced persons (IDPs) from Abkhazia and South Ossetia. There are more than 300,000 IDPs in Georgia. We are working within the format of the Geneva international discussions [with Russia] to find ways to ensure the safe and secure return of Internally Displaced Persons to those territories.
With regards to the reconciliation and engagement policies, the Georgian government is very much motivated and interested to offer all the benefits of our European integration with the people living in the occupied regions. We think this is the only way, and the possibility for future reconciliation.
Q: Georgia is dependent on Russian gas. What challenges has Georgia faced in ensuring its energy security?
Janelidze: Georgia's supplier of gas today is Azerbaijan, which is our strategic partner. There is no contract with Gazprom [Russia's state-owned gas company] to supply gas to Georgia. The only amount we are getting from Gazprom is the amount for the transit happening through Georgia—a transit fee for the transit of gas from Russia to Armenia through the Georgian-owned gas infrastructure. That contract started in 2004.
Q: Iran is a major energy producer. What opportunities does the lifting of sanctions on Iran as a result of the nuclear deal create for Georgia?
Janelidze: The effective implementation of the plan is creating real opportunities for more economic cooperation and we see opportunities for more transit and trade. Georgia is ready to serve as a transit for the Iranian and European trade, and is also looking forward to further opportunities for economic cooperation.
Ashish Kumar Sen is a staff writer at the Atlantic Council.