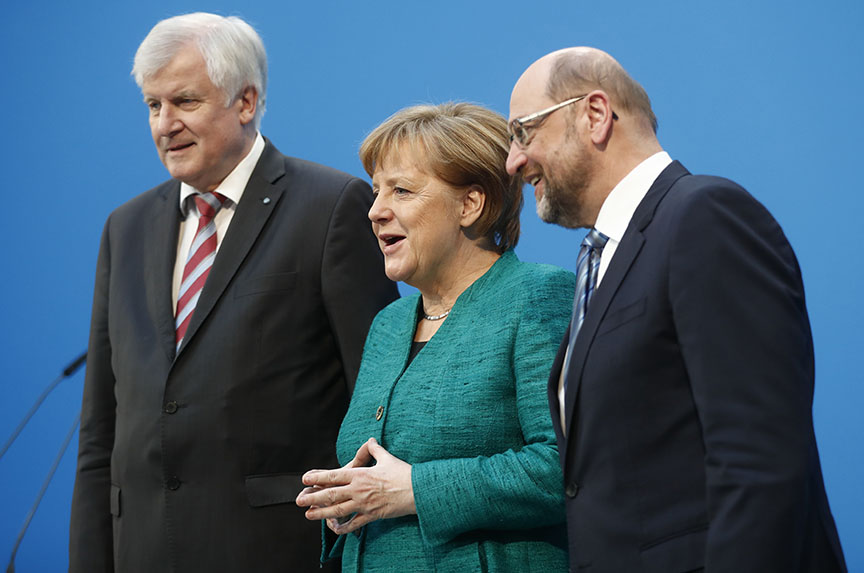 The center can still hold in Germany. Angela Merkel's conservatives have finalized a government deal with the Social Democrats. Barring a last-minute upset—Social Democratic Party members need to vote before the deal can go through—Germany will be ruled by another "grand coalition" for the next four years.
The worry is that this one will mostly contend itself with presiding over good times rather than make ambitious reforms.

The parties recognize that they have underinvested in infrastructure, including digital, and promise to do better. Buried in the 170-page coalition agreement is a pledge to extend high-speed Internet access to all Germans by 2025. No luxury when the country has the lowest fiber-optic coverage in Western Europe. Many small and medium-sized businesses feel they aren't taking advantage of the digital economy.
There is also a compromise on immigration. Merkel has already taken steps to contain this issue, for example, by reinstating border controls and freezing family reunifications. The Social Democrats don't like it, but it looks like the border checks will stay. Family reunifications will be allowed again but limited to 1,000 per month.
Finally, there is support for some of French President Emmanuel Macron's EU reform proposals, including moving toward a common European tax base and clamping down on corporate tax evasion.
Still, "bold" is not a term that comes to mind when reading this deal.
Macron wants to go much further. He has called for a common eurozone budget to finance investments in poorer member states. To the Germans, this reeks of "transfer union": the permanent subsidization of the Mediterranean by the North. Macron has called for a common EU military budget and intervention force. The Germans are warming to the idea of closer defense cooperation in Europe, but they aren't there yet.
A Social Democratic proposal for a complete overhaul of the immigration system to prioritize high-skilled migrants also didn't make it.
It explains why the reaction in Germany has been lukewarm: from the conservative Die Welt, which laments that the parties aren't grappling with the major issue of our time — falling trust in traditional politics and institutions — to the left-wing Der Tagesspiegel, which writes "On we go. Why not?"
There was a longing in German intellectual circles for a government composed of Merkel's Christian Democrats, the pro-business Free Democrats and the Greens. The three talked after the election in September, but in the end the Free Democrats balked and decided they stood to gain more from opposing another grand coalition from the right.
The hope was that a three-party coalition could have produced interesting compromises: a more convincing digital strategy, liberalization of services, policies to raise female labor-force participation, more aggressive climate goals. (Germany is falling behind in reducing its emissions.)
The risk is that it would have heightened the divisions we've seen in other Western countries as well: between city and country, college- and non-college-educated, the winners and losers of globalization.
A grand coalition is more balanced. The Social Democrats have become more middle- than working-class, but they still have one foot in the industrial heartland of Germany. The Christian Democrats, despite Merkel's appeal to young and urban voters, remain dominant in the towns and countryside of south Germany.
Left- and right-wing populists, by contrast, get most of their support from the former East Germany, which, almost three decades after reunification, still lags behind the former West.
The two parties propose taking steps to mend that divide: expanding Internet access, spending more on child care and schools, curtailing the use of temporary work contracts. It's not "Morning in Germany," but muddling through with substantive policies that actually improve people's lives is the Merkel way.
Nick Ottens is the owner of the transatlantic opinion website Atlantic Sentinel. Follow him on Twitter @NickOttens.