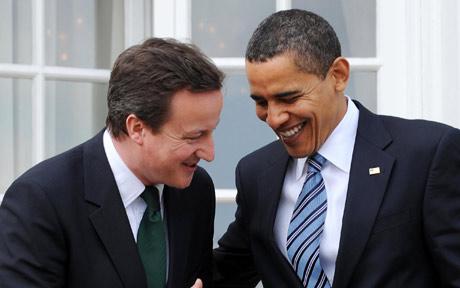 President Obama will host British Prime Minister David Cameron for the first time at the White House on Tuesday as both sides try to reassure the other that the 'special relationship' is indeed special. There is no better way to calm the waters in the special relationship than by decisive Senate action to approve the U.S.-UK defense trade cooperation treaty, a top priority for Cameron.

The treaty, by streamlining the defense export process, will speed up the provision of equipment to British and American warfighters.
After languishing for three years, proposals from Senator Richard Lugar and flexibility on the part of the administration produced a breakthrough last week that gave the treaty its best chance yet to become law, along with the U.S.-Australia defense trade cooperation treaty. The goal is to bring the treaties to a committee vote before August and obtain the Senate's approval in October. This is achievable, but given the slow progress to date, a quick, smooth path to ratification cannot be taken for granted.
It helps to keep focused on why these treaties matter.
When an American President sends U.S. soldiers, sailors, airmen, and marines into battle, he expects our closest allies to fight alongside our forces. We can almost always count on the Brits and Australians. As U.S. surge troops join British and Australian forces in southern Afghanistan, there is no better time to demonstrate our gratitude by ratifying these treaties.
But these treaties are not just about gratitude. They are intended to cut through bureaucratic red tape, while protecting our national security and advancing our interests. The treaties would modernize antiquated export control procedures and reduce artificial barriers to defense-related trade with our closest allies, strengthening our relationship and ensuring British and Australian forces can more ably fight shoulder-to-shoulder with American warfighters.
The efforts of the Bush and Obama administrations to build coalitions in Iraq and Afghanistan underscore that it has become a political imperative for the United States to fight with others, despite the difficulties of combined operations.
Despite what some critics assert, these difficulties are not just the result of our friends being unwilling to use their forces for combat (although this is true in some cases). For "caveat-free" British and Australian forces, difficulties in fighting with Americans are sometimes the result of receiving less advanced defense equipment and technologies too slowly. Interoperability is critical to ensuring American forces benefit from the support our allies want to provide.
While negotiated under President Bush, the treaty enjoys the backing of President Obama. In fact, approval of these treaties would advance three key administration priorities:
demonstrate a significant down payment on this administration's pledge to modernize antiquated defense export control procedures;
promote U.S. exports by boosting U.S. defense sales to these important markets, contributing to the administration's overall goal of doubling all U.S. exports;
strengthen partnerships with key states consistent with Secretary Clinton's diplomacy and Secretary Gates' Quadrennial Defense Review.
Furthermore, high-level administration attention to encourage Senate action on the treaties would provide the White House more ammunition to refute the charges that it is paying more attention to problematic nations than our closest partners.
Some are concerned that the treaties would increase proliferation risks. This is bunk. The treaties would not eliminate the Congressional notifications currently required for the transfer of defense articles, and would still require explicit authorization for the transfer of defense material to countries other than the signatories.
The State Department already approves over 99.9% of export license requests from Britain. But it takes an average of six months to complete this process. Ratifying the treaty could cut the license caseload by as much as 20%, conserving finite capabilities to target real dangers in defense exports. Freed from this bureaucratic friction, private sector transatlantic collaboration could catalyze breakthroughs that yield operational capabilities for our forces.
Furthermore, the United States, the UK and Australia have shared national security secrets for decades. They are our closest intelligence partners. The Manhattan Project included nearly 50 British scientists; U.S.-developed Trident missiles form the backbone of Britain's nuclear deterrent; and the UK and Australia are key partners in the Joint Strike Fighter program that is shaping Western air power for the next 30 years.
If the United States synchronizes research and development efforts with the UK and Australia, we will save money, minimize duplication, maximize output and assemble building blocks for long-term cooperation. But early-stage international collaboration is illegal under current law. Without the treaties, essential transformation projects will remain pointlessly segregated.
Shared values, shared interests and shared histories produce a symbiotic relationship that these treaties seek to codify. Now is no time for the United States to retreat from closer defense relationships with our most reliable partners.
This spring, the British House of Commons Foreign Affairs committee declared the U.S.-UK 'special relationship' under fire noting that the phrase "can raise unrealistic expectations about the benefits the relationship can deliver to the UK." During his recent visit to Washington, Defence Secretary Liam Fox reflected this mood by expressing his exasperation at lack of movement on the treaty and saying that London recognizes its role as "junior partners," but refuses to be "supplicants."
The United Kingdom and Australia have earned the right to be the first of our partners to benefit from this modernized process. Nearly 10,000 British and 1000 Australian forces, along with the Dutch and Canadians, have led the fight in southern Afghanistan. Unique among allies, London committed its additional forces to Afghanistan prior to Obama's announcement of the American surge. British forces have suffered fatality rates twice that of the United States.
It's time for Washington to ante up.

Damon Wilson, Vice President and Director of the International Security Program at the Atlantic Council, formerly served as Senior Director for European Affairs at the National Security Council. Jonathan Ruemelin is a Program Assistant with the International Security Program at the Atlantic Council.
This article was first published on The Hill and relates to an event held at the Council in June entitled "US-UK Special Relationship for the 21st Century" as well as the newly released issue brief "It's Time to Ratify the Defense Trade Cooperation Treaties." Photo credit: PA.