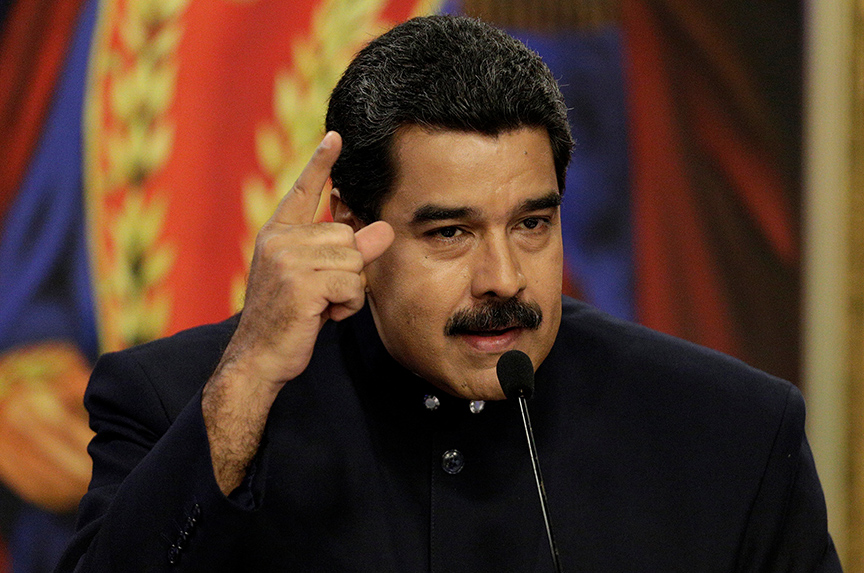 Interview with Jason Marczak, newly appointed director of the Atlantic Council's Adrienne Arsht Latin America Center
Jason Marczak, the newly appointed director of the Atlantic Council's Adrienne Arsht Latin America Center, discussed his vision for the Center and approaches to regional challenges in an interview with the New Atlanticist's Ashish Kumar Sen. Here are excerpts from our interview.

Q: What are some of your priorities as the new director of the Adrienne Arsht Latin America Center?
Marczak: My top priority is to ensure that our work helps set the agenda for a fast-changing world. It is critical to continue to engage with policy makers, business leaders, civil society, and media, but also increasingly important to put forward a strategy where we are more broadly communicating our messages and listening to the views of people in the United States and Latin America.
We have to focus on the original mission of this Center, which is highlighting the transformations that are occurring across Latin America, emphasizing Latin America's place in the global context, and deepening ties with Latin America. But we need to do this with a new sense of urgency and in a way that is not business as usual.
The major governments in Latin America are increasingly opening to the rest of the world. One of the roles of our Center is to work with partners in the region to make this engagement a win-win. How do we ensure that greater trade, commerce, and investment with Asia, Europe, and the United States is beneficial to the long-term prosperity of the peoples of the Americas? In the end, global interests are served well by a prospering Latin America.
Q: What will be some specific areas of focus?
Marczak: The top concern today in Latin America is the implosion of Venezuela. One of the top priorities of our Center is to raise global awareness of the deteriorating situation, [and] the role of international actors, but also to try and find solutions to improve the situation for the Venezuelan people. Part of that implies putting pressure on [Venezuelan President Nicolás] Maduro's regime for its repression of political and civil liberties.
Other big priorities include the [North American Free Trade Agreement] NAFTA negotiations that will be entering their second round on September 1. NAFTA has served not only US economic, but also US national security interests very well because it has made North America work better together. A strong United States is propelled by a strong neighborhood.
Of course, there are aspects of NAFTA that should be modernized. This is an important moment to do that. We will be working to shed light on what is working well in NAFTA, what can be improved, and how to better relate the importance of the agreement to the broader American public.
Other priorities for our Center include continuing our work on the Colombian peace process; furthering efforts to improve security and economic opportunities in Central America; highlighting the benefits of engagement with Cuba; promoting broader trade and integration across the region; continuing our groundbreaking work on the relationship between China and Latin America, and potentially expanding that to East Asia overall; as well as Brazil's transformations, energy issues and women's leadership.
Q: Why is Latin America important to the United States?
Marczak: Latin America is important to the United States first due to geography. Prosperity in our own hemisphere is critical to US stability. Throughout history we have oftentimes taken Latin America for granted, except when things reached a boiling point.
Also, Latin America is, in broader economic terms, a region poised for incredible growth in the years to come. It is a huge opportunity for US trade and, specifically, US exports. The US has more free trade partners in Latin America than in any other region of the world.
As Latin America continues to rise in global prominence many Latin American nations, like Colombia and Brazil, are increasingly valuable participants in UN on-the-ground efforts. And global powers continue to see Latin America as a rising player in setting the commercial and trade agenda.
From a security perspective, stability and prosperity in Central America will pay dividends in rooting out lawlessness and clamping down on traffickers who use the region as a gateway to the United States. In the case of Venezuela, it is of interest not only because of the erosion of a democracy and creation of a narco state in our hemisphere, but as the situation continues to deteriorate we should expect to see a migration crisis that will eventually end up on the shores of the United States and our friends across the region. This could have a major destabilizing effect.
Q: In the United States, President Donald J. Trump has delivered strong rhetoric on both Venezuela and NAFTA. On Venezuela, he said he would not rule out the "military option" to end the chaos in that country. How can the United States best address this crisis?
Marczak: The United States can best address the crisis in Venezuela through a carrot-and-stick approach, working collaboratively with friends and allies across the hemisphere as well as getting the European Union more involved.
So far, the Trump administration has, despite the off-the-cuff comments from the president, taken a very smart and balanced approach to its policy on Venezuela. It has ratcheted up sanctions against individuals, doing so in concert with key partners across the region. Sanctions only have a chance of working when done in a multilateral fashion. Despite concerns that [the Trump] administration would seek to go it alone on a range of policies, it has made a yeoman's effort to bring other countries from the hemisphere on board with its actions prior to actually announcing additional sanctions.
The Trump administration has chosen to lead with other countries and let our partners take the lead where appropriate. In addition, [US Vice President Mike Pence's] recent trip to Latin America was incredibly successful. He arrived in Colombia just days after the president's off-the-cuff remarks about military action in Venezuela. The vice president was supportive of his boss, but at the same time managed to walk back those comments with key allies across the region.
What we should expect to see from the Trump administration moving forward is a likely escalation of sanctions. Our recent Spotlight highlights the fact that not only must sanctions continue to be multilateral, but there must be a clear endgame. Sanctions should be a short-term measure to enact change. It should be clearly articulated what change we seek to bring about through the use of those sanctions.
Q: Similarly on NAFTA, Trump has said the United States will "end up probably terminating" the free trade deal. Why is that a bad idea?
Marczak: NAFTA has been an incredible economic and strategic win for the United States over the last twenty-three years. Fourteen million jobs depend on three-way trade; there are over thirty [US] states that count Mexico as a top trading partner similar to Canada; there are people all across the United States whose jobs depend on NAFTA and they don't know it.
It might be unclear to a farmer in Iowa that the milk that produced on his farm is eventually being sold to our NAFTA partners; autoworkers in Detroit may not realize that cars oftentimes cross the US-Mexico border nine times before final assembly, allowing products exported from the United States to be even more competitive with the rest of the world. Supply chains have evolved over twenty years and now depend on NAFTA. If NAFTA were to be eliminated, those supply chains would be thrown into havoc. People would lose their jobs and there would be major economic effects across the United States.
At the same time, some argue that cheaper Mexican labor is the reason that US manufacturing plants have shut down in the last twenty years. The majority of the loss of manufacturing jobs is not due to NAFTA, but due to technological change. Automation makes it cheaper for products to be produced by robots rather than by people.
NAFTA has been a net positive for the United States. Of course, there are communities that have lost jobs, but those jobs have shifted to other communities. Like trade overall, there are winners and losers at a micro level, but when you look at a macro level, the country is a winner.
NAFTA has allowed North American integration to reach levels we could not have dreamed of twenty years ago. Whether it is intelligence sharing with our Mexican and Canadian counterparts, or joint operations that serve US security purposes, or working together on environmental issues, there is a range of cooperation that has deepened among our North American partners because of NAFTA. If this were not to be continued, the linchpin of cooperation between the three countries would be eroded. It is certainly not in US interests to walk back relations with our two neighbors.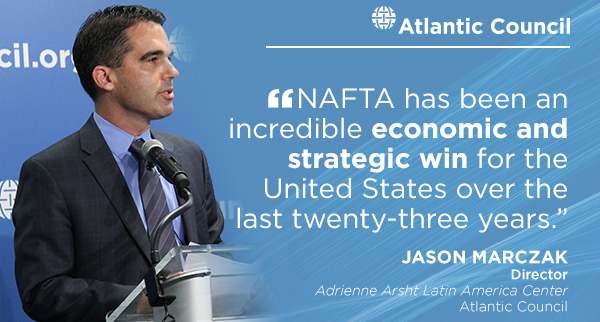 Q: What can be done to modernize NAFTA?
Marczak: NAFTA was designed before the Internet was a tool for business. It needs inclusion of digital chapters, rules that govern digital trade and data localization, and an update to reflect the future of trade, which, I think, is trade in services. The original agreement does not include environmental and labor issues as part of the main text. There is an incredible opportunity to make sure that is included.
It is important to enhance the agreement to include greater provisions specifically related to how to make the energy market among the North American countries more competitive and efficient to take advantage of Mexico's historic energy reforms, Canada's vast reserves, and the incredible boom of the US shale gas industry. A well-functioning NAFTA is good for US economic interests and for our national security. Our Center will double-down on the importance of an updated agreement that serves our interests for years to come.
Ashish Kumar Sen is deputy director of communications at the Atlantic Council. Follow him on Twitter @AshishSen.