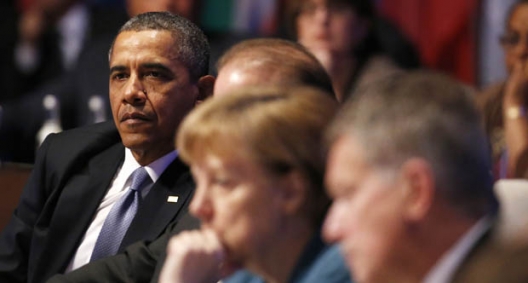 President Obama and his European Union colleagues will gather Wednesday in the most important meeting so far for Western governments as they decide how to respond to Russia's egregious, illegal seizure of Crimea from Ukraine. US and European sanctions so far have targeted individuals among Moscow's elite, rather than the broader Russian economy. At the US-EU summit, leaders should realize that, tragically, even such measures are unlikely to undo Russia's annexation of Crimea. New steps must be aimed at deterring further Russian aggression — notably in eastern Ukraine, Moldova and Georgia – and, in the long haul, at changing Russian behavior.

At the summit, the transatlantic partners should take the following steps:
The EU should announce its intention to severely reduce oil and gas imports from Russia, perhaps by 20 percent over the next year. The European Commission has been asked to provide a road map for reducing this reliance, and the EU has taken some important steps in recent years. A strong announcement will punish the Russian energy economy in the markets today.
The US should simultaneously announce its determination to begin energy exports to Central Europe. It should issue the needed permits for export terminals, and find a way to send a symbolic LNG tanker in short order.
The US and EU should ban government insurance and loan guarantees for new investments in Russia. Such guarantees are not unusual when commercial insurance is too costly or not available . But companies should understand now just how risky investment in Russia can be — it is no longer business as usual.
The US and EU should announce that any companies that expropriate Ukrainian government or commercial assets in Crimea will face sanctions in terms of access to western finance and travel restrictions for their executives and board members. A Russian bank that takes over bank branches in Crimea without a legal transaction should not go unpunished.
The US and EU should begin plans for banning Russian state companies from Western capital markets. This will be a challenge, but it is not dissimilar to the treatment meted out to those firms controlled by the Iranian Republican Guard. Russian state companies are deeply entangled in these markets so this will not be easy. An initial step may be the refusal of new financing.
A key part of the summit must be to provide reassurance to the new Ukrainian government. Both the US and EU have done so individually, but the most powerful statement would be for them to stand together and make clear their commitment to Ukraine's future. At the summit, they should:
Invite Ukrainian Prime Minister Arseniy Yatseniuk to attend a visible part of the summit. Yatseniuk recently met with President Obama as well as the EU leadership, but nothing signifies solidarity like a group handshake in front of the cameras.
Announce a more comprehensive package of assistance to Ukraine, especially short-term, unconditional funding that can help through the difficult initial stage of reforms, and that will boost market confidence in the Ukrainian future.
Pledge concrete support should Russia turn off Ukrainian energy supplies, even if the reason stated is non-payment by Ukraine of its bill (a charge that is misleading).
Announce the dispatch of a mission to assess the Ukrainian need for technical assistance in government operations. Initial reports about the new government's capacities are alarming: inexperienced ministers are managing corrupt systems run by officials who must learn a new way of operating. The EU particularly has considerable experience with retraining officials, both in accession countries and, most recently, in the Greek finance and economic ministries. Such retraining will likely be even more valuable for Ukraine than economic assistance — which will simply be wasted without such retraining.

Steps such as these are essential follow-through to the steps that the United States and the European Union already have taken, including the US asset freezes and visa restrictions on 31 individuals and Bank Rossiya, and its pledge of $1 billion in loan guarantees for Ukraine. The EU has imposed sanctions on 33 individuals, both Ukrainians and Russians. While the EU has been criticized for not targeting individuals close to Putin, even the prospect of EU visa restrictions and asset freezes would alarm many in the Russian elite with property in London or children at European schools or universities. The EU has also halted negotiations with Russia on a trade agreement and on visa facilitation that would have allowed Russians greater access to Europe.
For Ukraine, the EU has announced €11 billion in assistance over the next years and pledged to lift a number of barriers that keep Ukrainian goods out of European markets. The latter move is estimated to be worth €500 million in reduced tariffs annually. It also reaffirmed its intention to allow visa-free travel to the EU for Ukrainians once certain technical conditions are met. The EU and Ukraine last week signed the political chapters of the Association Agreement — the accord that former Ukrainian President Viktor Yanukovych refused to sign in November, sparking the demonstrations in Kyiv that would push him from power. Although the full agreement, including its extensive trade and investment provisions, is likely to be signed only after Ukraine's presidential elections in May, the completion of the political chapter is an important symbol of the EU's commitment to partnership with Ukraine.
Moving from the sanctions on individuals to broader measures has proven very difficult – especially for Europe, which has the real linkages that bring both leverage over Russia and pain in exercising it. Europe's trade with Russia totaled €267 billion in 2012, while the US total was only €18.9 billion. Yet, even if it were not still struggling with serious unemployment, Europe would find it difficult to implement broad sanctions without offering extensive government support to affected firms and workers. And recent proposals in the Russian Duma that firms from sanctioning countries may face expropriation of their assets in Russia is probably sending shudders through the boardrooms of many large western companies, whether engaged in energy joint ventures or manufacture of consumer goods.
Under normal circumstances, the US-EU summit should have focused on the Transatlantic Trade and Investment Partnership currently under negotiation. But this week, even TTIP must be considered in this new strategic landscape. The US-EU summit offers a key opportunity to deepen transatlantic cooperation in building a strong Ukraine for the future.
Fran Burwell is a vice president of the Atlantic Council and director of its Program on Transatlantic Relations.