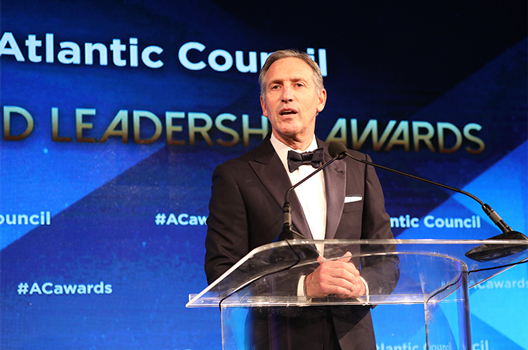 Amid questions about the "moral leadership of America," Howard Schultz, executive chairman of Starbucks Corporation, said in Washington on May 10 that business leaders must realize that the onus is on them to step up to the plate.
"Businesses and business leaders must understand that we are living at a time where the rules of engagement for a public company are very, very different than they've ever been, because we must pick up the slack and, unfortunately, the lack of responsibility of the political class," Schultz said.

Schultz's comments came in his acceptance speech after he was awarded the Atlantic Council's Distinguished Business Leadership Award.
Schultz, around whom speculation of a presidential run has swirled for some time, took a clear swipe at US President Donald J. Trump. "This is not a time for isolationism, for nationalism." he said. "This is a time, as we face this crucible, for cooperation. This is not a time to build walls. This is a time to build bridges."
"The call to action for all of us is to understand that we are a country that is not entitled to our success. We have to earn it," he said. "We have an awesome responsibility not to be desensitized by the time we are living in, not to accept the status quo of a lack of dignity and a lack of respect, but to rise above it and to do all we can… to once again respect and honor the history, the tradition, the valor, the bravery and, most importantly, the love of the United States of America."
Starbucks, Schultz said, "and what we do at Starbucks is not a proxy for the country or leading the country, but our values and guiding principles I think are steeped in American values."
Starbucks recently made headlines following the arrest of two African-American men at a Starbucks store in Philadelphia on April 12. Both men reached agreements with Starbucks and the city of Philadelphia for $1 each and $200,000 pledged to support young entrepreneurs in the city. In response to the incident, Starbucks is shutting its stores nationwide for a racial bias training on May 29.
"We must do more for our employees, more for the communities we serve," said Schultz. "And, regardless of the color of your skin, your sexual orientation, your ethnic background, your station in life, we want to welcome you as a customer and we want to welcome you as an employee."
Schultz also touched on Starbucks' plans to expand around the world. "As we expand from one country to the next—and we're almost up to eighty—we want to carry that American flag to every country and every community, demonstrating the pride, the love, and the humanity–and most importantly the values and character of dignity and respect—which has built the United States of America," he said.
Schultz was introduced by retired Master Sergeant Leroy Arthur Petry, a liaison officer for US Special Operations Command Care Coalition.
Schultz described his mission at Starbucks to build a different kind of company that would achieve a balance between profit and conscience.
Later, Atlantic Council President and Chief Executive Officer Frederick Kempe previewed a forthcoming announcement that the Council's Digital Forensic Research Lab will be launching a partnership with Facebook to strengthen democracy.
Kempe also introduced David McCormick, the new chairman of the Atlantic Council's International Advisory Board. In his remarks, McCormick said it was "a real honor to be part of the Atlantic Council."
"I'm just beginning to see how wonderful the Atlantic Council is in so many ways, with such an important mission," he added.
Besides Schultz, the Atlantic Council presented awards to former US President George W. Bush (the Atlantic Council's Distinguished International Leadership Award), Gen. Curtis M. Scaparrotti, Supreme Allied Commander Europe and Commander, US European Command (the Distinguished Military Leadership Award), and Grammy Award-winning singer Gloria Estefan (the Distinguished Artistic Leadership Award).
Adrienne Arsht, executive vice chair of the Atlantic Council's board of directors, introduced her friend, Estefan.
"Gloria is the embodiment of the American dream," said Arsht.
Estefan was born in Havana. In 1960, she, her mother, and sister fled from Cuba to Miami. "Gloria remembers the housing rental signs that said 'No children. No pets. No Cubans,'" said Arsht.
In her acceptance speech, Estefan said: "I've been so lucky that through our music we've been able to bridge instead of build walls."
"We are all in this together. And no matter what happens, no matter what challenges we face in the world, in this country, when there are people trying to get together, trying to work it out, trying to understand each other, trying to make bridges, then I know that we're in a good place," she added.
Saying she was incredibly honored to receive the Atlantic Council's award, Estefan said: "And I cannot tell you enough how much I love this country, how much I am proud of having grown up here, how much I try to be emblematic of that freedom through my songs that I write, celebrating freedom of speech, celebrating the things that I've grown up, thankfully, in this country experiencing."
The evening ended with a resounding performance by Ana Villafañe, a US actress and singer best known for her portrayal of Estefan in the Broadway musical On Your Feet!
Ashish Kumar Sen is deputy director of communications, editorial, at the Atlantic Council. Follow him on Twitter @AshishSen.