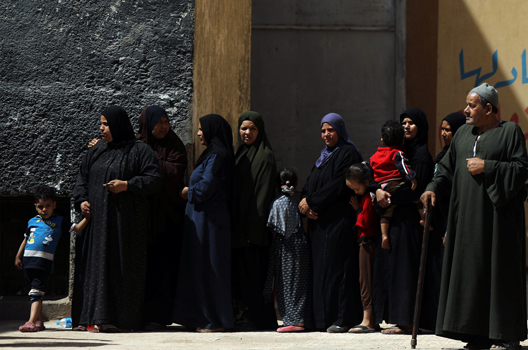 Evidenced by low voter turnout in the presidential election, Egypt's optimism after the 2011 revolution that ousted strongman Hosni Mubarak has been replaced by apathy amid the rule of a new strongman, President Abdel Fattah al-Sisi.
In Egypt's third presidential election since the revolution, Sisi ran for his second term as president in the voting that occurred over three days, from March 26-28. After the 2014 election in which Sisi won close to 97 percent of the vote, his victory this time around is all but guaranteed. Sisi's sole opponent at the polls is the leader of the centrist Ghad party Moussa Mostafa Moussa. However, even Moussa endorsed Sisi before entering the race at the last minute and was widely viewed as a hollow candidate placed on the ballot so that Sisi would not run unopposed.





Those who could have posed a serious challenge to Sisi's electoral bid, including former Military Chief of Staff Sami Anan and former Prime Minister Ahmed Shafik, were pushed out of the race. Anan is currently in prison, while Shafik was blocked from travel after announcing his candidacy.
Though Sisi took important steps to assure his own victory, the biggest unknown surrounding the election was whether Egyptians would turn out to vote.
After the first day of voting on March 26, officials around Cairo said turnout stood at around 7 percent. The next day, voter numbers hovered between 15 and 20 percent. On Wednesday, the final day of voting, judges supervising the polls in several districts cited turnout numbers around a dismal 35 percent. Overall voter turnout over the three days was around 40 percent.
Why Was Turnout Important?
For the Sisi regime, voter turnout for elections is a key indicator of legitimacy. Though exact numbers of those who went to the polls in the 2018 election are as of yet undetermined, Sisi's government took exhaustive steps to draw Egyptians out to vote in the interest of warding off questions surrounding his popularity and speculations of social unrest.
In the 2014 election, voting was extended from two to three days in order to encourage additional turnout, but the final tally was a disappointing 47.5 percent.
Over the three days of voting, the regime struggled to drum up sufficient interest in voting for a variety of reasons. Among them is the reality that Sisi has failed to deliver on a number of promises made over the last four years of his presidency.
Extremist militant groups operating in the Sinai, as well as other parts of the country, continue to pose major security threats in Egypt, despite numerous military offenses. Notably, the Egyptian mainland has witnessed a worrying number of terrorist attacks with high rates of civilian casualties over the past four years. Alongside Cairo's crackdown on Islamists, which it justifies as part of its fight against extremism, the regime has demonstrated a practice of brutal repression of all forms of dissent. Meanwhile, despite improvements in macroeconomic indicators following difficult reforms, ambitious megaprojects have borne little fruit, and unemployment and inflation remain high as regular Egyptians struggle. Moreover, Sisi has faced significant public challenges, including widespread protests in 2016 over his unpopular decision to transfer two Red Sea islands to Saudi Arabia.
Therefore, for Sisi, who has presented himself as a bulwark against instability in Egypt and the wider Middle East, low turnout threatens apathy, or worse, growing domestic discontent.
Getting Voters to the Polls
While there was little campaigning ahead of the presidential vote, the government undertook numerous efforts to encourage voting.
As in past elections, public figures and government officials underscored the necessity of voting as a national duty. State-owned newspapers presented voting as part of the nation's battle against extremists and "enemies." Others adopted less subtle tactics. In Aswan, the governor reportedly offered financial rewards to local government departments that achieved the highest voter turnout. In Beheira, the governor appeared to turn voter participation into a competition with a reward, offering to repair water and sanitation systems in towns with the highest turnout rates. A number of news outlets, both local and international, reported that civil servants were ordered to vote for Sisi and that local officials directed businesses to bus their workers to the polls, while others reported that they had been directly paid to vote. Eligible voters can face fines for failing to show up to the polls, although those fines were generally not implemented in past elections.
Despite the regime's efforts, it was immediately clear after the first day of voting that turnout would remain low. This could mark a significant challenge for Sisi's regime as he embarks on his second four-year term. Despite continued reports of low voter participation through the first days of the election, the National Elections Authority announced on March 28 that voting would not be extended to a fourth day. However, voting was extended for one hour.
What Next?
The election results will be announced on April 2, and there is little uncertainty that Sisi will win a second term as president. Yet in many ways, the election has provoked more questions than answers surrounding the country's future, both in the near and long-term future.
Sisi has largely won over his most important international benefactors. US President Donald J. Trump and his administration have repeatedly praised Sisi, and stayed clear of criticism surrounding the undemocratic nature of the election. In addition, tensions between Cairo and Riyadh appear to have cooled in the wake of the Red Sea islands crisis.
Despite this degree of support, the election may indicate skepticism among a significant portion of Sisi's domestic constituency. The initial campaign bids by figures within the security establishment, such as Anan, may indicate discontent within the security apparatus that could threaten Sisi's ruling mandate. Analysts have also warned that Egypt may see protests or violence in the near future amid popular dissatisfaction, persistent repression, and continued economy difficulties. While such predictions are speculative, the familiar image of an increasingly repressive and unpopular strongman certainly raises questions about future stability.
Elissa Miller is a nonresident fellow with the Atlantic Council's Rafik Hariri Center for the Middle East. You can follow her on Twitter @elissafmiller.