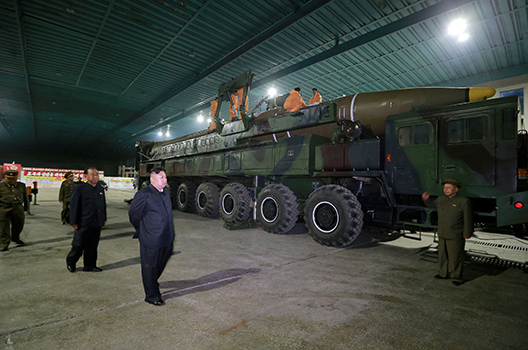 US intelligence officials believe that North Korea is continuing to build new intercontinental ballistic missiles (ICBMs), despite North Korean leader Kim Jung Un's promise to work towards denuclearization after a summit with US President Donald J. Trump in June.
The intelligence findings, which were reported by The Washington Post on July 30, raise questions about Pyongyang's commitment to improve its relations with the United States and seriously move to halt or roll back its nuclear weapons program.

The reports say that US intelligence agencies have satellite imagery and other evidence suggesting that North Korea is still working on developing "at least one and possibly two liquid-fueled ICBMs." In testimony to the Senate Foreign Relations Committee on July 25, US Secretary of State Mike Pompeo did not acknowledge continued missile development, but did concede that the United States believes North Korea is continuing to produce nuclear fuel.
Kim's willingness to discuss denuclearization was seen as the primary achievement of the summit between the American and North Korean leaders in June. Earlier on July 30, President Trump celebrated the accomplishments of the summit arguing that "you haven't had a missile fired off in nine months. We got our prisoners back. So many things have happened, so positive."
In anticipation of the June summit, North Korea released three American prisoners on May 9 and destroyed an old nuclear test site in Punggye-ri on May 24. President Trump and his allies took these actions as signals of North Korea's willingness to cooperate with American demands for denuclearization, but it remains unclear what progress has been made since the June summit.
North Korean officials described a two-day July visit with US Secretary of State Mike Pompeo as "regrettable," after the meeting concluded with only vague promises for continued talks and a promise to repatriate US soldier remains from the Korean War (which occurred on July 27).
Robert A. Manning, a resident senior fellow at the Atlantic Council's Scowcroft Center for Strategy and Security, thinks the reports of new missile production raise serious questions about whether North Korea has actually changed its behavior since the Trump-Kim summit. "The disclosure in the Washington Post that North Korea is continuing to build ICBMs is only the latest such evidence that a halt in missile and nuclear testing does not mean that they have stopped working on the nuclear and ballistic missile programs," he said.
The small steps President Trump has praised North Korea for taking are largely a smoke-screen, Manning argues. While North Korea has stopped its nuclear and missile testing for now, "they had [already] announced it was completed" before the Trump and Kim summit and the nuclear test site North Korea reportedly destroyed, "would have collapsed in on itself if another test was conducted," according to Manning.
If Pyongyang was serious about denuclearization, Manning said, the first step would be to provide "a declaration of the entirety of their nuclear weapons program and facilities to the IAEA (International Atomic Energy Association) so that the agency can set up an intrusive verification and monitoring regime."
Patrick O'Reilly, a nonresident senior fellow at the Atlantic Council's Scowcroft Center for Strategy and Security, agreed with Manning, arguing that "without a continuous and comprehensive inspection regime, relying on [North Korean] public "denuclearization" events. . . is like relying on a sieve to carry water."
Alarmingly, according to Manning, President Trump seems to be content to let North Korea take credit for its superficial actions, while not seriously pushing them to accede to inspections. "The [US] administration does not seem to mind the North Koreans calling the shots and setting the narrative," Manning said.
In his July 30 press conference with Italian Prime Minister Giuseppe Conte, President Trump suggested that he would even be opening to meeting with Iran's president, Hassan Rouhani, without preconditions. The president justified his decision by pointing to his "productive" meetings with Kim and Russian President Vladimir Putin, and insisted that he would meet with "anyone."
David A. Wemer is assistant director, editorial at the Atlantic Council. You can follow him on Twitter @DavidAWemer.