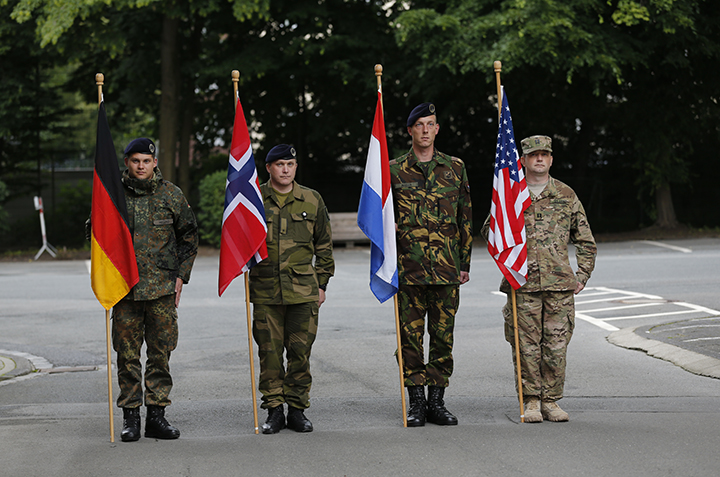 Funding issues and decision-making challenges may render obsolete NATO's "spearhead" force, which was set up in response to Russia's military aggression along its eastern flank.
This is another critical gap for NATO given Russia's ramped up pressure on Eastern Europe, a move that has many Alliance officials even more worried after Russian President Vladimir Putin's recent military intervention in Syria.
As NATO Supreme Allied Commander Europe, US Air Force Gen. Philip M. Breedlove, summed up before Congress in February: "Russia's aggressive foreign policy toward Ukraine and the Baltic States amplifies a general sense of unease among NATO's eastern flank members."

10 Key Recommendations for #NATO. READ: https://t.co/cpbbYBwnXz @NATOSource #FutureNATO pic.twitter.com/CrFDDAYm9b

— Scowcroft Center (@ACScowcroft) March 23, 2016

Russia has probed and tested NATO territory through airspace violations—NATO jets were scrambled to respond to such violations 160 times last year—sea incursions, and massive military exercises in a tense security atmosphere unseen since the Cold War.
Conceptualized in 2014, a brigade-size force, known as the "Very High Readiness Joint Task Force" (VJTF), was intended to come into operation in early 2016 and serve as NATO's first responders in any potential conflict.
NATO developed the VJTF as part of comprehensive new policy measures and a defense planning package known as the "Readiness Action Plan." While bold in intent, some elements of the Readiness Action Plan faltered from the start.
The VJTF, widely seen as the cornerstone of the action plan, is the prime example.
Firstly, the VJTF's size does not pose a credible deterrent to Russia, particularly with regard to the Baltic States, which are widely viewed as the flash point for any potential NATO-Russia confrontation. Russia has undertaken massive impromptu military exercises involving up to 100,000 troops along its borders with the Baltic States. It would be difficult for a NATO force of 5,000 to deter Russia from afar.
Secondly, the VJTF may not be financially sustainable as NATO's coffers dwindle. Only five of NATO's twenty-eight member states meet their two-percent of GDP defense spending commitment. The array of new threats facing Europe, from the east as well as the north and south, has slowed the financial hemorrhaging, but has failed to reverse the trend. As a new Atlantic Council study outlines, Europe's militaries are now hollowed out to the point where they are incapable of conducting exercises, let alone deploying in new operations.
WATCH: @BarryPavel discusses Trump's #NATO comments → https://t.co/5ZVIDpEiXc pic.twitter.com/Dvigr8hGyW

— AtlanticCouncil (@AtlanticCouncil) March 23, 2016
Keeping the VJTF consistently ready to deploy within two to five days as NATO planners envisage requires significant defense capabilities and financial commitments. Alliance members may lack both, which does not augur well for the spearhead force. As Richard Shirreff, NATO's former Deputy Supreme Allied Commander Europe, said, "unless [the VJTF] is a standing force—trained and ready, with permanently allocated units and a fixed command structure—it will be useless."
A larger force of 40,000, the NATO Response Force (NRF), would, in theory, be on hand to shore up any VTJF deployment after the first days of a crisis. But the NRF faces the same readiness and capability challenges that the VJTF has on a larger scale. One German NRF unit infamously used painted broomsticks to cover machine-gun shortages during an NRF exercise. With a perennial dearth of funding for equipment, it is unclear how long it could take to fully mobilize the NRF, if it could even be mobilized to its full strength at all.
Beyond these problems, the VJTF can only be deployed when NATO's decision-making body, the North Atlantic Council, agrees to deploy it on a full-consensus basis. Getting twenty-eight member nations to all agree on military action can be painstakingly difficult, if not impossible. NATO took a week to decide to intervene in Libya once the United Nations gave the green light for the mission. Initiating an operation in Libya is a far cry from one involving Russia, where NATO decision-makers would be contemplating a potentially large-scale confrontation with a strong military and nuclear power. For the Baltic region, where Russia can mobilize tens of thousands of troops quickly for "snap" exercises, such a decision may come a week too late.
Putin learned from Russia's experience in Ukraine that obfuscating his country's direct involvement in a conflict plays to his advantage. An overt attack may prompt a swift NATO response and VJTF deployment. But an incursion that falls below NATO's bedrock Article 5 threshold—a "hybrid warfare" scenario—would delay decisive action. If NATO can't agree to deploy the VJTF to confront or preempt a threat, then it becomes obsolete.
Additionally, NATO has only one VJTF to deploy at a time. As the downing of a Russian bomber on the Turkey-Syria border last year demonstrated, a potential NATO-Russia confrontation could start well south of the Baltic States. A VJTF deployed to the Baltic region could leave NATO's southern flank exposed, which is all the more worrying considering Russia's military resurgence in the Black and Mediterranean Seas.
The VJTF's shortcomings are difficult to overcome because they are manifestations of NATO's larger structural problems. But the problems are not insurmountable. NATO could delegate authority to its top military commander—the Supreme Allied Commander Europe—to deploy the VJTF and bypass the onerous bureaucratic process of a North Atlantic Council decision. The Alliance could station more support troops along with its prepositioned equipment in the Baltic States and Poland to lay the groundwork for the VJTF to hit the ground running once deployed. Additionally, it could bolster other elements of its deterrence by focusing on improving the NRF follow-on force and updating NATO's nuclear policy—a politically difficult, yet necessary step.
The fact that NATO got as far as to create the VJTF is no small measure given the financial and political constraints facing the Alliance. While it appears a strong political showcase of Alliance solidarity, the VJTF lacks the military strength to truly deter or respond to a crisis on NATO's borders, if NATO even agrees to deploy it in the first place. The VJTF should be high on the agenda of the Alliance's seminal Warsaw Summit in July, and for good reason. Russia has become emboldened by its military forays in Ukraine and Syria. In the unlikely event it sets its sights on NATO territory next, NATO must ensure its spearhead force is sharp enough to respond.
Robbie Gramer is an Associate Director of the Transatlantic Security Initiative at the Atlantic Council's Brent Scowcroft Center on International Security.