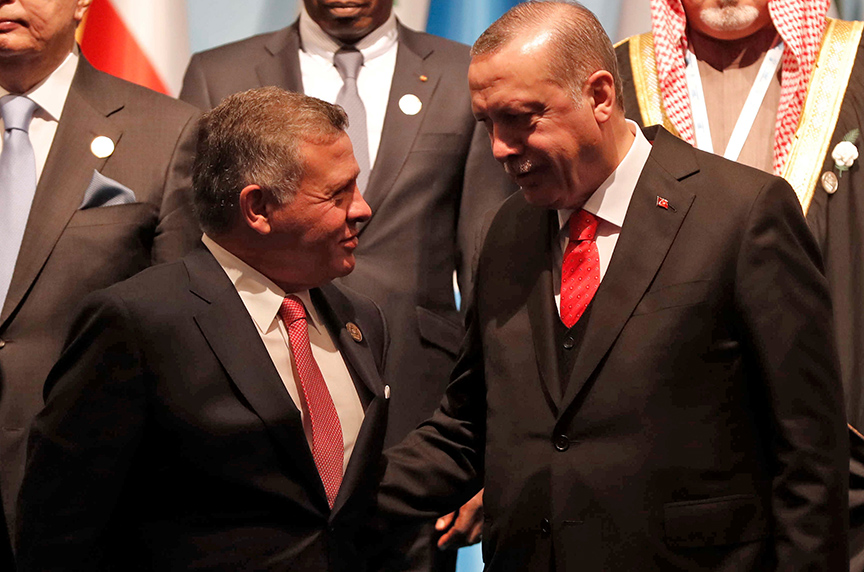 US president's Jerusalem decision puts Amman in a bind
Jordan has been left with no choice but to oppose US President Donald J. Trump's recognition of Jerusalem as the capital of Israel because the issue impacts the kingdom's security and politics.
As Jordanian King Abdullah II focuses more attention on Jerusalem and the unresolved question of Palestinian statehood, Jordan finds itself torn between one regional axis led by Saudi Arabia, Egypt, and the United Arab Emirates (UAE), and another led by Turkey and Qatar.

Abdullah's December 6 meeting with Turkish President Recep Tayyip Erdoğan in Ankara provided signs that Amman might be veering from its traditional Persian Gulf allies. Such a move would bring Jordan closer to the spheres of influence of Russia, China, and Iran. That said, it is quite likely that Amman will attempt a delicate balancing act in order to avoid strain in its alliances with Riyadh, Abu Dhabi, and Washington.
Days after the Ankara meeting, Erdoğan, speaking at the Organization of Islamic Cooperation (OIC) meeting in Istanbul, described Abdullah as the guardian of the Muslim and Christian holy sites in Jerusalem.
If Jordan pivots toward what Erdoğan has described as a "new alliance" of Muslim powers opposed to Trump's Jerusalem decision, Abdullah will have paved the way for Ankara to insert itself in the Palestinian struggle via Amman.
Trump's decision on Jerusalem has led to increasingly anti-American and anti-Israeli rhetoric from Turkey. The vocal reaction from Ankara was in sharp contrast with the Gulf Cooperation Council (GCC) states, which have been relatively cautious.
Bahraini Foreign Minister Khalid bin Ahmed Al Khalifa tweeted: "It's not helpful to pick a fight with the USA over side issues while we together fight the clear and present danger of The Theo-Fascist Islamic republic." He was referring to Iran.
Jordan does not view Trump's decision on Jerusalem, which has major implications for the internal security of the kingdom that hosts more than two million Palestinian refugees, as a "side issue."
Despite Jordan's clear interest in the Trump administration reversing its recognition of Jerusalem, it is not clear how Amman will navigate the impact of the crisis and the growing divisions between Sunni states in the Middle East.
In 2018, Jordan will come under pressure from global powers that will be eager to influence Amman's foreign policy and the kingdom's alignment in the regional geopolitical order. As the Sunni Arab world grows increasingly polarized, Jordan will find it harder to promote regional stability in the wake of the Islamic State's defeat in Iraq and Syria this past year. This will be due to the growing unrest and anger directed at the United States and Israel over the Palestinian issue, which has returned front and center in the Arab world's public discourse.
When Jordan called on Arab states to hold an extraordinary summit to discuss the challenge posed by Trump's Jerusalem decision, some leaders in the region rejected the kingdom's suggestion on the grounds that the Arab Summit in Riyadh in March would be the forum for such a discussion. Amman saw this position as unhelpful in view of the likely immediate repercussions for Jordan from a new intifada (uprising) in the West Bank.
Indeed, Jordan remains vulnerable to the potential spillover of violence from East Jerusalem and the West Bank as a result of Trump's controversial decision. There is, therefore, a high probability that 2018 will be an important year for the trajectory of Amman's future foreign policy alignments in the Middle East as well as the international geopolitical order.
Shehab al-Makahleh is the director of Geostrategic Media Center. Follow him on Twitter @shehabmakahleh.
Giorgio Cafiero is the chief executive officer of Gulf State Analytics. Follow him on Twitter @GiorgioCafiero.