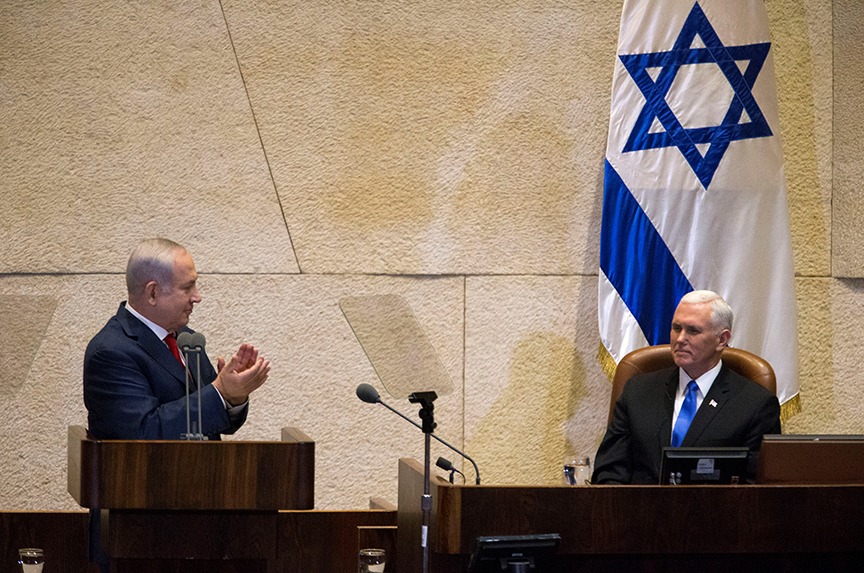 US Vice President Mike Pence made news in his address to the Israeli Knesset in Jerusalem on January 22 when he declared that the Trump administration would open the US Embassy in Jerusalem before the end of 2019.

"Jerusalem is Israel's capital. And, as such, President Trump has directed the State Department to immediately begin preparations to move the United States Embassy from Tel Aviv to Jerusalem. In the weeks ahead, our administration will advance its plan to open the United States Embassy in Jerusalem, and that United States Embassy will open before the end of next year."
— US Vice President Mike Pence in his address to the Israeli Knesset in Jerusalem on January 22, 2018
Days earlier, Israeli Prime Minister Benjamin Netanyahu had told reporters while in India that his "solid assessment" is that the US embassy would be moved to Jerusalem "far faster than what we think… in the course of the year."
The timeline outlined by Pence is, indeed, considerably shorter than that discussed by his colleagues in the administration.
US Secretary of State Rex Tillerson, for example, said in December of 2017 that relocating the embassy from Tel Aviv to Jerusalem was unlikely to happen before the end of 2020—i.e., the end of Trump's term in office.
According to the New York Times, Tillerson said: "It's not going to be anything that happens right away. Probably no earlier than three years out, and that's pretty ambitious."
But why is the United States moving its embassy? US President Donald J. Trump on December 6 announced his decision to recognize Jerusalem as the capital of Israel. He said he would move the US Embassy from Tel Aviv to Jerusalem.
Why is that significant? In 1995, the US Congress mandated that the US Embassy be located in Jerusalem. For more than two decades, US presidents—Republicans as well as Democrats—have signed a waiver every six months that allows them to delay moving the embassy from Tel Aviv to Jerusalem on national security grounds.
The United States would be the only country in the world to have an embassy in Jerusalem.
What does it take to relocate an embassy? James B. Cunningham, a nonresident senior fellow in the Atlantic Council's South Asia Center, served as the US ambassador to Israel from 2008 to 2011. In an interview with the New Atlanticist, he discussed his thoughts on this decision. Below are excerpts from our interview.
Q: As ambassador, how much time did you spend in Tel Aviv versus Jerusalem?
Cunningham: I spent a lot of time in Jerusalem. That's where most of the government offices are so most of the times that I had meetings with the Israeli government—apart from at the Ministry of Defense, which is in Tel Aviv—they were in Jerusalem. I was there on a regular basis; at least several times a week.
Q: Did that pose any logistical challenges?
Cunningham: Not really. It's about an hour's drive [from Tel Aviv to Jerusalem] so it gives you a lot of time to catch up on e-mail, phone calls, and paperwork while you're driving back and forth.
Q: The United States already has a consulate in Jerusalem. Is this facility equipped to serve as the new embassy?

Cunningham: The consulate in Jerusalem is the de facto mission to the Palestinian Authority. As in Hong Kong, where I served as consul general, the consulate is not under the embassy [in Tel Aviv], but it reports directly to Washington. We share some logistical and administrative support, but as far as substance goes, it doesn't come under the embassy. Assuming that its relationship to the Palestinian Authority is maintained, it is hard to see how that one facility could serve both purposes.
As I understand it, what [the Trump administration] is thinking of doing is not impacting the status of the consulate in Jerusalem. It would use some other buildings that they would convert to an embassy—whether it is a building the embassy already controls or a new building. That is perfectly possible to do.
If they decided they wanted to do a relatively rapid transfer there is nothing to stop them from maintaining the current embassy building and most of its operations in Tel Aviv and locating a new, existing building in Jerusalem.
Q: Would the plan be to eventually construct a new embassy?
Cunningham: The thinking up to this point had been that at some point there would be an agreement establishing the status of Jerusalem and then we would actually build a new embassy in Jerusalem or purchase a new building and turn it into an embassy.
Under today's security requirements, it is not very easy to take over an existing facility and use it as a permanent embassy.
Q: What are the requirements for converting a building to an embassy?
Cunningham: The main requirements have to do with physical location and then what kind of space and area is required to build a secure facility. The building would have to have a certain setback from the street, it would need to be in an area that could be secured. It is not simply a question of finding a vacant lot of land and putting up a new building. It is much more complicated.
Under normal circumstances, it takes a number of years to build a new embassy, as we have seen in London and elsewhere.
Q: Back in the day, had any building or site been identified for a future embassy?
Cunningham: There is some space that the Israeli government intended some time ago would be an area where new embassies would be located if they were transferred to Jerusalem. I never saw this, but I am reasonably certain that under today's building requirements it wouldn't be adequate and a new space would have to be found for a permanent embassy.
It would not be possible to open a new embassy within a year if you are building a new facility. If the idea, as Vice President Pence said, is to open the embassy by the end of 2019, then they would have to find an existing facility to covert to something that would be called the embassy whether or not all the people in [the US Embassy in] Tel Aviv are moved to Jerusalem.
Q: Pence and Tillerson have offered different timelines for relocating the embassy. Is there any particular benefit to delaying the move?
Cunningham: That depends on your view of the policy and its implications. I don't see any virtue in rushing to transfer the embassy to Jerusalem. Carrying the transfer out more rapidly is just going to exacerbate the situation and make it more difficult for the United States to play a role in getting a real peace process going, just as the original announcement of the change of policy has done.
Q: US friends—barring Israel—and foes alike had criticized Trump's decision to recognize Jerusalem as the capital of Israel. More than a month later, what have been the substantive repercussions of the decision?

Cunningham: It has made it more difficult for the United States to play the role that it has traditionally played in the Middle East regarding Israel. You have seen that in the vice president's trip. The Palestinians are in a very rejectionist position vis-à-vis engagement with the United States. It has made talking about a peace and stability, even in the absence of prospects for negotiations in the near term, more difficult.
It is not the end of the world in our relations with the Arab world, but it has certainly made our relationships more complicated, as we saw from Pence's stop in Jordan. It has called into question whether the United States can play the kind of brokering role it has tried to play in the past with Israel and other countries in the region. It has certainly made it much more difficult for any Arab country, as well as the Palestinians, to enter into a serious discussion about what peace with Israel might look like in the future. In my view, this is not even in Israel's interest, let alone ours.
Q: The Trump administration has withheld $65 million in funding for the United Nations Relief and Works Agency (UNRWA) that aids Palestinian refugees. There is a view held by some in the White House that UNRWA is impeding the peace process. UNRWA's chief has said the funding cut risks destabilizing the Middle East. What is your assessment of UNRWA's work in the region?
Cunningham: My assessment and the assessment of a lot of Israelis when I was there was that UNRWA was playing a useful role. There have always been criticisms about its performance, but the general assessment was that it contributed to stability by helping to manage the problem of Palestinian refugees, especially in Gaza.
In Gaza, UNRWA plays a major role in helping support the Palestinian population in a non-political way by providing development support, education, and medical assistance. That role has usually been recognized by Israelis as well as American administrations and other members of the international community.
But that view seems to have shifted now—at least when it comes to the US administration and some parts of Israeli opinion. I think over time it will be seen that helping to maintain stability in Gaza and the region is an important Israeli interest as well as in our interest
Q: So, the funding cut was a mistake?
Cunningham: It seems to have been done more out a desire to express the administration's displeasure with the Palestinians' predictably harsh negative reaction to the embassy decision than as a thought-out part of a broader strategy. That is my general criticism of how the administration is going about these issues—both the recognition of Jerusalem and dealing with the Palestinians. What the administration is doing does not seem to be part of a broader strategy for how you would actually get through a difficult time in the region, promote Israel's security in a more stable region, and get back to a situation where real discussions of peace with Israel might be a possibility.
Ashish Kumar Sen is deputy director of communications at the Atlantic Council. Follow him on Twitter @AshishSen.