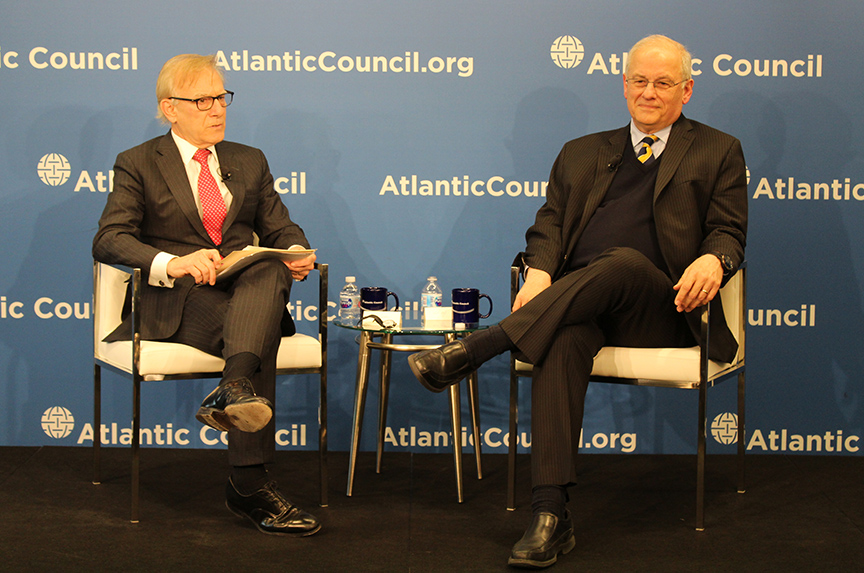 Atlantic Council's Frederic C. Hof says Assad will not be deterred by a one-off strike
With missile strikes imminent in response to a suspected chemical weapons attack in Syria, the looming question is: what next, said Frederic C. Hof, a nonresident senior fellow in the Atlantic Council's Rafik Hariri Center for the Middle East.
"The most important thing here is what's next," Hof said at the Atlantic Council on April 11. "Critically, this is what was missing almost exactly one year ago."
"The objective here, narrowly, has to do with deterring future chemical use and perhaps more broadly deterring mass homicide, but it all depends on the follow-up," he said. "If Assad sees this as he saw the incident one year ago, as a one-time, one-off event then it will accomplish precisely nothing."

On April 7, 2017, US President Donald J. Trump ordered missile strikes on Syria following a chemical weapons attack on Khan Sheikhoun, a town in the western Idlib province. Fifty-nine Tomahawk Cruise missiles struck Al Shayrat air base where the US intelligence community concluded chemical weapons were stored and loaded onto aircraft used in the attack.
One year later, Trump is faced with a similar situation.
A suspected chemical weapons attack in the rebel-held Damascus suburb of Douma on April 7 killed seventy people and injured 500 others. The World Health Organization said forty-three of the deaths were "related to symptoms consistent with exposure to highly toxic chemicals."
The use of chemical weapons has not, however, been confirmed. Russia has said that there is no evidence of a chemical weapons attack and Syrian President Bashar al-Assad's regime has denied responsibility for the incident.
Hof noted that there was no follow-up to the US missile strikes on Al Shayrat. "I'm not talking about another kinetic operation, rather a strong message to the Russians: 'You've seen what we've done. You need to get your guy out of this business… of chemical warfare and mass homicide,'" he said.
Hof, who stepped down as director of the Hariri Center in March, spoke at a farewell event at the Atlantic Council in Washington where he joined Washington Post columnist David Ignatius in a conversation that focused on developments in the Middle East in general and in Syria in particular.
Since 2011, Assad has presided over a civil war in Syria that has left more than 500,000 people dead and displaced millions. The war's consequences reach far beyond Syria's borders.
Any imminent military action is unlikely to bring down the Assad regime, said Hof, who served as special advisor for the transition in Syria to then US Secretary of State Hillary Clinton. "I don't think that is the military objective here," he said, adding that it would require a much heavier lift to achieve that goal.
It appears increasingly likely that the United States will be joined by the United Kingdom and France in military action against Syria.
On April 10, Trump discussed Syria in phone calls with British Prime Minister Theresa May and French President Emmanuel Macron.
May will convene a special "war cabinet" on April 12. The cabinet is expected to be asked to approve a British role in a joint military action in Syria.
Trump, who has said that all options were on the table in the US response to the suspected chemical weapons attack, appeared to telegraph his plans in a tweet on April 11. He promised missile strikes on Syria and warned Russia against continuing its support for Assad, whom he described as a "Gas Killing Animal."
In his tweet, which was directed at Russia, Trump wrote missiles aimed at Syria "will be coming, nice and new and 'smart!'"
Trump has in the past said that publicly sharing military plans gives the enemy the advantage.
Syria has put its forces on high alert and moved some fighter jets to the Russian air base near the Syrian city of Latakia for protection. An attack by US and allied forces on Latakia would heighten the risk of direct confrontation with Russia—a dangerous provocation that could dramatically escalate the war.
Trump's tweet followed a warning from Russia's ambassador to Lebanon, Alexander Zasypkin, warned that any missiles fired at Syria by the United States and its allies would be shot down; news that Russia has the ability to jam US drones flying over Syria; and Moscow's veto of a United Nations Security Council resolution to create an expert body to determine responsibility for a suspected chemical weapons attack in Douma.
Russian Foreign Ministry spokeswoman Maria Zakharova responded to Trump's tweets in a Facebook post stating that "smart missiles should fly toward terrorists, not the legal government that has been fighting international terrorism for several years on its territory."
Trump, who was supposed to travel to Latin America to attend the Summit of the Americas this week, scrapped his travel plans in order to "oversee the American response to Syria and to monitor developments around the world," said White House spokesperson Sarah Huckabee Sanders.
Assad's regime has been propped up by Russia and Iran-backed militias. Hof discussed the leverage Assad's two main patrons have over the regime in Damascus.
Russia, which has provided diplomatic and military support to Assad, has held out the possibility of constitutional amendments that would lead to elections in Syria in 2021 or 2022. Hof said the challenge for the Trump administration is determining whether this is a genuine plan or an attempt by Russia to buy time and consolidate Assad's position.
But Hof also questioned Russian leverage over Assad noting that the Syrian regime has brushed off past Russian entreaties to, at the very least, go through the motions of finding a diplomatic solution to the war.
Hof suggested that Iran may actually have more leverage over Assad and suggested that the United States could explore this option. Both Hof and Ignatius noted that Iran's opposition to the use of chemical weapons is shaped by it having been at the receiving end of chemical weapon attacks by Iraq's Saddam Hussein in the 1980s.
Ashish Kumar Sen is deputy director of communications, editorial, at the Atlantic Council. Follow him on Twitter @AshishSen.