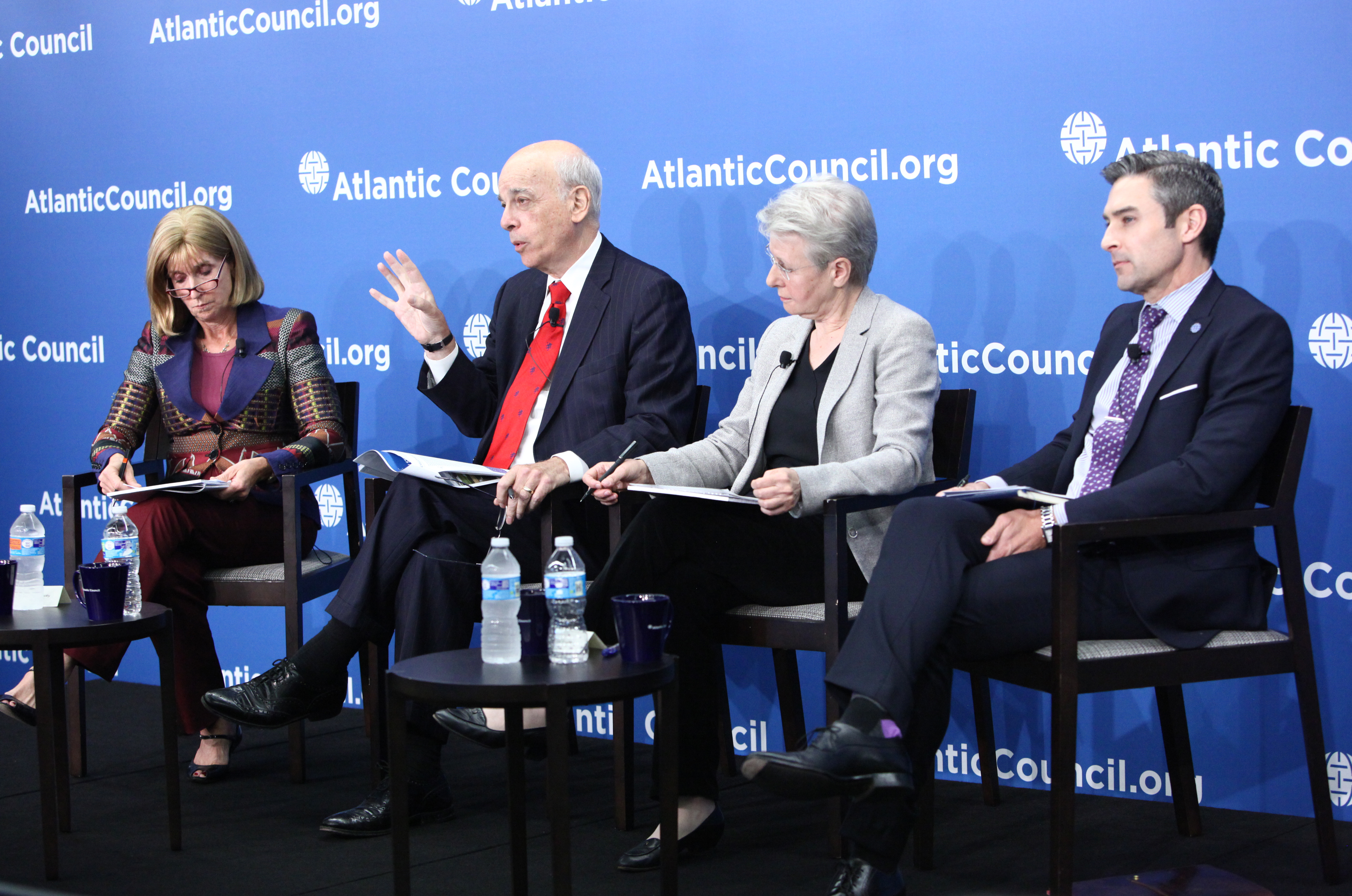 Montenegro's defense minister, Milica Pejanović-Đurišić, has some advice for countries aspiring to join NATO: explain to partners and friends the importance of alliance membership from a political standpoint.
Pejanović-Đurišić is well positioned to give such advice. In December 2015, NATO extended an invitation to Montenegro to begin accession talks and become the twenty-ninth member of the alliance.
Montenegro will do its part to explain to its partners why it is important to broaden the alliance and "fill the gaps," said Pejanović-Đurišić. "If you geographically see what is the NATO alliance in our region now, there are a number of gaps; illogical ones," she added.
Pejanović-Đurišić spoke at a conference hosted by the Atlantic Council on June 8 on "The Future of NATO Enlargement and New Frontiers in European Security."

Damon Wilson, executive vice president for programs and strategy at the Atlantic Council, said of NATO's invitation to Montenegro: "It is a small nation, but a big signal as well."
While Wilson set the scene for the conference, Pejanović-Đurišić participated in a panel discussion with Mikheil Janelidze, Georgia's foreign minister, and Hanna Hopko, head of the foreign affairs committee in Ukraine's parliament. Sally Painter, co-founder and chief operating officer at Blue Star Strategies and a senior advisor to the Atlantic Council's Future Europe Initiative, moderated the discussion.
NATO's membership has grown from twelve to twenty-eight countries through six rounds of enlargement since 1949. The alliance has an open-door policy and takes decisions to invite a country to join based on consensus among all member states. At present three countries—Bosnia and Herzegovina, Georgia, and Macedonia—are aspiring to join NATO.
Macedonia has been assured of membership as soon as an amicable solution is found to a dispute with Greece over the country's name. Bosnia and Herzegovina's progress down the path to accession has stalled over the issue of immovable defense property.
In 2008, at NATO's summit in Bucharest, Romania, alliance members agreed that Georgia and Ukraine would eventually become NATO members. Russia is a factor in the prospects of both countries' NATO membership. In 2008, Russia conducted a military intervention in Georgia in support of the breakaway provinces of Abkhazia and South Ossetia. And, in 2010, Ukraine formally gave up its aspirations to join NATO under former President Viktor Yanukovych, who was closely aligned with Russia.
The Warsaw Summit
NATO will hold its summit in Warsaw, Poland, in July. The Georgian government will be looking for a clear signal from the alliance that Georgia's prospects for membership are alive and well.
"Out of Warsaw we are expecting a very clear signal of the integration process of Georgia," said Janelidze, "and also clear signals about the practical ways how to strengthen further Georgia and strengthen our cooperation and partnership with the alliance."
The invitation to Montenegro was an important signal of hope for Georgia, said Janelidze. He noted that Georgia is an "ally of the alliance," contributes to its security needs, and that eighty percent of Georgians favor a transatlantic partnership.
Janelidze also acknowledged questions within the alliance about the benefits of enlargement. "I think the answer is clear," he said. "NATO has only become stronger after each enlargement process."
"We need to take clear decisions and make clear signals that NATO and NATO's enlargement is about protecting the free world, it is about protecting nations aspiring to be part of the free world," he added.
The Georgian minister said Russia's tactics to block Georgia's NATO membership have evolved over the past eight years. From its military intervention in 2008, Russia is now engaged in anti-Western propaganda aimed at diminishing Georgians' support for transatlantic integration, he said.
And in eastern Ukraine, Russia's support for separatists continues.
Hopko described the ceasefire brokered in Minsk in 2015 between Ukrainian forces and the separatists in eastern Ukraine as fiction. The European Union will consider later this month whether to extend sanctions it imposed on Russia in response to the annexation of Crimea in March of 2014.
Sanctions are an instrument, not a strategy, said Hopko while calling for a plan to protect Ukraine from Russia. NATO must be "more proactive" because Russian President Vladimir Putin is "unpredictable," she added.
A question of enlargement
"The question of enlargement and of completing the vision of a Europe whole and free remains open," Frederick Kempe, president and CEO of the Atlantic Council, said in his opening remarks.
"To heck with Russia," said Julie Finley, an Atlantic Council board director and founder of the US Committee on NATO, while describing NATO as the greatest defense alliance. "Let's not let anything happen to NATO," she said.
Wilson said the process of integration has stalled as a result of a combination of factors, including growing ambivalence within NATO, opposition from Russia, and challenges related to transition in the aspirant nations.
On the other hand, he was optimistic about the debate in Sweden and Finland about their relationship with NATO, questions in the Western Balkans about reconciliation between Serbia and Kosovo, and Moldovan hopes of a path toward NATO membership.
Wilson noted that debate on enlargement is clouded by several arguments along these lines: the alliance is more of a burden than a force multiplier; the West promised Moscow not to enlarge beyond a unified Germany and is now violating that pledge; and the West pledged not to move its forces and equipment to new NATO members, yet that is what it is now doing.
"It is very clear from the historic archives…that the issue of not expanding the alliance never came up in the German unification talks," said Wilson, "it was something that came up only later."
Wilson questioned whether the tools of the past are appropriate for the future. First, he noted, frozen conflicts, if not Russian invasion and occupation, have been "incentivized," which has made it hard for post-Soviet states to meet Western standards. Second, the Membership Action Plan (MAP) intended to prepare countries for NATO membership leads those countries to linger in a sense of ambiguity. And third, the pace of ratification of NATO membership has slowed and should be accelerated.
Montenegro's NATO accession is now before the alliance member states' parliaments and the US Senate. This ratification process has raised serious questions about whether NATO's open-door policy is provocative, said Wilson. "Has it helped actually produce the challenging situation that we have today in Europe?"
Ashish Kumar Sen is deputy director, editorial, at the Atlantic Council. You can follow him on Twitter @AshishSen.